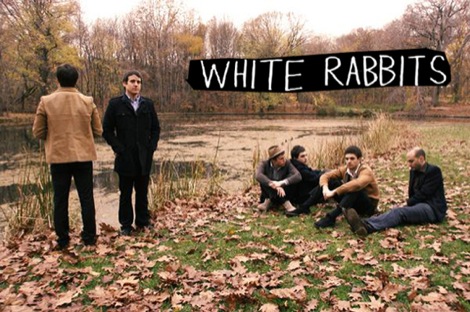 The last competition we ran was an unmitigated disaster from start to finish. So, here's another which could go wrong.

The other week when we ran one of these here lunchtime teasers for free passes to a well boss gig it went spectacularly wrong.
That's the competition, not the gig.
Getintothis did our bit. We picked the question, picked a winner and he said he was working. So we picked another and they said they were ill. So we picked another and they didn't reply, so we left them a message, met them at the gig and they'd already bought a ticket. Brilliant.
In the end there was about 17 people – none of which competition winners – watching this well boss gig, with two metaphorical unused competition passes waiting in Revo's back pockets.
Afterwards, we got a text from a work colleague who was keen to go but we couldn't get a signal so he stayed at home and sulked.
Anyways. I thought I'd share that story as it's a tenuous link to this week's competition to win two passes only this time we'd actually like to give them away.
This time round it's a Brooklyn-based (isn't it ever) geetar band who specialise in old school indie, the kind you used to hear Peel or Lamacq churning out in the early hours while revising for your GCSEs.
Or maybe you were doing A-Levels. Or maybe you weren't born when Peely popped his disco clogs. Anyways, White Rabbits are another great band in that great tradition. Hopefully you'll join me down the front – here's how to do it for free:
To win add Getintothis on Twitter and tell us which psychedelic rock band wrote a track called White Rabbit for their seminal 1967 album Surealistic Pillow.

Here's the spiel from them there people that put this gig together:
'Brooklyn's White Rabbits land in Liverpool on September 14, being touted as one of the must-see live acts of 2010.
The band are touring their new album It's Frightening, which plays like a classic reel of tape from start to finish. Opening with the visceral drums of Percussion Gun, it is clear that the time-off from the road has served the band well.
The many highlights include the emotional masterpiece Company I Keep, the new sonic territory of Lionesse and the macabre lyrics of Right Where They Left.
Acclaimed as one of the live acts to see this year following their handful of UK performances earlier in the year (with The Independent, Guardian & The Times all giving five-star reviews), this is a serious show for the indie music purist – not to be missed!'
White Rabbits play Liverpool O2 Academy 2 as part of Liverpool Music Week, £8adv on Tuesday September 14.
Comments
comments