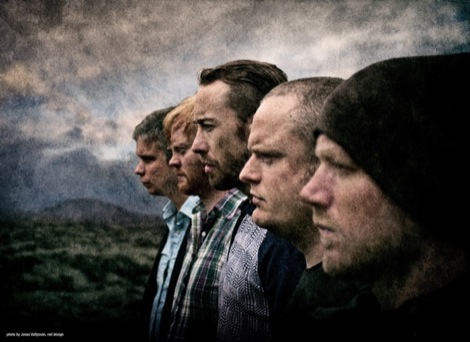 Oceansize return to Liverpool to banish a few demons and reclaim what's rightfully theirs.

You spend eight weeks – nay, eight YEARS – hyping your favourite live band up to your mates and what do the whoppers do? Only go and deliver their worst gig on record.
Yup, last time Oceansize paddled into the Pool it was more of a limp-wristed, one-limbed, half-arsed attempt at sploshing about than the characteristic great white-infested tidal wave of groove-doom destruction that these ears know and love.
Sure they were trying out a new, more tempered tact with the Home & Minor EP, but there was much missing – even from their older material – in the way of an attacking, visceral edge. Underwhelming is a word you simply don't associate with Oceansize.
So it was with an unaccustomed lingering sense of uncertainty, that we approached their latest coming to Liverpool.
We needn't have worried. From the opening walls of mountain-felling riffs of Part Cardiac it was immediately apparent this was a band that hadn't just realigned their mojo but resurrected a pyramid-sized beacon of sonic inspiration.


Of course, we'd been given an almighty clue prior to the gig with a couple of listens of fourth record Self Preserved While The Bodies Float Up, but it's how these tracks unravel live which is a testament to Oceansize's thrilling and most varied of armoury which makes them a truly special proposition.
Music For A Nurse still glows; hymn-like but drowning in beatific sorrow, Trail Of Fire an arresting cycle of rhythmic propulsion as Mark Heron's sticks trade heavyweight fist-pounds with Steve Hodson's deft four-string fretwork while Unfamilar retains that punishing forward-motion so characteristic of their finest of worksongs.
However, it's the new material which really dazzles. Vocalist Mike Vennart, clearly revitalised and refreshed from doing a foreigner as second guitarist with Team Biffy Clyro on their recent stadia tour, had been quick to point out how eager the band were to show off their latest fruits – and tonight, their cup overfloweth with riches as six of the ten tracks from Self Preserved.. are lashed out dripping with juicy goodness.
Build Us A Rocket Then… is an all-clattering stomp caked in thick layers of duel guitar squall courtesy of Gambler and Steve Durase, Superimposer attempts to match opener Part Cardiac in the savage riff stakes but is completely blown out the water by the hyperkinetic face-remover It's My Tail And I'll Chase It If I Want To which sees Vennart reach new levels of verbosity with a three-minute screamo-scat minus a pause for oxygen. Who needs to breathe anyway?
Highlights are continual; Paper Champion an unexpected and welcome breezy blast, but it's Silent/Transparent that slips into that upper tier of epically-proportioned Oceansize buried treasure joining tonight's Women Who Love Men Who Love Drugs encore. The pair all glittering three-way guitar build before lashings of electronic rain showers an audience transfixed.
A rare outing for Ornament/The Last Wrongs – complete with that incredible acrobatic vocal harmony – provides a fitting conclusion to the start of another chapter for Britain's best live band. Just as well they remembered to live up to their billing.
Setlist:
Part Cardiac
Build Us A Rocket Then…
Unfamiliar
New Pin
Music For A Nurse
It's My Tail And I'll Chase It If I Want To
Silent/Transparent
Superimposer
Pine
Paper Champion
Trail Of Fire
Ornament/The Last Wrongs
Encore:
Women Who Love Men Who Love Drugs

Oceansize: Ornament/The Last Wrongs, live At Koko, London, 2010-10-01
Getintothis review of Oceansize at Liverpool Carling Academy, 2008.
Getintothis review of Oceansize at Manchester Roadhouse, 2009.
Comments
comments