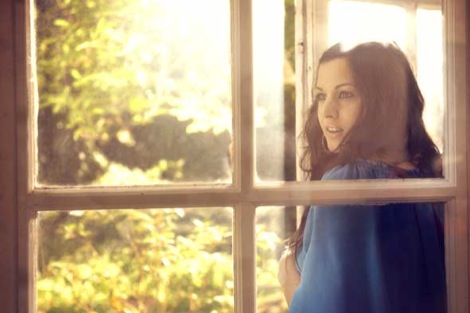 So I handed the Singles Club Column over to our work experience dude, on the assumption that his 'No Age or Perfume Genius' picks for Album of 2010 would result in some inspired choice for top tune to begin the year. And he only goes and picks Rumer. Who does Jonathan Birchall think he's writing for – Q Magazine? Anyways, aside from this faux pas he seems to know his stuff. Read on to see what you think.

Rumer: Am I Forgiven – Single of the Week
Other than the absent question mark, this is a wonderful pop song. Silky smooth and perfectly restrained, Rumer has nailed the type of melody that is so frustratingly 'why didn't I think of doing that?' simple, that you just want shake her hand and give her a well deserved (and slightly heavy handed) pat on the back.
That said, even as you are passive aggressively taking out your deep seeded envy at such talent, you'll be doing it to the beat of Am I Forgiven.

Empire Signal: Big Wide World
This 'gritty indie' (their words, not mine) band from Manchester sound remarkably unlike a 'gritty indie' band from Manchester, which is strange. Being devoid of the cocksure bravado and overwhelming need to talk about the Hacienda that we have come to know and loathe from 'gritty indie' bands from Manchester, should probably score them points. It doesn't. Instead, Big Wide World meanders in a nice but largely pointless way for nearly four minutes in an experience that isn't too dissimilar to a Sunday stroll through a cobbled Cheshire village.
If anything, Empire Signal just need some new adjectives, preferably antonyms to their current go-to buzzwords. So, with the help of Microsoft Word, may I introduce 'lovely homogenous' group Empi…
The Joy Formidable: Austere
A re-release of their August 2008 debut single, the Joy Formidable have, in this dreary January, replaced my post-Christmas comedown with a gift that's way up there with Subbuteo in your stocking: an effortlessly catchy three and a half minutes of grunge pop nostalgia.
Oh 2008, such optimism…Obama, Usain Bolt and George Bush nearly, oh so nearly, getting a loafer to the face. I may be biased but this song reminds me of banishing my fake ID and in the eyes of law, if not bouncers, becoming a man. Dreamy Breeders like vocals and a playful bass line to boot, this is the perfect soundtrack to the hazy, idealised mess that I remember of my teenage years.

Gruff Rhys: Shark Ridden Waters
I do like the occasional sporadic sound effect, I really do.
The challenge with including beeps, blips and blops into a song is maintaining its coherence, see: Four Tet, Infinite Body and contemporary composer Craig Armstrong for three of the best exponents in not only pulling this off but fashioning an entire sound out of them.
Gruff Rhys sounds nothing like any of these three artists, but in his own, almost choral way, he has thrown them in there into Shark Ridden Waters with a few zoops and tsss's for no apparent reason other than to make the listener smile, which I did a lot while walking along to this. Imagine the background music to a Jamie Oliver ingredients recap montage. That's a good thing by the way, even if it sounds like it isn't. ZOOF!

Badly Drawn Boy: I Saw You Walk Away
When I heard about Badly Drawn Boy's onstage swearfest last month, three things resonated:
1. It was a shame that such a nice looking bloke could use such foul language.
2. The power that a picture caption can have on my laugh reflex – bravo Guardian Music section sub, bravo.
3. That you should never mess with a man in a wooly hat, whether he's carry a bag with SWAG written across it or not.
Anyway, on to the song and he seems a lot less angry and a lot more orchestral on this song than he did in LA. It's fairly standard Badly Drawn Boy fare which is no bad thing in my eyes.
I've heard more interesting and challenging lyricism in my time but for toe-tappability, I'd suggest that he's been in this game long enough to deliver on that front more often than not.

The Death Set: Slap Slap Slap Pound Up Down Snap (yes, really)
I must admit, I know very little of The Death Set so I'm presuming that to describe this latest release as a Fatboy Slim/Pendulum (but punkier) mash up is a fairly lazy thing to do. Regardless, that's what it sounds like and it's just a little too much loud, vacuous repetition for you to fall for it.
If I was writing a sitcom about a bloke having a mid-life crisis, I would put him in some ripped white jeans, drop him in a hip, urban club and have this song on so blisteringly loud that you can't even hear the audience laugh as he realises that he's made a terrible mistake and wants to go home with the sad but sensible realisation that the kids these days are utterly terrifying.
Equally suitable to late night snowboarding shows on Sky Sports and Skins orgy scenes.

Diagram of the Heart: If I Were You
Diagram of the Heart are going to be pretty big.
Whether they like it or not, they should expect some pretty mainstream success. If I Were You sounds like a good pop song with the occasional pointless bit of edginess thrown in for, presumably, an irrational and somewhat panicked grab at some credibility from a suitably cool critic or DJ.
It's a shame really because if they just stuck to what they're good at and had a bit of unashamed pride being comfortable in their own skin, this song wouldn't be half bad.

Lanu: Beautiful Trash feat Megan Washington
Despite having the name of what sounds like a coming of age Avril Lavigne single, don't be put off by this floaty, almost funky stab at pop.
You will bob your head along for long enough to this track that you hit a crossroads and question whether it's just a little bit too sickly, I stuck with it and now I can't escape it.
If that's not the sign of a good pop song then I don't know what is. Think Janelle Monae-lite, which can't be a bad thing.

The Streets: Going Through Hell
As a long time disciple of the church of Mike Skinner, I approach each new The Streets album with a resigned defeatism, knowing full well that it won't be as good as Original Pirate Material, it probably won't even come close.
Saying that, every album (and yes, that does include The Hardest Way to Make an Easy Living) is usually one of the highlights of my musical year anyway, so imagine my dismay when I learned that the upcoming Computers and Blues is to be The Streets' last.
Prangin' out doesn't cover it, I was well and truly gutted. So, I'm savouring every last morsel of Streets while I still can. Starting with the album's first single Going Through Hell.
Funny, catchy and soulful in a Birmingham kind of way, it's on the Not Addicted/The Way of the Dodo side of The Streets' spectrum. I personally prefer a Skinner song on the softer side of things but they're his masses and he can pander to them however he sees fit.
Long live Mike Skinner, in whatever form he amazes us with next.

(ps: Spot The Music's Robert 'Slowly morphing into Tim Booth' Harvey on lead vocals, lovely chap – Getintothis Singles ed).
Comments
comments