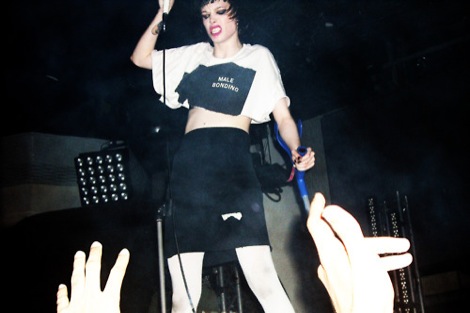 Dub no bass with my head man… What does that mean? Anyways, the bass plays a major part in the claiming of the NME Tour 2011 crown.

Bass meant little to these ears before 1995. That was until Ian Brown informed the world through the pages of NME that upon the resumption of their Second Coming tour the bass was gonna punch you so hard in the belly you'd be knocked off your feet.
And weeks later, as I Wanna Be Adored fizzed through the rock and roll ashtray that was Liverpool's Royal Court, Mani's four-string rumble backed up those claims accurately as a theatre-full of madheads felt their stomachs churning like the Irish Sea.
Fast-forward 15 years and bass is de rigueur; from the doom of Suun O))), Salem's gothic drone, James Blake's dark pop and most ubiquitously in the deep wamp-wamp of dubstep.
Fitting then that tonight's big 'winners' are the collective talents of the scene – Benga, Artwork and Skream – who combine as supergroup Magnetic Man.
Though most musicians will always say the industry's not a competition, the NME Tour – acting as an unofficial kick-off to the gigging calender – is strategically ordered as a mini four-team league table with only one band able to lay claim to owning the event.
In the past, first on, underdogs Arctic Monkeys, Franz Ferdinand and Florence and the Machine have caused suitably stirring cup upsets but tonight it's the big boys and their bass BOOM that undeniably steals the glory.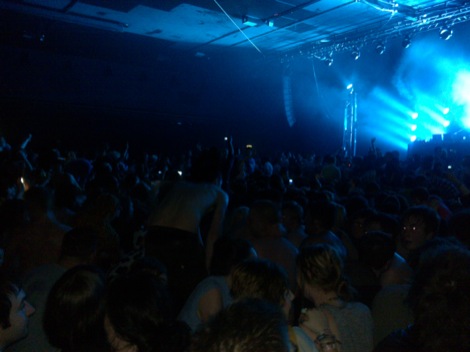 The view from the back during Magnetic Man's BOOM!
Like something from the set of a James Cameron flick, their stage set up is impressively futuristic; towers of lighting rigs, huge juggernaut amp stacks and four black-clothed figures propelling walls of pummelling sound. In among it all, MC Sgt. Pokes dictates proceedings with a gravelly rasp that's as-near-as-dammit the best Maxim Reality impression you can imagine without descending into cliche.
In fact, the whole palava is reminiscent of The Prodigy in their prime – the sheer force of sonics exploding, a violent wave of noise and a crowd submissive to the beat-driven power.
Ah, yes, the crowd. The NME Tour always was a good indication of what the kids are into and it's also a good reminder of how much extra fun it is with enthusiastic pups hurtling into each other, smeared in make-up and drenched head to toe in beer and sweat.
By the close there's much nakedness, plenty of cheer and the whisper of one teen, 'I'm off for a shit,' resolutely confirming that the bass worked wonders.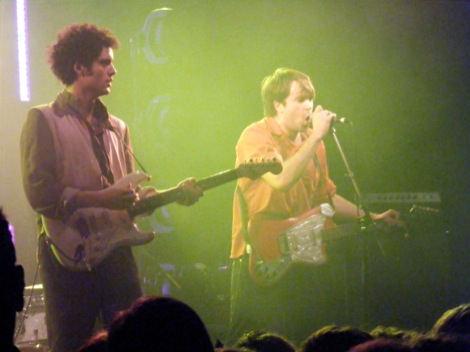 The Vaccines perfect their orangutan impersonations.
While unable to compete with their technologically enhanced cousins, The Vaccines lived up to their billing as ones to keep an eye on. Much-hyped, the four-piece excel in chirpy guitar pop which is equal parts intelligent, craftily intricate and unexpectedly packing a punch.
It's a shame then that like all NME Tour gigs we're unfathomably kept waiting outside 20 minutes meaning we only manage four tracks of their 25 minute set. Still with tracks like the jarring wallop of If You Wanna, we've seen enough to warrant further investigation.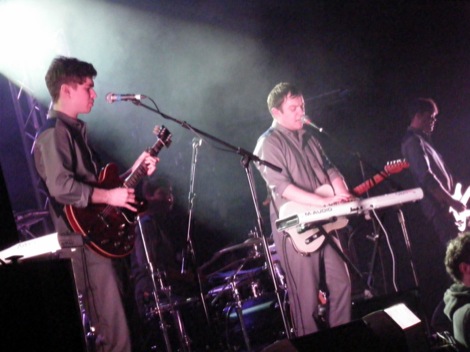 Everything Everything looking snazzy in their Kwik-Fit get up.
Propping up the bottom of the NME league table are Everything Everything, who aren't so much awful, but simply frustratingly annoying.
For all their obvious talent at delivering a tune – particularly a tune which weaves, segues and transforms into about three different tunes inside three minutes, like the superb Schoolin – they have everything but a lead singer.
In fact, they DO have a lead singer, his name's Jeremy Pritchard and he's stood right of stage playing bass and chips in irregularly to add lovely harmonies.
For the most part though, we're left with Jonathan Higgs who's register errs between lacking and pisspoor. It hardly helps that almost every track requires a breathy falsetto – a skill particularly difficult to master in the live arena – and Higgs is left panting or cruelly exposed, as the music careers over the top of a pathetic whimper.
Topping the bill, and finishing around midtable are usual belters but tonight also-rans, Crystal Castles.
Having previously lauded them for their insane brilliance or simply their insanity, tonight they're reduced to pale imitations of their former selves, chiefly because a) Alice Glass has a bust leg and is forced to prop herself up on a crutch making any attempts at the usual rabid-dog impersonation a non-starter and b) their tunes are so ingrained in the consciousness having toured themselves to death over the last 18 months there's a certain sense of going through the motions.
Unfair maybe to a band now breaking through to the masses, but for a band noted for their uncompromising, unconventional brutality tonight it's all a wee bit tame.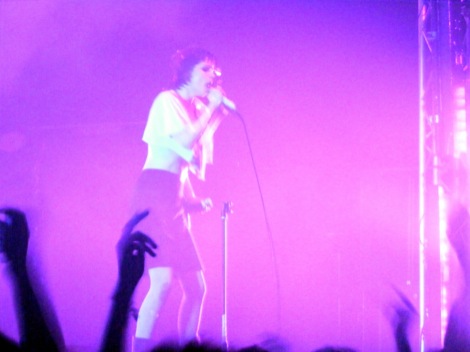 Crystal Castles' Alice Glass sans crutch.
Main image from Charlotte Mckelvie tumblr.
Vaccines, Crystal Castles, Everything Everything images by Dean Williamson
Rubbish view from the back by me.
Comments
comments