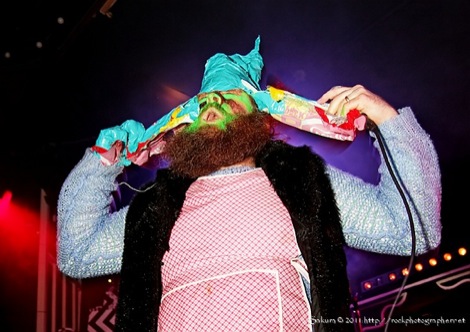 One for the hipsters, one for the lamestreamers, one band kicks off and one kicks the bucket. Getintothis emerges fuzzy of mind and body after a busy ol' weekend in The Pool

SO glad the Plastic Bag Look is making a comeback in 2k11.
Last 'scene' during the crusty crossover of 2k01, when scabby-lipped tramps melded rag rug pataloons, faeces-encrusted dreads and Levelling The Land was the soundtrack of choice, tonight The Kazimier is the official platform for the second coming of the Recycle Range.
And who better to champion such an honourable cause but Tim Harrington.
A man known to wear his clothes inside out and back to front to cut down on waste water and all the trappings associated with clean living.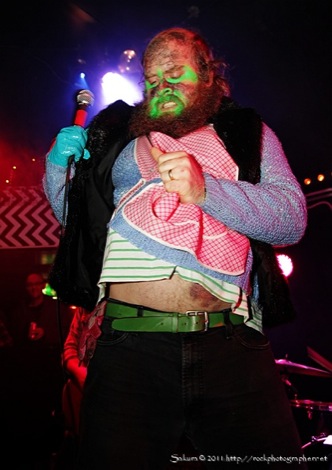 This is a man so dedicated to enterprise and generally reusing 'any old shite' that tonight he's fished out a dinner ladies apron, half a gorilla suit which he's fashioned into a fetching gilet, a fishermen's jumper and a pair of jogging pants so dodgy you'd suspect a dark-alley-flasher would feel awkward wearing them.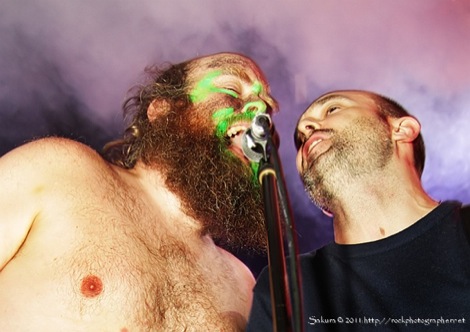 But it's the headwear which is Harrington's Recycle Range piÚce de résistance.
Like a budget Blue Peter experiment gone wrong, he's cobbled together a coke bottle sleeve, several Opal Fruit wrappers, a couple of Kit-Kat packages, clingfilm and a large quantity of plastic bags to form a giant face mask.
The whole thing's held together by some industrial strength blue tape – the type used to bound people's limbs if you're trafficking humans – and forms a glove-shape peak atop of the singer's head.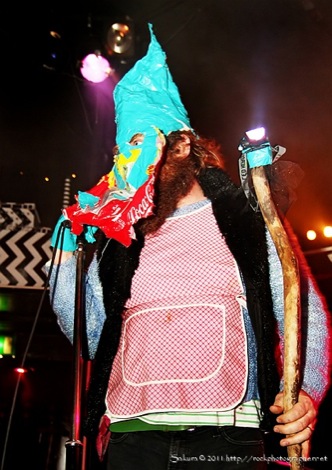 He's wrapped more blue tape around his hands to form claws and carries a massive wooden staff with a miner's lamp attached to the end which he swings around his head like a Robin Hood character on Adderall as he bounds from the back of the room to the front of the stage.
It's a triumph for any delirious scruffy c*nt.
So, it's a shame as he begins to simultaneously rip through Let's Stay Friends and his elaborate trash-mask, that our two and a half track gig review should start.
FOR IT IS ELEVEN TWENTY ONE PEE EM. And, like the others that head for the Kazimier door smiling but obviously disappointed, we've a train to catch.
We've been here before.
Of the Les Savy Fav circus which we do catch, we see Harrington career to the bar, grabbing choice liquor from the shelves, garments are shed, luminous face paint is revealed and the whole routine is quite thrillingly marvellous.
But ten minutes isn't nearly enough to satisfy and as we leave Wingwalker's first birthday party we can't help but feel right royally party pooped.
What seems like weeks of build up, starts with Dire Wolfe calling time on their wonky pop chops. Joe, Dan, Tarek and John have entertained admirably for over a year but there's a sense that bowing out with their smiles still afixed and enthusiasm for other projects intact, there's more good times ahead.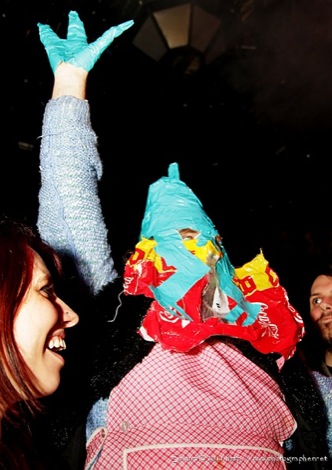 Speaking of new projects, here's Outfit, rising from the wreckage that is Indica Ritual – try Police basslines, autumnal harmonies and rich melodies that devilishly work their way into your head seemingly without you knowing it.
Andrew Hunt's mellifluous guitar lines are central to their charm and the coda to one particular track is nothing short of exquisite. The only worry is there's a tendency to stray into older, more arch territory when sometimes it's the simple things which prove more rewarding.
Last up were new Wichita trio, Young Legionaire who meld Nirvana power, superb thigh thrusts and Bloc Party bassist Gordon Moakes.
'The lead singer with his side-parting, black glasses and long face looks just like that guy out the IT crowd,' she says.
'But he's not black?' I reply.
'Oh yeah…'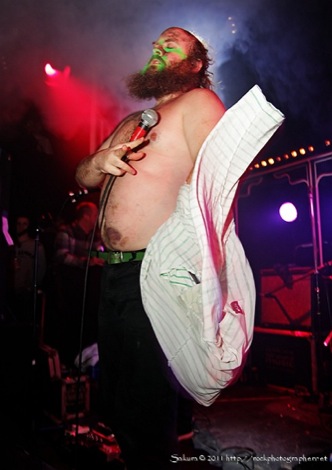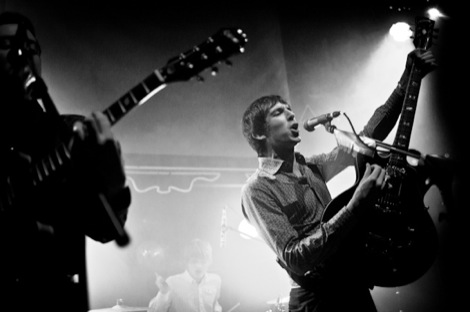 Things we learnt from Liverpool Sound City 2011's launch the night before:
a) Only festival director Dave Pichilingi can get away with wearing a Paddington Bear duffle coat in The Kazimier.
b) The gig was perhaps third most full after the xx and Delphic.
c) Miles Kane, with his Noel Coward meets Lennon cheeky charm, is a winner on his home turf but the tunes remain a doubt.
d) Andrew Ellis looks deeply uncomfortable at 'lamestreamer' events
e) Everyone was in tremendous cheer – roll on May 19.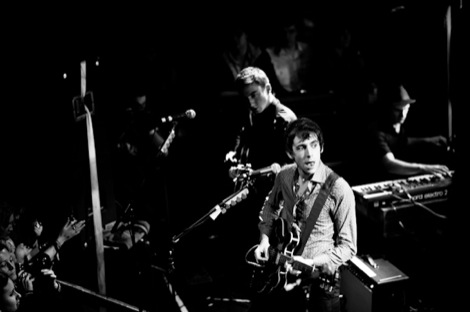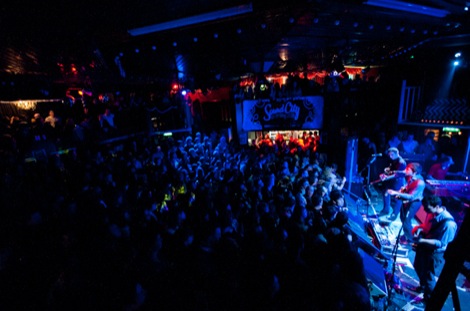 Les Savy Fav pictures by Sakura.
Miles Kane at the Sound City launch party by Mark McNulty.
Comments
comments