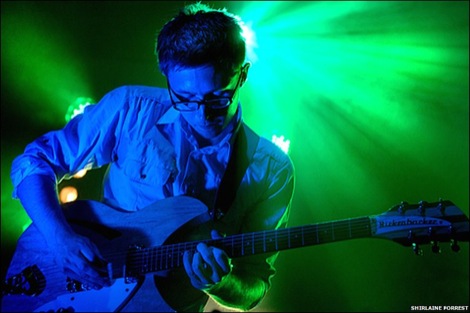 What did you expect?

Melissa and Alexa are not happy.
'Sarah Harding's a wanker – an arrogant wanker.'
'Lily Allen's a twat – she craves the publicity and hasn't even got the tunes to back it up.'
Myself and Luke are fighting a losing battle, the ladies simply aren't for turning.
We're in Mojo, Fleewood Mac soundtracking our discussion on the various merits of female pop stars and why lots of females hate female pop stars. There seems no definitive answer but there's much vitriol being poured forth.
It seems we all have very different reasons for what we expect of our pop stars and hours earlier it's hard not to expect a lot more from one of the UK's fastest rising bands.
Seemingly sprouting from nowhere, Delphic are inescapably omnipresent.
Soundtracking your highstreet clothes shop's changing room: Delphic. Blurting from the speakers in the vegetable aisle in your local supermarket: Delphic. Busting from that wound-down car window at the traffic lights: Delphic. Sprouting out of the u-bend in your toilet: Delphic.
And it's no surprise that come 9pm when we enter our favourite Liverpool hotspot, The Kazimier, that the major label push has had a huge influence – the place is bulging at the seems with bodies; every step, corridor and viewing platform taken by a face bursting with Delphic expectancy.
For the majority, what they expect is exactly what they get. For just shy of an hour there's polish, sheen, obligatory lights cascading neon and a tight, angular rockism which has just enough electronica to distinguish them from a whole raft of very dull contemporaries waiting in the wings with smaller A&R departments behind them.
It would be cruel to refer to them as 2k10s White Lies, but there's an unavoidable end game at work – with ten years of the synth being in vogue Delphic are to New Order what White Lies are to Joy Division and it doesn't take a genius to see why big boys Polydor have snaffled both bands up.
But before we let our cynicism carry us away, there are undeniable tunes at work; big brash belters which are instant winners with the Topshop bros making their first visit to the Kazimier octagon.
Red Lights pings crystalized bips and bleeps mirrorball-like and midway through it's the first to signal a multitude of arms reaching for the air. Counterpoint's rubbery bassline weaves seemlessly among Dan Hadley's plastic drum pad thuds as Jamie Cook insists 'nothing's wrong, nothing's wrong today…' He's right. It sounds accutely like the record.
If the by-numbers-electropop begins to wear thin on the likes of Clarion Call and Halcyon (the former a Ford Focus ad tune in waiting, the latter a Fiat Punto) then the Mancunians have enough about them to throw in the odd extended instrumental breakdown or indeed on the closing Acolyte – the clear standout from their debut of the same name – a euphoric build and release which at last shows there is a braver band at work than otherwise noted.
But all this pales to insignificance when you've experienced Friendly Fires.
If all this sounds rather disappointing, you'd be wrong, Delphic didn't disappoint, rather delivered, exactly as we expected.
Nothing more nothing less which is which perhaps the most disappointing aspect of all.

Delphic doing Doubt on Jools.
Comments
comments