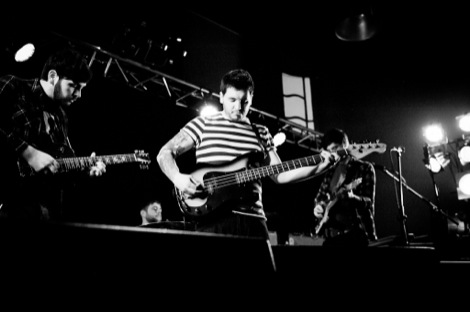 International versatility and a band that remind Getintothis' Will Fitzpatrick of The Supernaturals… He seems to have had a jolly good night.

Liverpool Sound City's a celebration of pop music – but most of the time, when we say 'pop music', we tend to mean '…of a western sensibility'.
And even then, we mean 'American or British'. So it's kinda interesting that Heebie Jeebies is offering some Taiwanese acts towards the start of proceedings.
The 13 Band kick things off with some late-Britpop-informed powerpop, and despite sounding rather a lot like late-90s wish-they-hadn't-beens The Supernaturals, there's a likeable conviction to their catchy anthems that wins over early revellers.
We catch a bit of Minion TV's atmospheric post-rock at The Masque. They really do sound a lot like Mogwai, don't they?
Which is a bit like being a punk band and sounding a lot like The Clash.
Hmm. We dwell on this point for… ooh, a good thirty seconds or so, and then it's back to Heebies for Taiwan's second act of the night. Mary See The Future clearly like Jeff Buckley, early Radiohead and other angsty rock stuff. They're actually pretty nifty at replicating that whole shebang, but as with all bands who try to go a bit Buckley, it's a bit dull. Still, nice pipes and all that.
Onwards to a quiet Zanzibar, where Liverpool's favourite instrumental emo act Rhodes liven things up pretty quickly. A mastery of dynamics, along with a fondness for Tim Kinsella and (we'd wager) Minus The Bear, powers their set.
Their banter sucks so bad we can't even attempt to recall it, but hey, vocals aren't supposed to be their strong point. We catch a handful of songs from Norwich-core overlords Bearsuit, and their sweet, yelpy oddness is utterly captivating for a while. The idea of a full set seems ominously like over-indulgence at the candy floss stall, but you can't knock em for ideas.
Photo Brian Roberts.
Comments
comments