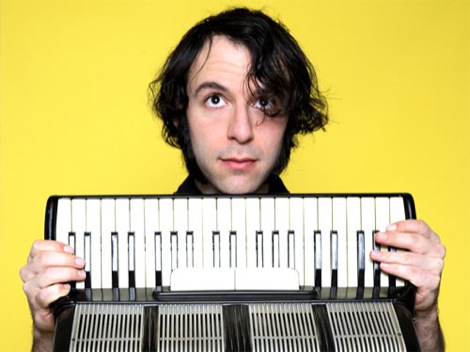 A bumper week for tunes – especially from Ninja Tune – finds womp-womp maestro Daedelus claiming the big tune crown. Getintothis' Sean Bradbury had to soak his ears in an ice-cold bucket after listening to this lot.

Daedelus: Overwhelmed EP – Single Of The Week
A bumper week of Ninja Tune releases, with Daedelus' Overwhelmed EP at the top of the pile.
Raucous drums, gentle vocals from Bilal and crackling synth sounds overlaid on top of a throbbing dubstep womp are a winning formula.
Remixes from Raffertie (more of whom later) and Star Slinger are also well worth a listen.

Pop Levi: Motorcycle 666
Prince-inspired, diesel-fuelled funk rock from Liverpool Pop Levi, boasting one of the most infectious, chugging guitar riffs of the year. Taking this for a spin is highly recommended.

Howler: This One's Different EP
Rough Trade have unearthed another surefire hit in the shape of Minneapolis hipsters Howler.
These five charming cuts of garage rock showcase a tight band brimming with ideas, even if the vocals sound like they have been through a Julian Casablancas synthesizer.

Arctic Monkeys: The Hellcat Spangled Shalalala
This is the sound of the Arctic Monkeys in transition.
Gone is the youthful vigour of their Dancefloor days and in its place here is Alex Turner struggling with a femme fatale who has even managed to leave him lost for words in the Shalalala chorus.
There are witty lyrical flourishes and jangling, high-end guitars, but ultimately something is missing.
As Turner sings: 'I took the batteries out my mysticism and put 'em in my thinking cap.' Bit more thinking required if the Monkeys are to make any more mould-breaking indie-rock.

Raffertie: Visual Acuity EP
Not content with remix duties on label bud Daedelus' new EP, the uncategorisable Raffertie has released a four-track of his own.
The default setting for most of this is teetering on the brink between playful and manic, deployed with Aphex Twin-like variation and always with a groove waiting to come out from behind the electro-madness.
Listen here.
Martyn: Masks/Viper
The sleazy 4/4 of Masks nails the lowdown sound of late night Berlin, while the unsettling synths on Viper never drop but loom ominously for the entire track. For those who like their techno dark and dirty.

Timber Timbre: Creep On, Creepin' On
Sounds like a mildly unhinged, Abbey Road-era Paul McCartney outtake. This is a good thing.

Emika: Pretend/Professional Loving
Yet more Ninja Tuneage, but this time in the form of Portishead going four-to-the-floor on Pretend and seductive while reverting to minimal dubstep stylings on Professional Loving. Lovely, indeed.

Comments
comments