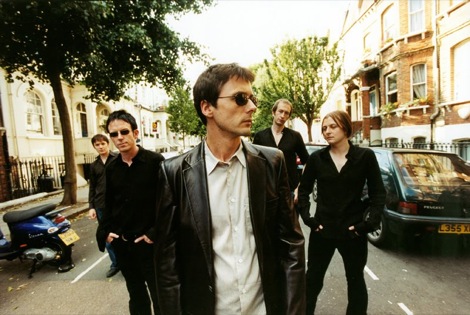 Getintothis' Andy Greenhalgh on the band that Britpop forgot.

The received wisdom about Suede is that they were the band that history forgot.
Emerging just before the twin-headed Blur–Oasis beast ate up all guitar bands in sight, they never enjoyed the sales and widespread love they deserved.
This year saw the band reissue their entire back catalogue to near unanimous acclaim – a feat few of their contemporaries could hope to match. They then triumphed on the gig circuit culminating in a barnstorming headline display at Latitude.
This prompted me into a quick iTunes best of and some 20 years on, the band's music has, surprisingly, lost none of its power to move and excite in equal measure.
Time for a top 10? Thought so.
1. The Drowners (from Suede)
It can be galling for a band to be told that they peaked with their first release, but just like one of their obvious inspirations Roxy Music (whose Virginia Plain is clearly their best two and a half minutes), Brett Anderson, Bernard Butler and co never bettered this rousing opening single.
Strutting, cocky and risqué, it still begs to be screamed defiantly at indie discos nationwide.

2. My Insatiable One (B-side to The Drowners)
This was one of two superb b-sides to The Drowners – making it the single of 1992 – and To The Birds' superior.
Neither rocker nor slowie, it was covered live by Morrissey immediately upon release – the ultimate compliment to The Smiths fanatic Anderson – and has a melody that fair makes your heart jump.

3. The Wild Ones (Dog Man Star)
Their best ballad. Second single from second album Dog Man Star – where the band made a better Pink Floyd album than Gilmour and co will ever manage – it has been known to make grown men weep with joy.

4. Animal Nitrate (Suede)
Cheekily about under-age gay sex on drugs, seeing them perform it live on Top of the Pops was thrilling, like one of our bands waving a big great two fingers at the establishment.
This was a time, remember, when Radio 1 and, by extension, TOTP were still quite a lot like Ken Bruce's Radio 2 show. All day.



5. The Living Dead (B-side to Stay Together)
Anderson liked to allude to drugs in his lyrics – his over-insistence on doing so became a bit tiresome in later years – but this song about the hellishness of heroin dependency was enough to put anyone off. Another gem buried on the band's fifth release, the swooning classic Stay Together.

6. So Young (Suede)
This song, by contrast, made H seem like a great idea. It opened the band's debut LP and was clearly indebted to The Smiths' Reel Around the Fountain, which had also kicked off proceedings on Morrissey and co's opening release. Scaled almost the same heights as had The Drowners before it.

7. Beautiful Ones (Coming Up)
Third LP Coming Up saw the band, newly shot of founder member Butler, go squarely for the commercial jugular.
Opening salvo Trash was the band's musical manifesto but, as with Dog Man Star, the real corker was saved for its second 45.
Beautiful Ones their very own Rebel Rebel, from Butler replacement Richard Oakes' electrifying opening riff to Anderson's wonderful lyrics.

8. Still Life (Dog Man Star)
Indisputably their finest 60 minutes, Dog Man Star is nevertheless best digested whole with this orchestral gem closing proceedings. Both delicate and grand, it is a near-perfect end to a near-perfect album.

9. Shipbuilding (The Help Album)
Hidden away on the the first Warchild Help CD, this is a gorgeous rendition of the Elvis Costello song made famous by Robert Wyatt.
Brett sings it beautifully and, unlike any of their contempories barring Pulp, you can actually believe the band could understand and empathise with the song's lyric.

10. Everything Will Flow (Head Music)
Their last great single, off not so great fourth release Head Music.
Lives up to its title, as fluid and liquid as anything they'd yet done, and narrowly edges out High Rising (another B-side to Stay Together) and Coming Up's By the Sea.

So, no room for Metal Mickey, We Are The Pigs or even Whipsnade… now it's over to you, please leave your own top 10 Suede.
Getintothis Oasis Top 10
Blur Top 10
Radiohead Top 10
Comments
comments