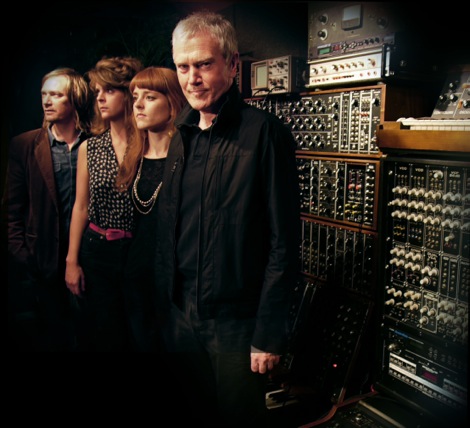 Getintothis' Alistair Houghton talks synth archaeology with electronic music pioneer John Foxx ahead of his Liverpool date with new Maths line up.

Back in the days of shiny-suited and razor-quiffed young men shooting out ice-cold synth melodies into the charts of the early 80s, the idea that synthesizers were in any way 'organic' would have seen you laughed out of any trendy club.
Those synthesisers, those cold boxes of sound, were just tools for the robomen who played them.
But electronic music legend John Foxx says those synths are living beasts with their own quirks – and that's why he loves them.

Foxx first hit fame with Ultravox before plunging into a solo career with the icy synthpop album Metamatic, now regarded as one of the totems of electronic music.
Today he is recording and playing with the Maths, a collaboration with composer Benge (Ben Edwards) and a regularly changing line-up of musicians.
Benge is a synth nut. And that means Foxx, who brings The Maths to Liverpool this month, has been able to relive his passion for the synths that he used when he was first bringing electronic music to the masses.

Interplay, the first album by John Foxx and The Maths, harks back to that classic Metamatic sound without ever coming across as pastiche, or a simple copy.
It's a record that, from the sinister opener Shatterproof and the strutting Catwalk through to the poppy Summerland, stands proudly alongside the work that made Foxx's name.
Those synths were not the ever-reliable computerised systems that we know today. They were unpredictable, temperamental beasts, vulnerable to mechanical failure or even changes in temperature.
Those sculpted synth wranglers on TOTP were never quite in control of their instruments – imagine a swan with a quiff and a shoulder-padded suit gliding across the water while its legs thrash unseen beneath the shiny surface.
'Synths,' says Foxx today on the phone from the studio, 'are organic, compared to digital stuff, which is really cold. There's nothing there but digits.
'But synthesisers are almost living things. You turn them on and you don't know what the hell they're going to do. You can set machines to a sequence, and one fragment of that makes a song. They're almost another form of life.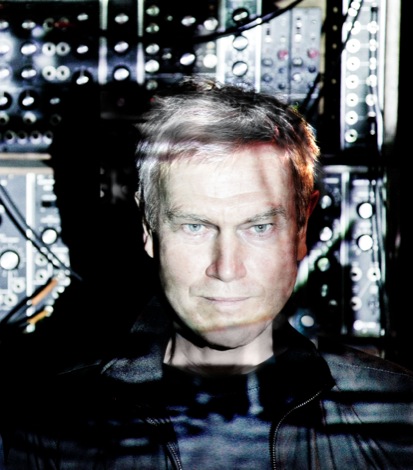 The Maths emerged from Foxx's studio collaboration with Benge, Mira Aroya from Liverpool-connected Ladytron.
The ever-shifting studio The Maths line-up has also included Foxx's former Ultravox bandmate, Robin Simon.
The live line-up for this tour sees Foxx and Benge joined by Serafina Steer on keyboards and bass, and LIPA graduate Hannah Peel on keyboards and violin.
The various Maths sessions were so prolific that there will be another Maths album available on this tour, made up of songs that 'didn't fit' on Interplay but that Foxx and Benge still want to get out there.
The Maths has a fluid lineup, but it's still a band ­rather than a simple solo project – and Foxx relishes his multiple collaborations with in the group.
'We can all work in different ways,' he said. 'Everybody in this band can write music. They're all really good in their own right. Robin is one of the best guitarists I've ever worked with.
'They've all got their own experiences, but they all join together. It's an interesting free-form environment that we all make together.'
Interplay is a spiritual descendent of Foxx's synthesizer work of the late 70s and 80s, simply due to the electronic instruments that Foxx and Benge have dug out.
'It's just what happens when you work with these instruments,' he said. 'Benge is one of the world's most prolific collectors of synths. He's got pretty much everything that's ever been made. It's great fun. There's lots of things I've never used before.
'One thing I really loved was an old Moog – an original modular system from 1964. The wood used in it came from a tree in Robert Moog's garden. It's one of the best synths I've every worked with. You just set the machine up and follow it. There's sequencers we set up where we don't get the melody we expect. All I have to do is sing over it.
'We manage it. That's why I work with these instruments. They dictate where you go."
Looking back, the icy sound of synthpop matches perfectly with the bleak times in which it was recorded. But there is, says Foxx, another, simpler reason why so many musicians in the late 70s turned to synths.
Foxx said: 'What happened, like in rock'n'roll, was that cheap versions of these instruments became available.
'You got cheap guitars in the 60s, and you got a whole set of bands than used them. The same things happened in the 70s (with synths). These things became affordable, so people began buying them and making interesting sounds.'
Foxx and his Ultravox bandmates were among those early lovers of synths.
Foxx was born Dennis Leigh in Chorley. His first band, Tiger Lily, started recording in 1975 before morphing into Ultravox.
Ultravox's third album, Systems of Romance – the band's final album with Foxx, released in 1978 – has been called the first ever electropop album.
Its rich, synth-heavy sound, accented further by Robin Simon's chiming and swooping guitars, was a huge influence on the New Romantic movement that followed. Its final song, Just For A Moment, sees Foxx singing the line 'Listening to the music the machines make, I let my heart break'.

And after Systems, Foxx became even more obsessed with synth sounds, and decided that his future lay away from the conventional band format.
He said: 'I wanted to hear what synths sounded like completely by themselves – so I made this merciless record that threw everything else away."
That record, Metamatic, is the cornerstone of Foxx's legacy.

Its stark synth landscapes are a complete contrast to the rich sound of Systems, summoning the sound of alienation, loneliness, the barren plazas and underpasses of contemporary development, with Foxx the only human presence. Merciless, yes, but compelling.
Foxx knew that what he was doing was risky – in England, he said, 'No-one had used them (synths) in that way before'.
His desire to focus on synths meant, he says with perhaps a tinge of regret in his voice, that he had to leave Ultravox behind.
'You cannot ask people to hang around for a year or two while pursuing something that's essentially very risky,' he said. 'At the time I thought 'nobody is going to like this'. People did, but I didn't know that at the time.'
'The reception was really interesting. Some people really enjoyed it. Some people thought it was so alien, so different, that they just didn't like it. Some of it was violent dislike – it was just too cold.
'Most music in the pop charts in 1979, which was when Metamatic was made, was happy-clappy stuff really. And you had the remains of punk. That was energy and shouting. Between the two poles came Metamatic. It was alien at the time. But there were people listening and a new generation picked it up. You got people like Depeche Mode and those other bands. By the mid-80s everybody had a synth band.'
The way synths became the in thing was, Foxx says now, a shock to him.
'It puzzled me,' he said. 'It was flattering in a way. But it also took the floor from under me. I just thought 'where does that leave me?'
Ultravox, of course, regrouped with Midge Ure and went on to global fame and fortune. Foxx mellowed his vision, bringing back the guitars of Robin Simon for his next release, The Garden, alongside the synths.

But by the mid-80s, Foxx had had his fill of music. 'Music was really tedious at that point,' he said. 'It was all that boring, imitation soul music. Everybody had double-breasted suits. I just couldn't join in.'
Foxx left the music world, focusing instead on graphic design, teaching and lecturing.
But by the end of the decade, the electronic sounds of Detroit techno and acid house reawakened his interest in music once again.
Tim Simenon, of Bomb the Bass, called Foxx and asked to work with him, and soon the synthpop pioneer was working with his musical progeny.
'Tim Simenon said Metamatic was one of the first records he bought. He loved that sound, and knew it really well. That whole generation of bands in 1988-1990 were synth freaks.'
Electronic music, so alien when Foxx first played it, is now part of Britain's soundscape.
He said: 'It's become part of language, like any other genre – say reggae or heavy metal. They're types of music that go on and on, sometimes surfacing and becoming fashionable. They've got their own life.
'Electronic music is in fashion at the moment. But even when it's not, it engages people.'
Foxx made his full musical comeback in 1997, releasing both Cathedral Oceans – a project on which he had been working for several years – and his first collaboration with Louis Gordon.
Since then Foxx has kept up a regular release schedule, releasing several collaborations with Gordon and others, and continues to teach.
'I'll lecture about anything at the drop of a hat', he said. 'What I talk about is technology, art and culture. It's fascinating to me because I've lived through generations of it, right back to analogue days and right through to the digital era, visual stuff as well as music.
'The changes that have taken place in the way images, sound and music as a whole get made fascinate me and always will. It's like a sea. It's like an ocean that we're swimming in. You have to survive. You sink or swim.
'All this stuff came out of art schools in the 60s. I was there in the 60s, so I remember it. That whole generation of British music came out of art schools. The reason for that is that there were a lot of people who didn't know what they wanted to do and got hold of that kind of thinking that was prevalent then. That came out in certain areas, like music, fashion, culture, arts and so on.'
He added: 'Successive Governments have messed up the art school system. There's nowhere for people to go with that kind of activity.'
Speaking of the 60s scene, one of Foxx's formative musical experiences was visiting the 14 Hour Technicolor Dream concert at London's Alexandra Palace in April 1967.
The event, one of the most iconic of the English 60s counterculture, was attended by stars including John Lennon and saw performances from Arthur Brown and, most notably, Syd Barrett and Pink Floyd.
It may seem to have little in common with synthpop, but the Floyd's light and sound spectacular still influences Foxx today. 'That was the first sign of a new era,' he said. 'If you go to something like that, it makes a difference. It changed me quite a lot. Being assaulted by light and sound in a big space with a lot of other people, it was quite life-changing.
'That's what we're trying to do with The Maths as well, hopefully. We're making this assault on the senses with light and sound.'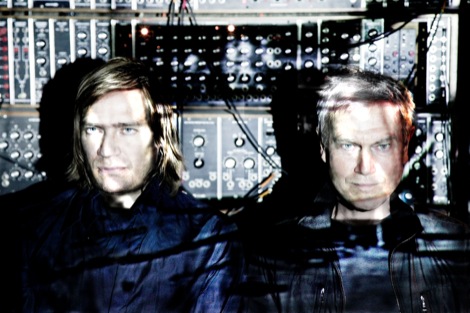 When he brings The Maths to Liverpool this month, Foxx will be reliving his old memories of the city. In his Ultravox days, he played regularly at Eric's – the iconic Liverpool club whose name was revived this year.
He said: 'It was a great scene – I even got a line for a song out of it.
Right at the end of the last time I played there, I was talking to a girl. She said 'don't forget me'. I found that very moving. So I put that on one song on Metamatic, New Kind of Man. I can remember than moment very distinctly.

'Eric's was like The Cavern for a new generation, really. It was the focus for everything that was going on in the North. Everyone went there from London.'
Ultravox made an impact on many of those Eric's-goers. Writer Kevin Sampson is a huge Foxx fan, and his film Awaydays features many early Ultravox classics.
Foxx added: 'Liverpool has always thrown up some interesting people. It always has and it always will."
John Foxx and the Maths play Stanley Theatre on Saturday, October 22.
For a full John Foxx biography, visit fan site Quiet City here.
Official John Foxx and The Maths site.
Comments
comments