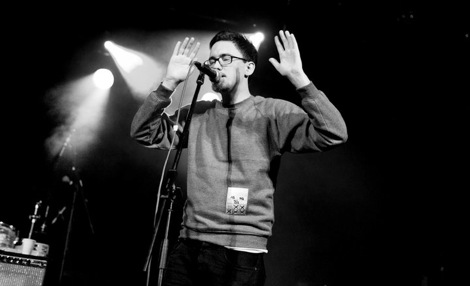 West Kirby tribal dance with a soft centre.

Nik Glover's Loved Ones have been on our radar for some time. In fact it's been sometime since he debuted an understated somewhat spoken word solo recital at Getintothis' Liverpool Music Week spectacular this time last year.
Since then there's been a revolving door of new faces join the former Seal Cub Clubbing Club frontman's project – which may or may not have once been classed as that of a 'side'.
Now though, there's fervoured murmurings from his Wirral outpost, and together with The Laze's brother-in-arms, Richard Hurst, Glover is back and whipping up something of a mini interweb storm with comeback track Are You Hiding Out In Hell?
Fresh from a date at Swn Festival, they've this seductive belter out later next month. All tribal clunks, treated distant guitars trading with looped fuzz and haunted organ before Glover drops one of the most affecting vocals of the year.
Similarly to contemporaries and ex-Lodge best-buds, Outfit, Glover nails that feeling of isolation and abandonment while managing to imbue a melodic beauty which will have you singing back in no time.
In a nutshell it's a timeless pick-you-up sad song. Take a listen, it's worth your time.
Hell (Album Version) by LovedOnes
Available to download November 21 on Giant Haystacks.
Loved Ones.
Loved Ones play CUC Warehouse, Liverpool on October 28 and Liverpool Music Week at Mojo on November 5.
Picture by Matt Thomas.
Comments
comments