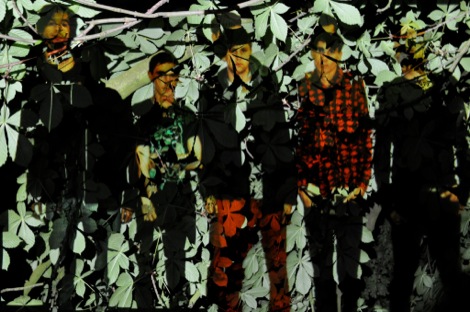 Liverpool's most-talked about band in a decade, Outfit, talk exclusively to Getintothis' Peter Guy on their incredible year, why they're leaving home for London and Gary Neville.

Earlier this year Getintothis posted an in depth evaluation of the Liverpool music landscape, noting that while it was in rude health, it's upward trajectory since 2008 was in danger of plateauing.
It was time for a Liverpool band to step up and make the UK take serious notice of the great music that's been emanating from the city during the last five years.
That band is Outfit. From their first gig in March at The Kazimier, Andrew Hunt, Thomas Gorton, Nicholas Hunt, Christopher Hutchinson and David Berger, showed serious intent. Their second, a DIY indoor music festival in Liverpool, they were the sole name everyone was talking about.
By their third, a Getintothis showcase gig during Liverpool Sound City 2011, they had the UK's music press in attendance. After which the NME declared them number six in the top 25 new bands in the world to watch. National press followed.
Gig four they supported Liverpool alt-pop favourites, Ladytron in the spectacular surroundings of St George's Hall before signing with ultra-hip indie label Double Denim which releases their first single, Two Islands, next month.
Over the weekend before the band left Liverpool to plot the future from a new base in London, Getintothis grabbed an exclusive chat with Outfit. The sharp shooters' only request was to speak as one. Here's the results…
Getintothis: Hey, hey, hey Outfit, how's tricks?
Outfit: Hey, hey, hey Peter, our single launch just sold out (with Zulu Winter), we've just finished two new tracks that we're recording in London at the end of the month and now we're answering questions for you, Getintothis. No slouching.
Getintothis: It's been quite a year, you must be chuffed – and maybe somewhat surprised by the hype machine (Outfit were named number 6 in top 25 new bands in the world by NME) which has been all over you guys since your earliest beginnings?
Outfit: Yeah I suppose it's weird, although the internet has a habit of feeling somewhat unreal, so it's hard to assess exactly where we're at as a band in terms of how many people know who we are. We're happy because it's obvious people are getting it and that's undoubtedly a good feeling.
Getintothis: The music game isn't a new thing to you having gigged extensively in previous guises including Indica Ritual and numerous other offshoots, give people that don't already know an insight into how Outfit was born.
Outfit: Outfit was born out of a conscious desire to represent our personalities and confront emotion more directly in music.
We've all played in various projects over the time we've been 'functional' musicians and this has informed our overall outlook and the way that we think about making music.
This is the happiest we've been with who we are.

Getintothis: Outfit is very different from the music you've previously made. It's complex, yet far more accessible and instant. Was it a conscious decision to go pop?
Outfit: It's accessible but it's pop music with a lot of idiosyncratic ingredients, a result of our different tastes and musical backgrounds. We're not afraid to combine melody with layers of noise and distortion.
Getintothis: The first gig you played supporting Les Savy Fav, it was notable that many fans of Indica were quite taken aback by your new direction. Were you somewhat apprehensive?
Outfit: There's always a wrench leaving something behind you, but it's undoubtedly the case that we'd explored that project to its potential. That creates an excitement about doing something new and that feeling will always override apprehension and doubt.

Getintothis: As, alluded to, the response to your recorded material and the initial gigs has been great – it seemed to come together beautifully, particularly at the Fiesta Obscenic festival (Getintothis review) in Wolstenholme Creative Space – why do you think it's all come together so well, and so quickly?
Outfit: Our aim was to be meticulous in preparation. We holed ourselves away and kept everything held back until we felt comfortable with our sound. We didn't want to be trying things out on stage, or giving people unfinished business. Since then our sound has developed in directions that we hadn't really foreseen and we're excited about our trajectory.
Getintothis: Former Liverpool uni student Hari Ashurst is releasing your first official single, Two Islands, via his label Double Denim in September tell us the inspiration behind that song.
Outfit: That's a song about isolation within large crowds. We live with a lot of people (23 at its peak) which has been amazing and inspirational but can make the melancholic independence of life flash red; isolation through social saturation.
If you're surrounded by people it can feel odd to experience inexplicable loneliness.
Two Islands by OUTFIT
Getintothis: There's so much going well within Liverpool, not just the music scene, but all creative spheres, what would you like to see us improve upon. What are we missing?
Outfit: Somewhere you can buy coffee late, better metal bands, more late-night warehouses.


Outfit's Andrew Hunt playing at Wolstenholme Creative Space by Dani Canto for Getintothis.
Getintothis: What's all this about your impending departure to London? You're gonna miss Liverpool, right?
Outfit: Liverpool will always remain our home, but the same answer to question 5 applies. It's a wrench to leave it behind, but the future and the opportunity of a new city helps us to avoid any onset of stagnation.
Getintothis: Liverpool Sound City 2011 was once again a success, did any new bands take your fancy? Any shithot Liverpool tips too?
Outfit: Without being accused of bias, a lot of our peers are people we'd have to recommend.
We've just listened to Ex-Easter Island working on a new piece of theirs (they were practising in the bedroom above us) and it sounds brilliant, an aggressive change in direction from their previous output.
Brothers in arms Mother Earth, producers James Rand and Dauwd should definitely get a look in.
Getintothis: It's not just writing songs you're interested in, tell us about Versus Magazine that Tom and many other cats in the Liverpool music scene help with.
Outfit: Versus Magazine has slightly fallen by the wayside because we've been so busy working on Outfit.
It was a way for us to demonstrate our cultural interests and reference points, as well as interview some people that inspire us, James Holden, Luke Kennard and Magda to name a few.
Andrew designed the cover for our Reality issue using shots of the video feedback stuff he'd been experimenting with. Reality was an issue that confronted what the word itself means to artists and how it affects a creative process. We hope to do one again, when the time's right.


Outfit at St George's Hall captured by Michelle Roberts for Getintothis.
Getintothis: Andy and Nick – any worries that you'll be the new Gallaghers/Davies' of the indie scene? I am worried about you two…
Outfit: We see ourselves much more like Carl and Dennis Wilson or Phil and Gary Neville.
Getintothis: You're hosting your own celebrity dinner party – dead or alive, fact or fiction – name five guests to invite to your gaff.
Outfit: Daniel Songer, Nam June Paik, Paul McCartney, Pamela Anderson, Raymond Carver. So awkward.
Every Night I Dress Up As You by OUTFIT
Getintothis: What were your favourite board games as children?
Outfit: Articulate, Monopoly and chess. Although Tom just bought William Roach's/Ken Barlow's board game Libel, a game he created to recoup the damages from a failed lawsuit. So far the entire house has refused to play with him.
Getintothis: Are you fluent in any foreign languages?
Outfit: Dave is Swiss, which is constantly impressive. Andy and Nick's mum lives in France but they've been too lazy to learn it.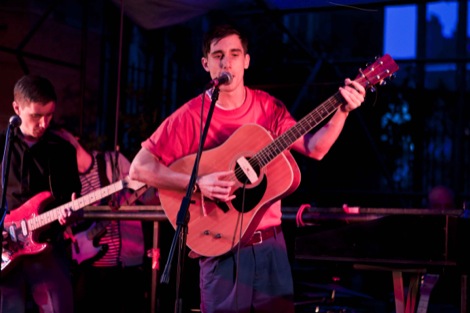 Outfit during the Getintothis gig at the Bombed Out Church during Liverpool Sound City 2011 shot by Conor McDonnell.
Getintothis: I know Tom's a big footie fan, what about the rest of Outfit, where do your loyalties lie?
Outfit: Andrew and Nick are staunch West Kirby Wasps fans, Dave has an ever thinning emotional responsibility to FC Basel and Chris supports a Formula One team.
Getintothis: Who/what is Jay Freeman?
Outfit: Ah, the question we all want answered.
Some say he's present in a gaseous state in all modern air conditioning units, making him omnipresent in most work environments, and therefore all knowing/godly.
He is however most famous for being the loyal and inventive coach of West Kirby Wasps for four fondly remembered seasons. He will always be the Holy Toad to me.
Getintothis: Have you any phobias?
Outfit: Andrew's terrified of spiders, Tom of sharks, Chris of films, Nick of children, Dave of everything and nothing all at the same time.
Getintothis: Some of you went to New York last year. Any tips, I'm strongly thinking of going next Spring. I NEED YOUR TIPS.
Outfit: It's the best place in the world. We'd recommend Other Records, The Cake Shop, The Whitney, New Museum, Wholefoods, The Stone – John Zorn curates this music space on the corner of a quiet east side street – and of course, Central Park.
You should, eat pizza, sack off the Statue of Liberty, its crap, just Google it. We went on a road trip up to Canada which I cant recommend enough, Toronto is ace.
Vehicles by OUTFIT
Getintothis: This is the end of the interview, I've enjoyed it a lot. Can you rate it out of 10, please, and tell us what you're going to have for tea.
Outfit: I'd give this interview a solid eight. Possibly too many questions but a question specifically about Jay ruffles the right feathers.
Most of the answers are true too. We're feasting on leftover electrical equipment, Andrew's made a lovely plug casserole.
Outfit
Outfit on Soundcloud
Getintothis Top 10 Bands of Liverpool Sound City 2011
Comments
comments