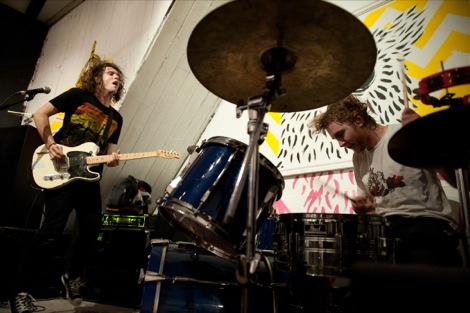 Getintothis' final thoughts on Liverpool Sound City 2011.

Liverpool Sound City 2011 was the best yet. Getintothis has been at the forefront of LSC since it's earliest beginnings, and it's a joy to see how it has grown while overcoming a variety of obstacles.
This year was no different – a weather warning on Saturday morning forced the closure of St Luke's Church (the Bombed Out Church, to us locals) resulting in the Bella Union showcase to be shunted out to the O2 Academy, and the bands set to play there dispersed to other venues. But communication lines were sent out early and a mini crisis averted.
This was indicative of the entire festival. From the organisation at registering, the helpful manner of all staff, the dedication from top to bottom and of course the continual passion that runs through the team, the festival did the city and it's people proud.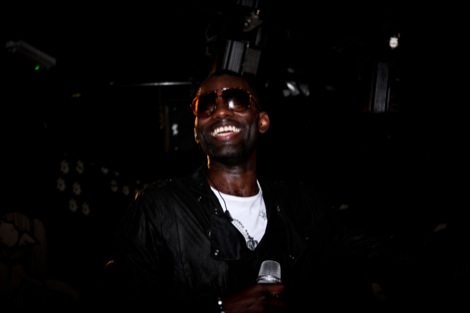 Wretch 32 at Bumper by Michelle Roberts.
Band bookers, Steve Revo Miller and Darren Roper, in particular need to be saluted for putting together the finest festival line up to date.
Despite initial fears, (only knowing about 75% of the bands and no instantly recognisible headliner), the festival stamped it's mark as being at the forefront of vital, new bands – a marker which aligns LSC with the likes of South By South West and sets it apart from other festivals.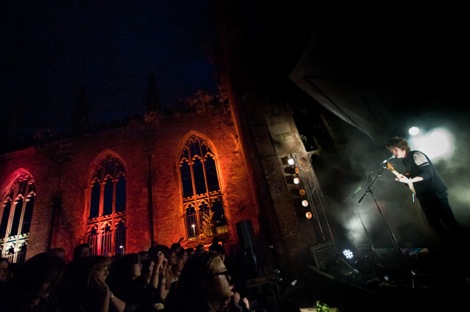 The Kooks by Mark McNulty.
Like with all festivals there was the odd problem. The most obvious concerned the one band you wouldn't associate with the ethos of Liverpool Sound City – The Kooks.
A band who's stock is seriously on the wane, yet one who remain a big live draw, were late headliners to the Delta Maid/The Big House bill at the Bombed Out Church on Thursday night.
With a capacity of 350, and 300 tickets being sold in addition to wrist-band holders wishing to gain access, the demand was always going to outweigh feasibility. The result was a poor gig, and even worse for LSC quite a few unhappy punters.
But the message, like at any festival, if you want to see someone that much, get there early. If not, prepare to be disappointed. That said, maybe the choice of venue – and knocking Delta Maid, a Liverpool artist, who's clearly on the rise, from headline billing was a decision organisers may in retrospect be keen to review.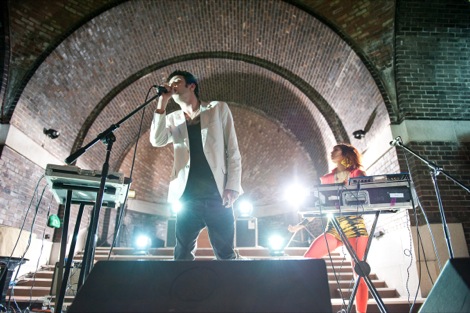 Handsome Furs at the Crypt by Luke Avery.
But this was merely one blip among a three-day triumph. And the Bombed Out Church was one of a number of new venue experiments which did work.
The Metropolitan Cathedral Crypt proved a spectacle worthy of the hefty trek uptown. With it's spiral staircase, underground cavern and a fine choice of bands deployed to exploit the booming acoustics, the Crypt was a mini marvel.
Elsewhere, Heebie Jeebie's Aussie BBQ is fast-becoming the must-do Saturday hangover cure, and with this year's added injection of Brazilian eclectica on the menu upstairs, the muggy weather failed to put a dampner on another grand addition.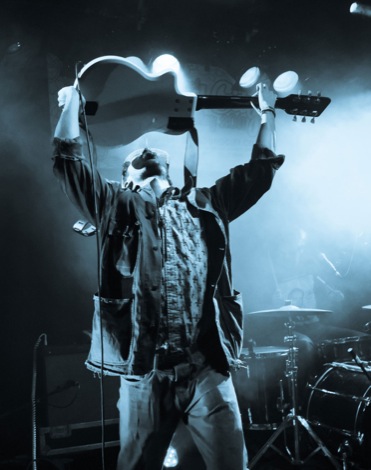 Black Lips by Craig McConkey at Brightscene Media.
But it was Getintothis' hero of 2010, Gary McGarvey, that hosted the surprise success story of LSC 2011.
The Screenadelica Stage, positioned just off Slater St, and round the corner from Mello Mello, The Zanzibar and The Kazimier, provided the perfect intersection for brief stop-offs to watch a variety of alt-rock by night and a gallery space filled with posters, t-shirts and gig art paraphernalia by day. It's these one-offs that LSC should embrace in the future to maintain it's special appeal.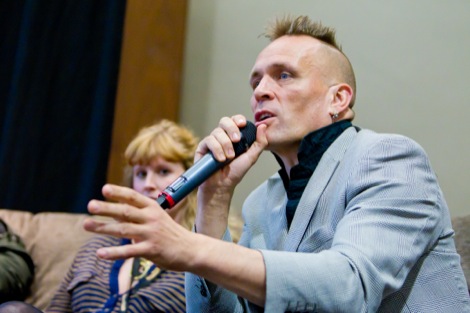 John Robb hosting the Bloggers Panel.
Away from the music, the Conferences at the Hilton provided industry insight – and a memorable bout of verbal fisticuffs between Peter Hook and Kevin Cummins as they debated the ins and outs of photographic copyright.
Hook's beef that he can't make any money out of pictures of himself as the copyright belongs to the photographer clearly still rankles with the former Joy Division bassist – and it is Cummins' icnonic pictures of said band which earns decent dollars.
Hook said: 'Photographs are all very well, but if the band doesn't make great music then the photos would be pointless.'
And, looking at Cummins but thinking of the entire photographic world, Hook said: 'Keep an eye on those bastards. Because 30 years later they'll be fucking milking it.' BOP!
Getintothis joined in the conference shenanigans with the John Robb-hosted Bloggers Round Table, discussing how music writing has changed and what we expect from the music press, before offering our thoughts on a variety of tunes offered up by members of the audience. It was fun, and all too brief – something we'd happily do again.


Yours truly waffling by Matt Thomas.


Yuck by Mark McNulty.
Other LSC 2011 bobbins:
* TOP GOSS #1: Echo and the Bunnymen pulled their Chester Rocks slot during LSC as Ian McCulloch is alleged to have told organisers he won't play in daylight. Macca has form for this type of thing – remember pulling Dubai Sound City for refusing to fly economy class? Unfortunately there appears no way back for Chester Rocks' people as the organisers are unable to change the pattern of the moon.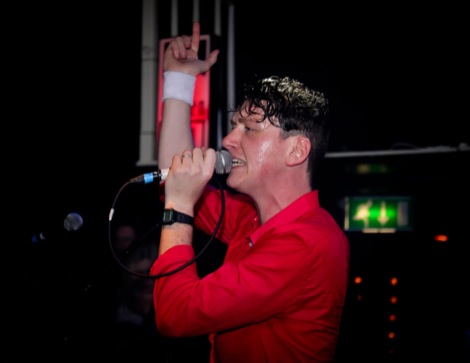 The Whip by Michelle Roberts.
* The Whip may not appeal to these ears, but there was no band all weekend which sent the Kazimier into a sweaty mess like these Mancunians. A lightweight New Order they maybe, but for well over an hour, the Kazimier swayed as one into a sticky, gloopy mess.
* TOP GOSS #2: The Coral's James Skelly failed his driving test during LSC while wearing aviator sunglasses.
* Lap top bands are really, really rubbish to watch, so you'd best have the tunes – Creep put the zzzz's into buzzzz band and should take notes from Beat Connection on how to captivate your audience from behind the macbooks.


Ed Sheeran by Michelle Roberts.
* Speaking of buzz, Ed Sheeran, was unanimously the talk of the town after his set at Bumper on Thursday eve, you could barely moved for ladies whispering his name. And then giggling.
* Panto Villain Award for LSC 2011 goes to Kingsley of the The Chapman Family for referring to Liverpool as a 'godforesaken run-down shithole of a city,' from the stage in Mojo. He later regrets the rant and apologies via his Twitter.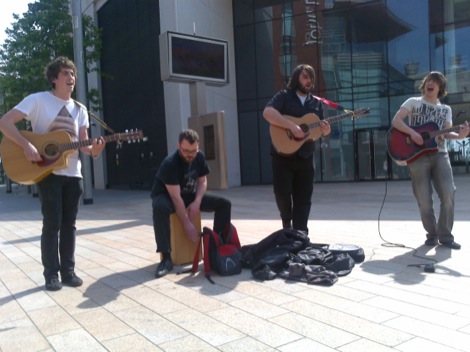 * Top Busking Award goes to Fly With Vampires who made 'fifty quid odd,' outside the Hilton, bright and early on Thursday morning. Dedication indeed.
* Kurt Vile worried organisers by showing up just minutes before his gig, and then went for a wander down Bold Street to enjoy a Mexican. All the while Fucked Up prepared for their gig with a workout involving assorted dumbbells back stage at the Kazimier – a first indeed!
So as the dust settles on another remarkable Liverpool Sound City, Getintothis would like to thank Dave Pichilingi and all his team; special mentions to Becky Ayres, Rebekah Pichilingi, Steve Miller, Darren Roper, Damo Jones, Laurence Fenlon, Niall McGuinness and Jon-Paul Waddington.
The Getintothis team for their coverage: Jon Birchall, Jon Davies, Stephanie Heneghan, Orla Foster, Mike Doherty, Neil Jones, Jamie Bowman and special thanks to Conor McDonnell and Michelle Roberts for pictures throughout. Craig Pennington, Christopher Torpey and all at Bido Lito for the collaborative effort and all the other photographers that helped out.
Roll on Sound City FIVE.
Comments
comments