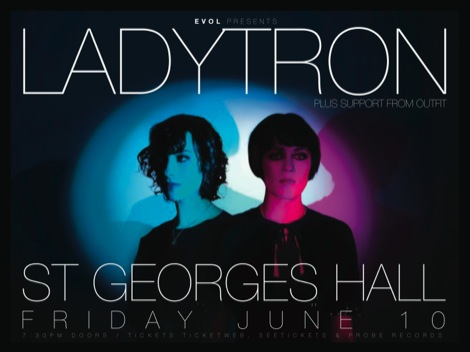 Homecomings don't come much more special than this. Getintothis has a pair of passes to give away for the best seats in St George's Hall for Ladytron's return to Liverpool on Friday.

Liverpool Sound City is over for another year but the regular gig roundabout continues unabated.
But there's nothing regular about this week uber-special, ultra-rare and possibly last hometown show from a band that have contributed to the Merseyside scene for longer than most are aware – as the mighty Ladytron make their long-awaited return at St George's Hall.
Long time members of Team EVOL, Ladytron were at the forefront, heralding a new breed of good times in Liverpool which centred around everyone's favourite hangout Korova; none of which would have been possible without the collective guile and genius of two Liverpudlians Danny Hunt and Reuben Wu of said 'Tron.

The band began life just over a decade ago and have released four magnificent albums to global acclaim, more recently a hefty 'best of' and album number five is due to land in September.
Around the world there is no other band that pushes Brand Liverpool like Ladytron, all festivals, all countries, flying the flag for the boys back home. They are the cutting edge, revered and respected alike and are princes among their peers.
This is the only show in the North of England and one of only four UK shows for 2011.
In support, comes Getintothis' favourite new band, Outfit. Fresh on the heels of their Getintothis showcase Liverpool Sound City spot at the Bombed out Church, Friday's gig will be just their fourth outing. Better get dressed up then.
Getintothis is delighted to be able to giveaway a pair of balcony seats for Ladytron at St Georges Hall.
To win a pair of passes simply add Getintothis on Twitter and tell us:
What is the name of Ladytron's debut album?
The winner will be announced Thursday, usual Post & Echo rules apply.
Tickets for the gig are on sale at at Probe Records and 3Beat Records or online here.

Comments
comments