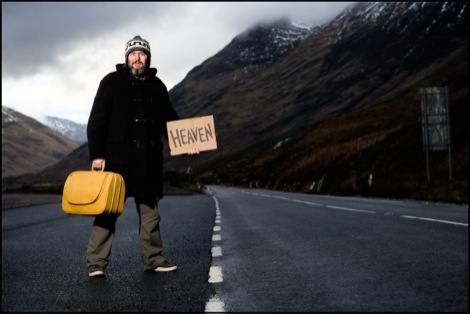 Happy chappies Bill Wells and Aidan Moffat play the Kazimier later this month, Getintothis has a pair of passes to give away.

Some partnerships just work, even if it takes time.
Eight years in the making, the debut album by Bill Wells and Aidan Moffat, Everything's Getting Older, is a special thing, full of gorgeous, jazz-inflected love songs fleshed out with a mixture of spoken word pieces and vocals delivered in Aidan's distinctive rhotic singing voice.
Wells is the Scottish multi-instrumentalist, composer, leader of the Bill Wells Octet and collaborator with The Pastels, Isobel Campbell, Future Pilot AKA and many more.
Moffat is a man of many projects, whether his solo material released under his full name Aidan John Moffat, his band Aidan Moffat & the Best-Ofs or, in a former life, his experimental work as L Pierre, Lucky Pierre and his long history as one half of iconic Scots duo Arab Strap.
Sometimes he collaborates with Mogwai, too. The Quietus dubbed him the Glaswegian Bukowski.
Beginning with first single, (If You) Keep Me In Your Heart, in 2003, the songs they came up with over the last eight years began taking on a theme: aging, and within it freedom, fatherhood, responsibility and ultimately death.
Finally, in May, Everything's Getting Older was released on Chemikal Underground Records to unanimous acclaim.
On Friday October 21, they're coming to The Kazimier to celebrate 'hope and humanity in even the bleakest of situations.'
To win win a pair of guest list passes, to what promises to be a stunning one-off, add Getintothis on Twitter and answer the following question and add hash tag #moffatandwells.
Q) What is an Arab strap?
a) A sexual device
b) An item of clothing
c) Equestrian equipment
d) A colloquial phrase for a faulty seat belt.

Full event and ticket info here.
Comments
comments