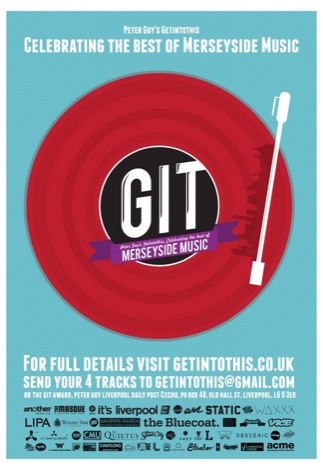 New Getintothis Award recognises next generation of Liverpool musicians.

Some cities have wonderful pop music histories, some might be lucky enough to enjoy successful periods in the future, but few can confidently say, they have both. Liverpool is one of a select bunch of cities that can.
Like London, New York, Chicago, Detroit and Los Angeles, it can accurately claim to have changed the complexion of modern music.
Now, a new prize, the GIT Award (an acronym of Getintothis in case you were wondering!), is about to recognise the best of the future crop of Liverpool bands who may go on to do what Scousers have been doing for more than half a century – changing the course of history.
As award-winning writer and Word Magazine associate editor Paul Du Noyer, author of the peerless history of the city's pop music culture, Liverpool Wondrous Place, says, 'Music is not just the heritage but the heartbeat of Liverpool.'
But, it's not just about rock and roll and the guitar bands the city has mostly been famed for, the GIT Award will celebrate Liverpool's current rich musical diversity.
From the thriving hip hop scene to its electronica artists, from its long-established country and roots community to punk, folk and metal, the GIT Award is open to all.
Peter Guy, Liverpool ECHO journalist and editor of Getintothis, says, 'Think of it as the Scouse Mercury Prize – but, the only criteria being that it has a clear connection with Liverpool; ie: the record was made, produced or recorded by Liverpudlians.
'Unlike the Mercurys, there will be a transparent judging panel and as many grass roots musicians won't record a full album during the course of a year, we're asking for four tracks be submitted to be eligible for entry – think of it as an old school four-track EP.'
Du Noyer added: 'I love the idea of an award to celebrate the musicians who are actively creating new music today – these are the very artists who will enrich the city's future.'


And the prize? It's a little belter. Sandhills Studio is offering a day's free recording time with a top producer, while the winners will play next year's Liverpool Sound City and Liverpool Music Week.
Vice Magazine, meanwhile, has asked Getintothis to promote an exclusive gig at their London-based bar, The Old Blue Last, featuring the winners.
On top of this, Skelmersdale film-maker Ian Gamester, who has been shortlisted for the prestigious Virgin Media Shorts film, will make the band's video promo which will be screened at FACT's boutique Box cinema for the winners and their nearest and dearest. Further goodies from sponsors will be announced in the coming months.
A stellar list of sponsors, both from inside and outside the music community, have added their considerable cultural and commercial heft in supporting the inaugural GIT Awards, including: Liverpool Sound City, Liverpool Music Week, Cream, Creamfields, Vice Magazine, The Quietus, Liverpool Vision, ACME, It's Liverpool, Liverpool City Council, Culture Liverpool, FACT Cinema and Art Gallery, Liverpool Museum, Probe Records, The Music Consortium, Bido Lito! Magazine, WAXXX Magazine, Sandhills Recording Studios, Elevator Studios, The Motor Museum Recording Studios, Dawsons, Resurrection, Lost Art, LIPA, Weavers Door, Bold Street Coffee, The Green Cauldron, Cains Brewery, The Bluecoat, Static Gallery, The Masque, Leaf, Sentric, CMU Daily, EVOL, Mellotone, Harvest Sun, Samizdat, Another Media, Obscenic, Mercy, Hive Collective, Jon Hillcock's New Noise, UR BEATZ, Seven Streets and Liverpool Live.
Thus far the judging panel comprises Vice Magazine global editor Andy Capper, Liverpool-based EVOL promoter Steve Miller and Bido Lito! editor Craig Pennington, as well as Getintothis editor Peter Guy. The full panel will be announced shortly.
Dave Pichilingi, CEO Liverpool Sound City, the city's annual music festival and conference said: 'Sound City has always championed the vast pool of talent from Liverpool and the wider region, and having worked with Getintothis since our formation in 2007, the GIT Award represents the perfect showcase to celebrate new music. We're proud to offer the winners a chance to play Sound City 2012 and with such a diverse range of music out there it'll be fascinating to see how it evolves.'
Former NME journalist and director at Liverpool vision, Kevin McManus, said: 'We are really happy to support the GIT Awards. Liverpool has a worldwide reputation for its creativity and for continuing to produce some of the UK's best music and most innovative music businesses. These awards give the best of the new talent an important platform and provides some well deserved recognition for the numerous new acts breaking through.'
Mike Stubbs, Director/CEO at FACT added: 'FACT has been developing and supporting fledging artists for over 20 years and as a result we've seen first-hand the huge amount of creative talent that Merseyside produces. That's why I am delighted to be supporting this great initiative.'
Liverpool City Cllr for culture, Wendy Simon, said: 'The city is proud to support the Getintothis Award, as a city we are recognised for our great musical talent and these awards are a great way to acknowledge this talent.'
The GIT Award will have an official launch at Liverpool Music Week's spectacular closing party at the Contemporary Urban Centre on November 12 with the 12 nominees announced next spring before the winner is unveiled days before Liverpool Sound City 2012 where they will feature on the Getintothis stage.
In the meantime, spread the word, The GIT Award is officially ON – musicians, bands and creative types everywhere, send your four tracks to getintothis@gmail.com
Or alternatively post to Peter Guy, The GIT Award, Liverpool Daily Post & ECHO, PO Box 48, Old Hall Street, Liverpool, L693EB. If you're a business and would like to get involved with the GIT Award, please email getintothis@gmail.com
Closing date to be finalised but entries open until Spring 2012.
Comments
comments