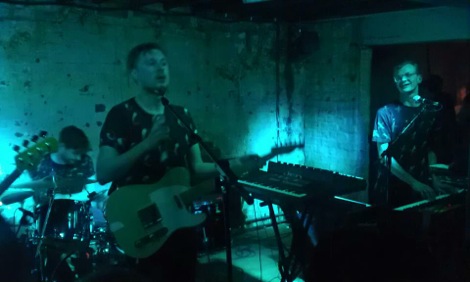 Django Django avert tour sickness to keep the Shipping Forecast bobbing, Getintothis' Liza Williams floats along a wave of euphoria.

All day I had been working on the assumption Django Django were going to cancel.
I have a track record with these things- singers lose their voice, cars break down, guitarists snap strings and have no spares.
The Edinburgh-formed four-piece had pulled out of their Norwich and Manchester dates just nights before due to illness, so considering I had a ticket, Liverpool also seemed doomed to bite the dust. But luckily for the packed out Shipping Forecast basement, the curse must have broken.
Armed with a host of electronic gadgets, an unnecessarily large tambourine and a guiro – (one of those wooden block instruments which are a staple of any school percussion section), the band launched into their eponymous debut album's introduction track, morphing into the impossibly infectious Hail Bop.
Some computer hiccups got the set off to a stuttering start, but the problem was soon sorted and people did indeed bop. Quite a lot. The band seemed a bit overcome by the reaction.
Due to the cancellations this was the opening gig of the tour, so maybe the foursome didn't fully know what to expect from the crowd. The momentum continued with the pulsing, surging energy of Waveforms and onto Life's a Beach – a chirpy, surf guitar dream of a song.
Comparisons to the Beta Band thrown at Django Django's eponymous debut offering don't really come through live – there is so much energy, too many pulsing beats shaking through you. The music feels like its getting somewhere fast, not just floating aimlessly along.
There was the odd moment that veered into Casio keyboard demo mode territory – without the album's slick production Skies Over Cairo sounded a bit too gimmicky.
But those moments were few, and by the encore of Silver Rays the band
seemed euphoric at how well they had gone down. And rightly so.


Loved Ones
The crowd had been steadily building throughout the night. There was still space to slouch during Johnny Sands' set – a mixture of solid acoustic numbers with the odd surprise of a synth drum beat thrown in.
The electronic extras worked and helped lift a set that may have been a tad predictable without the bit of oomph his keyboard provided. Obviously a bit of a supermarket flaneur, his music was peppered with stories of cavemen in Asda and Aldi's over zealous shop assistants.
By the time Loved Ones arrived on stage the basement was packed.
There were some complaints about the sound from the Merseyside four-piece, headed up by Nik Glover ( formerly of The Seal Club Clubbing Club), which left them without a full compliment of instruments.
But it didn't hinder a performance which was polished, consuming and brimming with ideas – a further indication of the promise by this West Kirby collective.
Delicate, controlled melodies seeped through resulting in a gentle and beautific sound which crept up on you. But in a nice way, of course.
Pictures courtesy of Andy Minnis.
Comments
comments