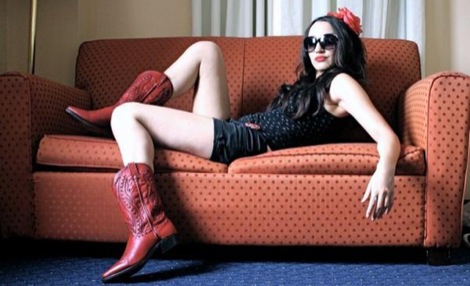 Lindi Ortega brings her old school country sass and a striking pair of boots to Leaf, Getintothis' Jodie Schofield mingles amid the facial foliage.

I've come to realise that you can get an idea for how good a gig will be from the number of beards in the audience.
Turning up at Leaf on a chilly Wednesday evening to see Lindi Ortega presented me with no less than nine beards, swathes of sideburns and a very fine moustache to boot – so the early indications were promising to say the least.
Entering like the long-lost lovechild of Dolly Parton and Johnny Cash, Lindi, kitted out in a black, fringed shirt, fascinator with net veil headgear and fine red cowboy boots (presumably the same ones from the title of her 2011 album) kicked off with Angels, a dainty but dark ditty about loneliness.
Redolent of Nashville icons of days gone by, Lindi delivered her classy country pop in a sexy, sassy manner with great banter in between, finding time to poke fun at a couple who admitted to stalking her on nodepression.com.
The highlights came thick and fast, including A Little Lie, Cash cover Folsom Prison Blues, Bluebird, Little Bit High (relating to what she gets up to when she is 'feeling a little down') and title track Little Red Boots a track inspired by her Wonder Woman inspired footwear.
Beware too of giving this girl a bad review – she wrote her toe-tapping finale I'm No Elvis Presley in response to a certain critic who said she was 'ok, but never going to be legendary'.
Who needs to be a legend when you have little red boots and a way with words like Lindi, anyway? Scores on the board: Five beards out of five.

Comments
comments