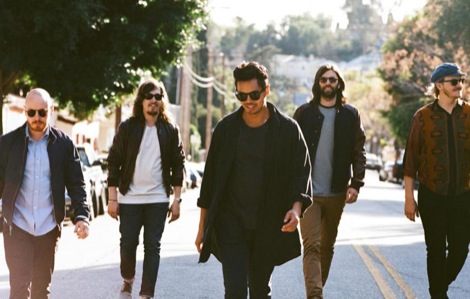 The Temper Trap, James Vincent McMorrow, Django Django, Tim Hecker, The Wedding Present and more announced for Liverpool Sound City 2012.

Liverpool Sound City celebrates its fifth birthday in May and today organisers have announced their next wave of artists.
The Temper Trap, Kids In Glass Houses, James Vincent McMorrow, Django Django, Tim Hecker, Space, The Wedding Present join already announced headliner Professor Green and White Denim, Death In Vegas and Michael Kiwanuka.
Australian guitar band The Temper Trap will arrive on Merseyside on the eve of the release of their eponymous second album while Irish singer songwriter James Vincent McMorrow returns to Liverpool on the back of his sellout Kazimier show in February.
Another band that played Liverpool recently, Django Django are back after their much-lauded gig at the Shipping Forecast. Canadian ambient neo-classical artist Tim Hecker is sure to provide one of the must-see gigs of Sound City 2012 while city favourites Space also make their return.
Domino Records' Eugene McGuinness joins a list which sees The Big Sleep, Willis Earl Beal, Thunderbird Gerard, Still Corners, Mugstar, Stealing Sheep, Stephen Langstaff, Sissy & The Blisters, The Kill Van Kulls, Electric Guest, White Arrows, The Night, Lulu James, EJ, Said The Whale, Don Broco, Futures, Dan Croll, Capac and Ex Easter Island Head all play at various venues across the city.
Special showcases featuring new talent from oversees see New Zealand bring Pikachunes, Princess Chelsea and Midnight Youth while Australia are represented by Step Panther, Millions, Inland Sea, Ben Salter, Bonfire Nights, Oliver Tank, Wim, Jackson Firebird, The Bowers and Sietta. Canadian acts include Jordan Cook, Kestrels, Ben Caplan and Slow Down Moasses while Denmark and Italy complete the international flavour with Strangers On A Train and The Second Grace respectively.
The full list of artists confirmed for Liverpool Sound City 2012.
Professor Green/ The Temper Trap / Death In Vegas / Mystery Jets /
Kids In Glass Houses / White Denim / Ghostpoet / Space / The Wedding Present / Alkaline Trio / James Vincent McMorrow / Michael Kiwanuka / Willy Mason / Django Django / Tim Hecker / Slow Club / The Jezabels / Bear In Heaven / Still Flyin' /
Forest Swords / Stealing Sheep / Charli XCX / The History Of Apple Pie / Alt-J / TOY
Lower Than Atlantis / Don Broco / Futures / The Computers / The Big Sleep / Yukon Blonde / Willis Earl Beal / Thunderbird Gerard / Lulu James / EJ / Still Corners / Folks / The Heartbreaks / Fixers / Mugstar / Eugene McGuinness / Stephen Langstaff / Sissy & The Blisters / The Kill Van Kulls / The Night / Electric Guest / White Arrows / Said The Whale / Bleached / Dan Croll / Capac / Ex Easter Island Head / Jonquil / Shields / Towns / PINS / Pikachunes / Princess Chelsea / Midnight Youth / Step Panther / Millions / Inland Sea / Ben Salter / Bonfire Nights / Oliver Tank / Wim / Jackson Firebird / The Bowers / Sietta / Jordan Cook / Kestrels / Ben Caplan / Slow Down Moasses / Strangers On A Train / The Second Grace
Liverpool Sound City.
Comments
comments