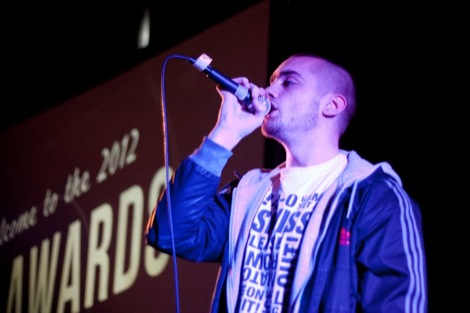 Bang On by name, bang on by nature – Big Dada's main man slam-dunked the GIT Award in true style – here he reflects on a night when he made new musical friendships.

Picture the scene. Seven months planning. Ten artists set to play at the very first GIT Award – only nine have turned up.
It's ten minutes til showtime, and the dude who's second on the bill has yet to show.
People are twitchy.
Calls to Bang On, aka Elliot Egerton, are going straight to answerphone. Calls to his label are met with calm assurance – which leaves us all the more on edge. Calls to friends are met with mild indifference.
Then, just as we're reaching for the panic button, Bang On rolls up Bold Street and says 'What's up?'
Fast forward 30 minutes, and he's left Leaf shaking from its foundations. Job done. He's also garnered a whole set of new fans – and friends in The Tea Street Band.
Quite frankly, unless there's a collaboration in the offing, we'll be disappointed.
In the meantime, here's Elliot reflecting on a beast of a night…
Getintothis: What did you make of the GIT Award 2012?
Bang On: It was a boss night and made me think why haven't we done one sooner? It was a big deal in the end and the bands who played justified all the fuss.
'I had a boss time, the pleasure was all mine. Well in on behalf of everyone just for making it such a big deal and obviously working so hard on everything – it was a great night for the city as a whole.'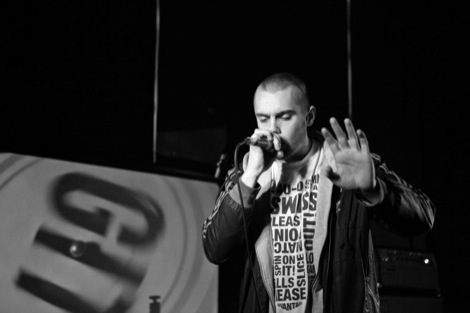 Bang On at the GIT Award 2012
Getintothis: What message did you think the GIT Award sent out? What message did you think the GIT Award sent out?
Bang On: 'Liverpool is a beast, let's celebrate that fact.'
Getintothis: What were your highlights from the GIT Award 2012?
Bang On: 'The Tea Street Band and bumping into me mates there.'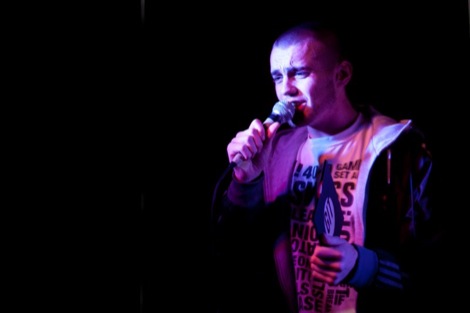 Bang on receives his momento at the GIT AWARD
Getintothis: Thank you so much for your music and good luck for the future – what's next for you?
Bang On: 'Nice one. My debut album [sic] released by Big Dada on May 14, cop that.'
For a full interview and new music by Bang On read Getintothis' interview here.
Pictures by Marie Hazelwood and Conor McDonnell.
Comments
comments