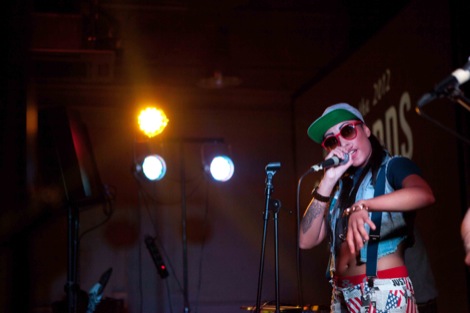 From near-obscurity to national media coverage, Miss Stylie has been one of the true success stories of the GIT Award – and there's no stopping her now.

As Double Negative editor, Mike Pinnington alluded to in our GIT Award podcast, Miss Stylie was one of the real wild card picks in the 12-artist shortlist.
Plucked from relative obscurity, the Toxteth grime-pop star has proved a revelation and her quick wit, slick flow and versatility in the song stakes has garnered much attention since we announced the nominees while post-event The Guardian featured her story prominently in their Monday edition.
Stylie, aka Jade Jackson, has relished the GIT Award process – but true to her personality, she's been the epitome of humility and expressed delightful charm and surprise as the plaudits rained down.
With a new EP, Heavy Salad, due anytime soon, Getintothis knows this is one artist to keep an eye on. We caught up with Jade during the aftermath of Friday's cracking show…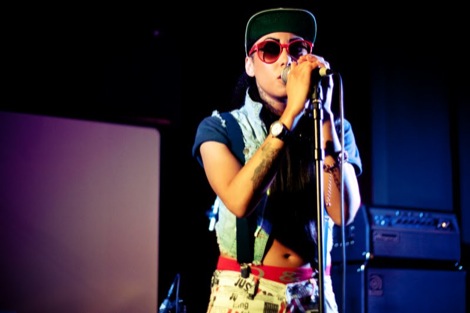 Miss Stylie at the GIT Award 2012
Getintothis: What did you make of the GIT Award 2012?
Miss Stylie: 'The GIT Award was a totally cool platform for artists from different genres to enter and get themselves heard also to mix and come together in the same place and perform their own sound.'
Getintothis: What message did you think the GIT Award sent out?
Miss Stylie: 'I think the message the GIT Awards sent out was that you can't categorise artists – everyone has their own sound.
'For example someone could say I'm a rapper and instantly people think hip hop. However, with me I am a rapper but I sing and the music I do ranges from funky-house to dubstep to garage to grime to pop and acoustic-flavoured music…


Miss Stylie performing at Leaf at the GIT Award 2012
Getintothis: What were your highlights from the GIT Award 2012?
Miss Stylie: 'The highlights would have to be my performance due to the overwhelming reaction I got from everyone when I finished my set.
'There was a lot of different genres that night – bands, instrumental stuff… So when I came to perform I instantly thought 'uh oh'… I didn't think the crowd would enjoy it as much as they did – it was fabulous!
Getintothis: Thank you so much for your music and good luck for the future – what's next for you?
Miss Stylie: Thank you for having my craziness there – haha!
'The EP Heavy Salad is due to drop end of May or early June so keep a look out.
'I am also on at Sound City at Bumper on Saturday May 19 – get down if ya'll!
'I've got a few things coming up through this year also a festival in Croatia and a few new bangers.
'I'd just like to say, well done to all the GIT Award nominees; Liverpool has so much good talent time to get rockin n rolling now!'
For a full interview and new music with Miss Stylie read Getintothis exclusive chat with her here and you can help with her Pledge album campaign here.
Pictures by Marie Hazelwood and Conor McDonnell.
Comments
comments