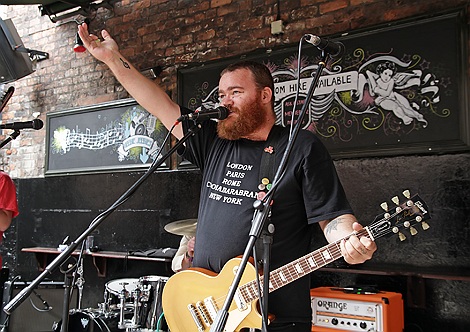 Liverpool Sound City 2012 unleashes its Australian contingent, Getintothis' Jack Atkins is battered into submission – and loves it.

Wolf is an amazing word that signifies musical excellence; Steppenwolf, Peanut Butter Wolf, Wolfgang Amadeus Mozart, and Reignwolf.
Also known as Jordan Cook, Reignwolf battered Screenadelica with a half hour assault of blistering one man rock and roll.
Armed with just a bass drum, a fuzzy guitar tone and a smokey voice like Robert Plant after a four day binge, he proceeded to batter the audience with the fury of baby that's just lost it's favourite toy.

Whether he was abusing his drum, pummelling through the ceiling tiles, or channeling the spirit of Hendrix with his face melting solos, he had all eyes on him, rewarding the baying punters with some excellent heavy bluesy rock.
Cook was soon joined on stage by a full drummer and a second guitarist, a move which changed the dynamic to one of Soundgarden-esque grunge.
Cook apologised for turning up late for his set, informing everyone that he'd been in a car crash earlier on. If that's not rock and roll, then frankly nothing is.
Continuing the mental rock shenanigans were Australian outfit Ironside, whose bass player easily wins the sideburns of the weekend award.
Armed with catchy songs such as Lower your One-Night Standards, Ironside pumped out the kind of music which would be the perfect soundtrack to an amazing bar brawl.
After two boss sets before them, you have to feel for Death Letters, who take to the stage finding a very sparse crowd before them.
That's not to say that the two-piece aren't good, in fact their hardcore infused QotSA style music is in times excellent, despite the majority of the vocals being drowned out by massively loud guitars.

Death Letters downfall are their slower numbers, which come across as a weak Radiohead effort, just without the chops.
Not a bad set by any means, but after Reignwolf earlier on, any band were going to suffer.
Comments
comments