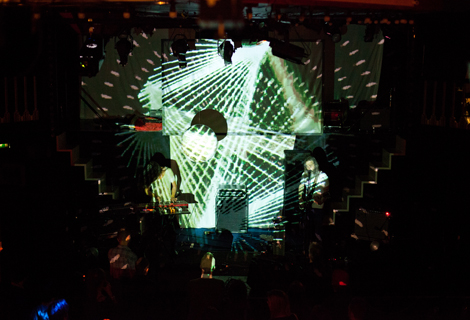 Getintothis enters a kaleidoscopic world of desert drones and far-out fuzz.

We've been here before. Indeed, it seems by the look of many gathered in the Kazimier, we've all been trapped inside this psychosis fug for sometime.
Like a cyclical road trip into the deepest realms of the wilderness, our brains wired on stimulants from a bygone age, we're lost with only the unshakeable guiding force of Ripley Johnson to depend on.
He's our skipper tonight, the lizard dragged in from a sandstorm within Saturn's rings, piloting our voyage to the otherside; where past meets present, dishes of drone and relentless fuzz are served up liberally as spiders weave ray beams of intricate dazzling light before our eyes.
Similarly as to when Ripley's mainstay juggernaut, Wooden Shjips, visited the Kazimier, we're plunged into darkness as our hair is fried by acid-tinged guitars which seemingly know no boundaries – they just go on, and on, and on.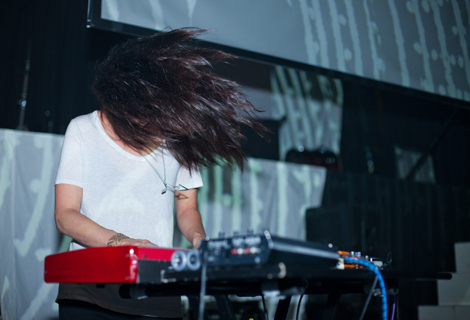 Sanae Yamada of Moon Duo does that shaky hair thing at the Kazimier
Where on Moon Duo's superlative record, Mazes, the chops are, well, chopped up – diced into smaller pieces, more digestible than the Shjips' elongated freakouts – tonight there's no shortage of meandering grooves as Ripley and his partner in space and time, Sanae Yamada on keys, drag out their hypnotic shake shake until they deem fit. Stopping not for breath or a chat – but to begin again.


On Seer, Yamada's perpetually modulating organ funk weaves in and out of Ripley's barely-audible drawl while In The Sun manages to simultaneously sound like a spooked-out ode to Halloween round Ed Gein's gaff and the kind of delirious nit-wit anthem Brian Wilson would play 24/7 in his sandpit.
They are, however, at their best when knocking out a belly-busting tighter bopper. The garage stomp of Run Around kicks like a mule and one of Getintothis' favourite tracks of recent years, When You Cut, channels the spirit of Beck should he ever get into a tangle with Kyuss – it's absolutely sublime.
Same script next time round, cats, see you on the otherside.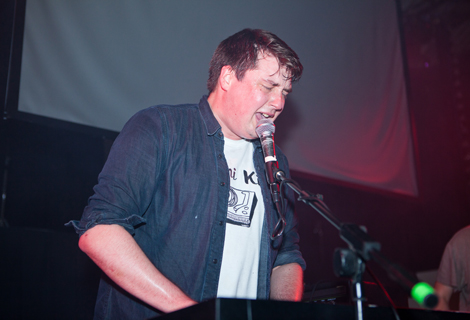 Hookworms live at the Kazimier
Similarly to our headlining vessel the supporting cast offer familiar yet nevertheless whacked out trips into the outer cosmos with Leeds' Hookworms channelling the bombastic rock and drone of Black Angels spruced up with some frenetic yelps, motorik drumming and six-string squealing.
There's bluster aplenty amid this flailing situational chaos however as the players arch their backs and swing to the deck in manic union there's a simultaneous precision to match not least on the howling stand out of Form and Function – more please.


Hookworms live at the Kazimier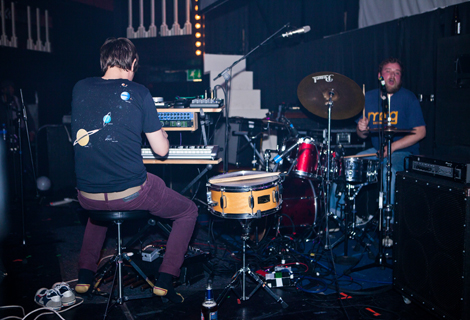 Gigantes live at the Kazimier
Gigantes are purveyors of goth-Italo-organ-freakouts last impressing these ear tentacles with a rhythmical assault in support of whirlwind warlords Carlton Melton at the much-missed Don't Drop The Dumbbells.
There's few better players on the Liverpool circuit than David Smyth and Joe Hirons – the former a titanic drummer possessing more changes in time than Dr Who.
But where previous gigs in smaller caverns have played to their strengths – notably repetitive marathon keys motifs backed by propulsive sledgehammer beats – here in the moderately-populated Kazimier there's a certain sparsity in their armoury which lacks the brutal punch of old.
That said, there's no escaping the vortex of false endings, ridiculously entertaining drum fills and astrological territories these space cowboys transport us to. Gigantes are still piloting a mesmeric craft.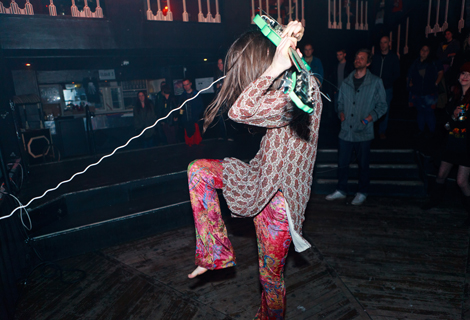 It's Murder Beams live at the Kazimier
The greatest shock of the evening arrives early doors with the devastating abandon of the freewheelin' psychonauts from Planet '69 of the Catskills Mountains – otherwise known as It's Murder Beams.
Seemingly energised from the age of Aquarian Exposition by way of Mr Benn's wardrobe, the shoeless, headband-wearing technicolour explosion that accompanies Murder Beams is at first arresting on the eyes before the ears are close to shredded apart by a detonation approaching Stooges meets 13th Floor Elevators powered by a failing generator.
The screeches and banshee wails are impressive enough before guitarist Jump executes a Bruce Lee high kick across the stage before bounding off into the centre of the room to play one-handed Hendrix-style behind his neck.
Jump can barely find his place alongside his equally imaginatively-named band-mates Kip Kersey (bass) and Slats Ferguson (guitar/vocals) as the hiss descends and the senses are shattered – the early onlookers are similarly entering sensory overload.



It's Murder Beams live at the Kazimier
Pictures by Conor McDonnell.
Follow Getintothis on Twitter.
Comments
comments