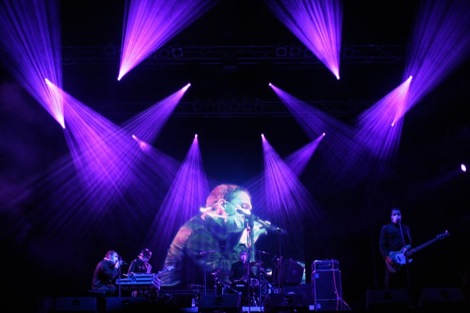 Clinic make their much-anticipated live return in Liverpool next month when they headline FestEVOL at the Kazimier. Shortly after they will be releasing their seventh studio album for Domino Records. We're going off on a tangent, a complete turnaround they tell Getintothis' Orla Foster.

Nobody does mystique quite like Clinic. With a penchant for masks and antique church organs, the band have carved out a niche as Liverpool's finest post-punk export in sometime.
After laying low for a few months, Getintothis was excited to hear they'll be back to headline FestEVOL early next month. We grabbed a few minutes with singer Ade Blackburn ahead of the show.
Getintothis: First things first. What drew you to play FestEVOL?
Ade Blackburn: Well, any time we've had a gig in Liverpool before, we've done our best to try and play somewhere that wasn't your standard venue. About three years back we put on our own small festival at the Kazimier, and the last time we played Liverpool after that was in the Bombed Out Church (Getintothis review).
It keeps our shows a bit less obvious. I think any performance is bound to be affected by the venue and surroundings so if you can make that more special, more of an event, then you probably should.
It's good to see events like this going ahead with so many venues going under.
Yeah, you tend to find that a lot of the better venues are the more makeshift ones, they have a lot more character and the shows are more memorable. But as a result they often struggle first before the bigger ones.

Getintothis: So which other bands are you looking forward to seeing?
Ade Blackburn: When we played the Bombed Out Church last time, Outfit were also on the bill – but I only caught a bit of their set.
So I'd really like to see them properly, even though they're on a different day to us. From what I can tell it's going to be quite a varied lineup. It's great that the organisers have been able to expand it to a two day event.
Getintothis: Will we get to hear any new material on the day?
Ade Blackburn: Yes, we've finally got ourselves together and we've just finished mixing our next album, which should be out around October.

Getintothis: Each of your albums has been completely distinct from the one before. How do you avoid repeating ideas?
Ade Blackburn: I think that every time you make an album, by the time you finish it you've completely exhausted whatever direction you started out at.
As soon as you get to the end of the process, all you want to do is something that's completely the opposite of whatever you've been working on. I mean, there are a lot of things that I hope are constant within what we do, the music always has had its own sort of edge and energy, and that will probably always be there.
But we get bored with sounding the same. Bubblegum was a lot more acoustic and based around fairly conventional song structures, but for the new album we're going off on a tangent and doing something weirder and spacier sounding. I'd say it's a complete turnaround from what we did last time.

Getintothis: How does the intensity of recording an album compare with smaller side-projects, like the covers record (Ladies Night) you put out last year?
Ade Blackburn: We did that for Record Store Day, as a vinyl-exclusive EP.
The main song we did was a cover of Male Stripper by Man 2 Man. The original is quite electro, but we slowed it down and came up with a slightly more intense, darker version. It was really fun to do, there wasn't too much agonising over it.
As well as the electro ones, we did a couple of more crooner type songs, like Moon River and Blue Moon, and a cover of a track by the Seeds. There's no real pressure involved with projects like that, so you get to be quite light-hearted with your choices. It was the most straight-forward thing we've done in a long time.

Getintothis: When you play songs live, do you find that they evolve much from the recorded versions? Do you have to make allowances and do things differently?
Ade Blackburn: Yeah – one of the main things that happens when we play live – and this hasn't always been totally deliberate – is that the songs are always louder, faster, and more intense.
We must have some kind of inner heavy rock persona that's just desperate to come out. I'd quite like to do something in that vein. We always come across as more punk and more raw when we're playing live.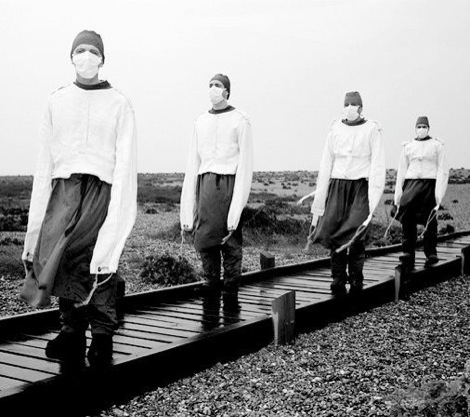 Walks on Formby beach were always eventful when in Clinic's company.
Getintothis: Do you have to bring lots of vintage equipment with you on stage?
Ade Blackburn: Yeah, we still bring a few vintage bits and pieces with us where we can. Not as much as we used to, though, as a lot of it started to get broken when we were travelling.
We still managed to take a some of the weirder instruments with us. I always like that myself, if a band has got something to them that's outside of straight guitar.
Getintothis: So how important are the surgical masks, and what inspiration do you take from bands like the Monks (garage band who wore cassocks) in terms of playing out the band's persona?
Ade Blackburn: It's quite an obvious sort of thing, but it's also just a fun pisstake, partly because it's so obvious – a pretty stupid, tongue-in-cheek way of presenting the band.
When we started out I felt sick to death with endless bands going about in normal indie gear, always looking the same. Band image is something you can be more creative with, and we've always been involved with the visual side of that, always done the record sleeves ourselves.
Also, when you do the gigs it helps to take it less seriously, as coming out wearing surgical masks is a fairly daft thing to do.
Getintothis: Any variations on the theme?
Ade Blackburn: There have been a few variations. Last time it was Guetamalan shirts, the time before it was Hawaiian.
It's become a running theme that in interviews and press releases we keep promising that the next album will definitely be a party album, which of course it never is. So the Hawaiian shirts are all part of the build-up. Somehow the party album itself never quite makes it that far.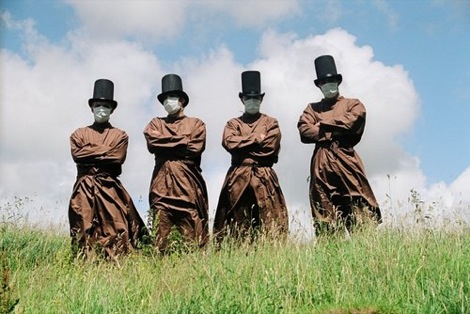 Clinic – ever the show-offs in the dressing up department.
Getintothis: Do you enjoy building those sort of myths around the band then?
Ade Blackburn: Yeah, I like it a lot. There have been a few different costumes over the years, we've worn things like Edwardian outfits with along with the masks.
It's not always related to gigs or anything, it doesn't have to be a particular theme, we just like playing around with the image of the band.
Getintothis: Have you got many other shows coming up over the next few months, or is this a one-off?
Ade Blackburn: We're going to America to do a tour in October, but after we get back there'll be a gig in Liverpool to preview the new album.
So it will be slightly different from our usual shows. There'll be a shift towards a more electronic sound, with lots of keyboards and drum machines, it'll sound less human. We'll announce all the details closer to the time.
Getintothis: Do you get your pick of fun venues to play in America?
Ade Blackburn: Well, I'm quite chuffed because this time we're going to Nashville and Las Vegas.
I like getting to play more offbeat places, not just going for the standard route. I don't know how much of an indie scene there is in Las Vegas.
I think our show will be a bit at odds with what's happening in the rest of the city, and probably with the Nashville scene too. That's one thing we haven't done yet, a country and western album.
Getintothis: Maybe just tease people by coming on stage decked out in stetsons?
Ade Blackburn: Yeah, or we could do U2 covers for a bit, maybe that could be our next record. A bit of stadium, a bit of country and western. Although I'm not sure we'd be any good.
Getintothis: The sun's come out after weeks of wall-to-wall rain and you're cooped up on the phone doing an interview. Where would you most like to be?
Ade Blackburn: We-ell, ideally – and I should emphasise that this would be ideally, I would never do it – I think I'd like to be surfing.
Maybe it's just because I really like the Beach Boys. I don't really go to the beach at all. But it would be nice, some surfing, followed by a beach party – that would be the ideal way to spend a summer's evening.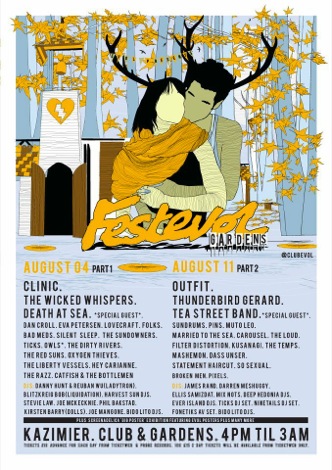 Clinic headline FestEVOL Part One on August 4 at the Kazimier Club and Gardens alongside Edgar Summertyme, The Wicked Whispers, Death At Sea, Eva Petersen, Folks, Bad Meds, Silent Sleep, Lovecraft, Ticks, The Sundowners, The Dirty Rivers, Owls*, The Oxygen Thieves, The Liberty Vessels, Hey Carrianne, The Razz and Catfish & The Bottlemen. With DJs Danny Hunt & Reuben Wu (Ladytron) Blitzkreig Bob (Liquidation), Harvest Sun, BidoLito, Stevie Law, Joe McKecknie, Mrs Barry, BidoLito and Joe Mangone
Clinic
Getintothis interview with FestEVOL organiser and EVOL promoter Revo Ziganda.
Comments
comments