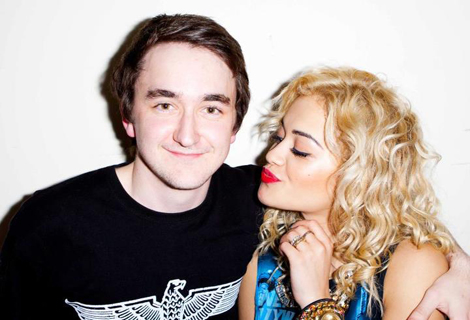 From blagging his way into a sold-out gig as a band photographer to hanging out with Jay-Z and Bono, Getintothis' Conor McDonnell has enjoyed a fast-track ride to snapping the music industry elite. Aged 20, Conor, from Lydiate, has just bagged his biggest assignment to date – becoming number one chart sensation Rita Ora's go-to snapper. We thought it was about time to catch up with him and see what he's up to.

In an industry weighed down by industry and image, Conor McDonnell is refreshingly different. Quiet, unassuming and perma-dressed in his hoodie and jeans, he's an everyday kinda guy.
Getintothis first starting working with Conor when he was 18 – he'd worked on a variety of music-related photographic jobs and we asked him to join our Liverpool Sound City team in 2010.
He quickly made contacts shadowing former NME, now Q Magazine staffer, Danny North as well as taking on a variety of high profile jobs. Now aged 20, the Lydiate lad is mixing it with Jay-Z, Beyonce and U2 front man Jesus Christ.
We caught up with Conor to ask him about his latest project working alongside number one chart star and RocNation artist, Rita Orla.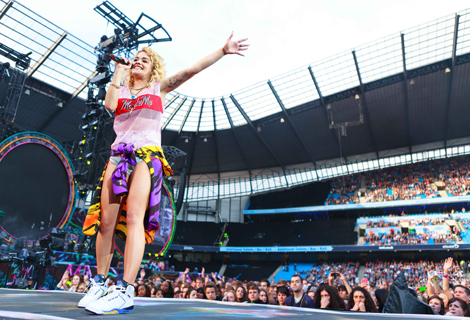 Rita Ora live by Conor McDonnell
Getintothis: Yo Conor. So what's all this fuss about Rita Ora?
Conor McDonnell: Rita is awesome! I've been doing loads of work for her over the past few months – videos, photos, promo work…
She's a really great person to work with and be around; very fun, cheerful, down to earth, it's a good laugh.
The first time I photographed Rita was when she supported Drake at the Liverpool Echo Arena. I'd heard some of her stuff before so was pretty excited to see her as I'd heard good things about her live.
It was a nightmare to shoot, lighting-wise, but it was a great show. I was supposed to be taking some portraits of her backstage after the show but it fell through unfortunately.
However a few weeks later she was back in Liverpool on the DJ Fresh tour. I got asked to come along and do a video for her (Remix video for R.I.P). I got to hang out with her backstage and we took some portraits, did a few bits for the video and we got on really well.
She loved the photos and ended up using one for her twitter photo. Her management loved my video too and so I ended up at her show a few weeks later supporting Coldplay in Manchester. The following weekend Lovebox festival, the weekend after that BBC Hackney weekend, the weekend after T4 on the Beach. The week after that I was flown out to Munich to do some work with her and then the weekend after that Wireless festival.
It's been a manic few weeks – but it's all so awesome. There's lots I'm working on now too and lots of things for the near future planned. It's all pretty exciting. I'm loving it.

Getintothis: And this led to you hanging out with Jay-Z, Beyonce and The Chris Martin Band right? What's all that about?
Conor McDonnell: Rita is signed to RocNation (Jay-Z's record label).
Jay-Z was on the Watch The Throne tour in Manchester, the two days after the Coldplay gig. Jay had come down to watch Coldplay as he is a big fan and also to watch Rita. It was pretty surreal.
I was recently told that Jay-Z really likes the work that I've been doing with Rita which is awesome!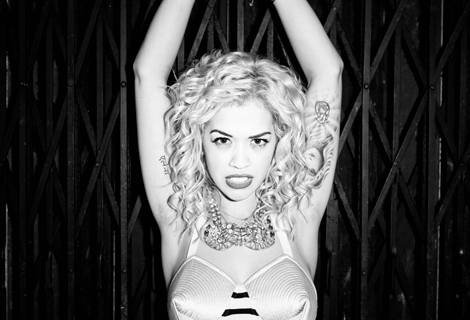 Rita Orla by Conor McDonnell
Getintothis: While we're name-dropping, you managed to blag a day off college and go the Q Awards and hang out with Bono didn't you?
Conor McDonnell: Haha, I'd just finished college by then… I was stuck in a 9-5 job that I was so fed up with and so I couldn't pass up this opportunity, so I was off 'sick'.
It was amazing! U2, Coldplay, Queen, Biffy Clyro, and so many more artists – it was insane. I made a few good contacts that day too which was really useful.


Conor McDonnell with U2's Adam Clayton and Bono at the Q Awards
Getintothis: So, you've been contributing for Getintothis for sometime – tell us how you got into photography and what advice would you give to young snappers?
Conor McDonnell: I got into photography by accident.
I'd always liked taking photos but never considered it to be more than a small hobby. One Christmas I got a Canon 400d – a pretty basic SLR camera but it did the job back then for what I used it for (art GCSE).
I hardly used it to be perfectly honest. Until one day I noticed that The Subways were on tour but the date I wanted to go to was sold out. I tried to get a ticket but just couldn't get hold of one.
I found an email address for their management and actual band members and I also sent a message to the band on Myspace asking if there was any tickets I could buy. Amazingly they actually replied and said there wasn't but they noticed on my page that I had a camera and had an interest in photography and said they can put me down on the list as a photographer, I can come down and take photos for the first three songs in the pit and then stay and watch the show.
I owe The Subways a hell of a lot for that pass. It completely changed everything for me. Massive respect for them.
I don't really think I'm in a position to give advice really, I'm only 20, I have so, so, so much more to learn myself.
If I had to though, I'd say don't take 'no' for an answer. If someone used to say no to me, I'd find someone who would say yes, instead. There's always more than one route in.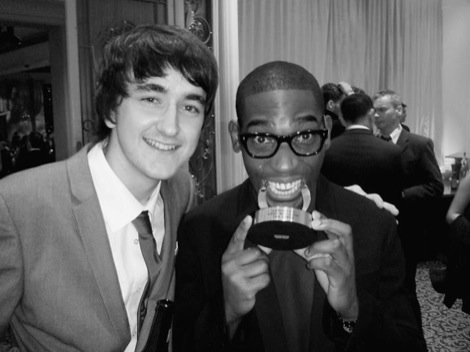 Conor McDonnell with Tinie Tempah at the Q Awards
Getintothis: Give us a dream day job and a nightmare shoot from hell.
Conor McDonnell: My dream job would be the day Sir Dave Grohl rings me up and asks me to come on tour with him. Either that, or Kanye/Jay-Z to do the same thing. It'd be amazing!
Nightmare shoot from hell, I don't really know. I don't think there is such thing as a nightmare shoot, as I'd learn a hell of a lot from it that it'd probably be a good thing, if that makes sense. But if I did. It'd probably be having to shoot something like Paris Hilton. Urgh.

Rita Ora at Hackney Weekend shot by Conor McDonnell
Getintothis: You may be good behind the camera, but we're well aware of your questionable music taste. You like the Foo Fighters and Enter Shikari – two horrendously average bands – what's been on your jukebox lately?
Conor McDonnell: I hate you Peter Guy.
How dare you diss Grohl and co. I'm going to hunt you down, remember I know where you live.
I have major love for Foo Fighters and Shikari. Enter Shikari are another band that I've had the pleasure of working with quite a few times; great band, great crew, one of, if not the, best live bands you can see.
Besides those two, I've been listening to loads of stuff like Azealia Banks, The Weeknd, Vela, LetLive, Esco Williams, Rita Ora, a big mix of things really.
I'm still obsessed with Kanye's My Beautiful Dark Twisted Fantasy too.
There's also all the old favorites like Nirvana, The Clash, Radiohead, Bloc Party, The White Stripes. I've also grown partial to a bit of Rihanna after the Hackney Weekend – don't judge me!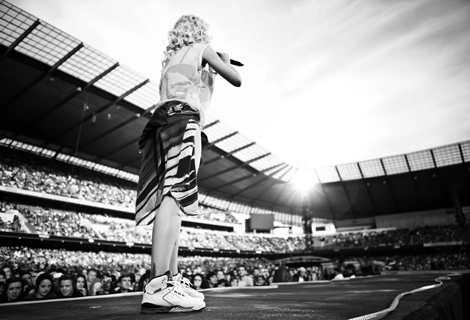 Rita Orla live by Conor McDonnell.
Getintothis: Finally, we can't let you get off without telling us your favourite breakfast cereal?
Conor McDonnell: I'm not really a breakfast kind of guy.
I don't really eat in the morning. I'm constantly editing videos/photos at ridiculous hours at night so breakfast is a rare occasion.

Music video by Rita Ora performing R.I.P. by Conor McDonnell.
Moon Duo, Hookworms, Gigantes, It's Murder Beams at The Kazimier, Liverpool by Getintothis' Conor McDonnell.
Liverpool Sound City 2011 picture gallery featuring Fly With Vampires, Braids and Ace City Racers by Getintothis' Conor McDonnell.
Conor McDonnell Getintothis picture gallery at Liverpool Sound City 2010.
Conor McDonnell.
Getintothis hangs with Bono to avoid diplomatic incident in Russia.
Comments
comments