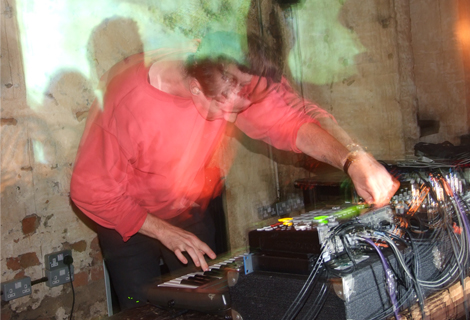 Experimental electronica reaches new heights in Liverpool, but as Getintothis' Andy Minnis explains it's a shame few people are present to experience the euphoria.

With Forest Swords taking to the decks, Getintothis arrives at the Shipping Forecast to an assortment of trippy sounds.
Elements of drum and bass, dub, trip hop and all manner of noises are married with shifting technicolour visuals from Hive Collective, mapped across the ceiling and transforming the stage into a immersive box of flickering lights. The combination provides a great introduction to the night.
Soon after, Isocore (aka Paolo Elmo of Upitup Records) begins a hypnotic set full of constantly evolving beats with elements of deep house and techno, replete with an industrial edge.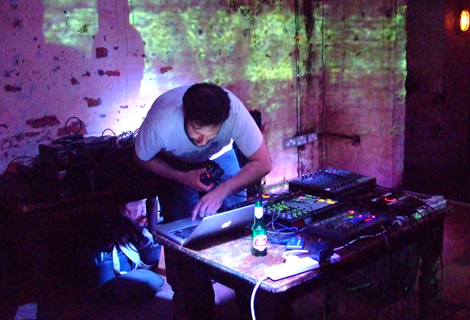 Paolo Elmo aka Isocore gets to grips with his knobs
Constantly tending, tweaking and shaping the sound with innumerable knobs and buttons, this is live electronic music with a distinct visual element. Tempo and rhythm morphs constantly, keeping us on our toes as Isocore wrestles with (what looks like) two Monotrons to mix, tweak and layer blips and beats.
While his performance is engaging and provokes some tentative dancing, the room is quiet, with a modest turn out and suggests in another setting, on a busier night, his set could have been awesome. In essence, a more appreciative audience would have accentuated the experience so much more.

After an excellently soundtracked break, tonight's headliner Ital (aka Daniel Martin-McCormick), kick starts his set with a distorted intro recalling his Mi Ami roots, before a beat starts up and the set takes off.
With the previous visuals suspended, the room darkened and crowd moved forward, Ital's performance contains a concerted intensity and focussed energy that was hitherto lacking; there's a coherent minimal dynamism which is complex and evolving but it holds and hypnotises.
The captivating sound is matched by frenetic movements around a mind-boggling array of equipment and while there's just four or five tracks served up, the transition between each was so well judged there's a constant build and challenge from one to the next.
Towards the close, fully immersed and swept along, we were hit with a more edgy climax that pushes us further away from the comfort zones already left far behind.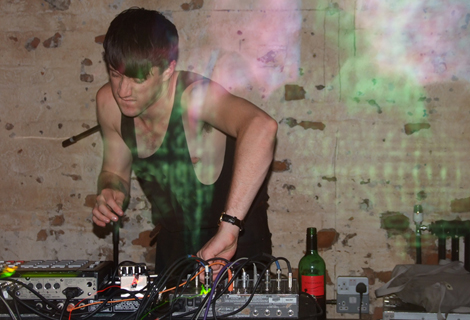 Daniel Martin-McCormick aka Ital in full swing
Martin-McCormick is clearly a musician that never gets complacent, never allowing the set to plateau – producing a driving, always changing sound. The set ends, but the small and dedicated crowd aren't settling for that.
Demands for more are satiated as Ital obliges closing on a spectacular high, leaving us feeling energised after one of the best club nights we've ever attended.
The only niggle of the evening, was the slight crowd. With a packed out room, the show could have been a truly incredible experience but the audience was thin on the ground. Attracting big audiences and new audiences to experience electronic, experimental or alternative music is always challenging.
Sadly, there often doesn't seem the appetite for it. People are missing a trick, though. In many ways, Isocore, Ital, Forest Swords and Hive Collective may not be to everyone's taste but they're also not elitist or exclusionary.
The acts may not be star DJs, but in many ways the artists at this gig are more satisfying and interesting than most of what the 'mainstream' dance scene has to offer.
Promoters Deep Hedonia are providing a platform for alternative sounds to niche artists who rarely get the opportunity in Liverpool and for that, they deserve of our support.

Pictures by Hannah Bitowski.
Comments
comments