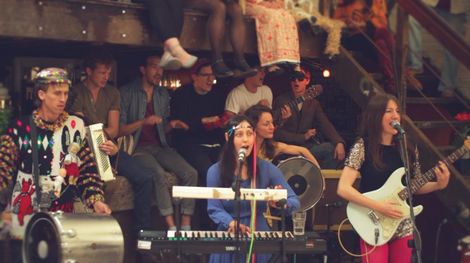 Stealing Sheep throw summer party and Shut Eye session in Kazimier Garden Gathering.

We do love it when a plan comes together.
Despite the obnoxious weather, the Kazimier garden is in full swing, and what better way to celebrate than teaming up with the Stealing Sheep party in preparation for new record Into The Diamond Sun.
Emily, Rebecca and Lucy are in the midst of their pre-album release tour and stop off in Liverpool on Saturday for everisland's Kazimier Garden Gathering. Among the bands playing on Saturday are White Bicycles, Silent Sleep and By The Sea.
But before then the girls managed to team up with film-maker Jack Whitely and a whole host of Liverpool musicians, including the Kazimier Krunk Band, a.P.A.T.t, Dan Croll and producer Joe Wills to perform a special Obscenic session. Here it is in all it's magnificence.

OBSCENIC SESSIONS | Stealing Sheep | Shut Eye from OBSCENIC on Vimeo.
Getintothis reviews Into The Diamond Sun.
For full details of the everisland Kazimier Garden gathering visit here.
Comments
comments