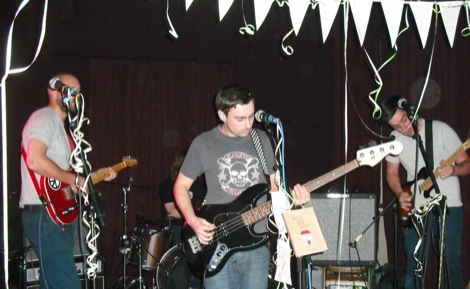 The fifth instalment of Used Vinyl Club finds two aggro collectives deep rooted in fun, Getintothis' Charlotte Hodge revels in the packed out Mello Mello.

'A group of mates, getting together to support each other's music', is how Used Vinyl Club founder and promoter Andy Donovan bills the once monthly DIY gig at Slater Street independent cafe Mello Mello.
But in this, the fifth show of what has fast become a prolific people puller for organisers and supporting label Rekordmeister Music, getting by with a little help from one's friends had never been taken so literally.
Heading up the bill and stepping up as the latest Liverpool act to have their record released through the art inspired singles club was post-punk guitar band House that Jack Built.
They, through an appalling slice of bad luck, plonked in a cocktail of culinary cock-up (…stick with me), were bereft of guitarist and chef Paul Durand, who was forced to pull out of the gig with a work-induced broken hand.
Step up Chris MacIntosh of 28 Costumes and Hallo… I Love You! repute to (pun) lend his pals a hand (/pun) and the show rolled on without so much of a hint of splinted fingers.
And that was the credit of the Used Vinyl team, who staged yet another carnival night of self-starting punk rock which will only serve to gladden the hearts of independent music fans in the city.
Opening the show were punk powerhouses Down and Outs who brought their own brand of Scouse hardcore with the kind of snarling aggression Mark Magill and his band of brutes are revered for in these parts.


Down And Outs live at Mello Mello
In a set littered with staples from their 2004 debut, Boys From The Black stuff, the noisy four-piece also took this chance to roll out some new material from their forthcoming third record (which we were told, in no uncertain terms, is 'defo coming out soon… it fuckin' is.')
Onto the main event and a makeshift House that Jack Built soldiered through a set of their life's work as a band, rattling off in jerky-quirky signature, their first full collection of songs, A Study of Reading Habits.
For those lit-savvy in the crowd, the Philip Larkin reference will not have been lost but the distinctly Pickwick Papers themed back room in Mello will have suggested, even to the innocent passer-by, that something bookish was afoot.
What transpired was a comprehensive catalogue of thoughtfully crafted indie-punk, delivered with some gusto and astonishingly little apprehension by the thrown-together four.
House That Jack Built – A Study of Reading Habits
With each to a man ganging up on vocals like a pack of schoolyard bullies, HtJB attacked their set list with laudable aggression, hurtling into alt-pop tear up's such as Reading Writing Arithmetic and Shaving by Candlelight.
For the surly, sub three-minute tracks, which are an homage to the style of bands like the D+O's, principal songwriter Mark Donovan is also able to display the diversity of his musical powers on this record, which flits between Descendants dirge to the flightiest of Field Music.
Ear candy hooks in tracks like Later Sweet preface aggression deliberate deviance, none more so in the distorted a capella of stand-out song Picking Locks.
The album – available for free download from the Rekordmiester website – is beheld by the eye. A gold-leafed parcel of pop-punk, the HtJB record is another brilliant addition to the Used Vinyl pile.
And another full house at Mello Mello goes someway to show that, while the mainstream may have decided to cock its leg on Liverpool after five years of sniffing around, the appetite among the city's creatives to have public conversation about their art has not waned a mote.

Comments
comments