Last Shop Standing is a heartbreaking account of the tragic decline of the UK's independent record shops by Anfield author Graham Jones, Getintothis' Jamie Bowman delves deeper into the crates.
Anfield-born author Graham Jones is one of those unsung heroes of the music scene who deserves his moment in the sun.
A couple of years ago, I first met Graham at a signing for his book Last Shop Standing, a wonderful, but heartbreaking account of the tragic decline of the UK's independent record shops.
Graham worked at the heart of record retailing during the golden era of the 1980s. He was there during the years of plenty and has witnessed the tragic decline of a business blighted by corruption and corporate greed. Undertaking a tour of the last remaining independent record shops in Britain, the book collected a wealth of entertaining stories that explained why the best are still standing, and how the worst of them blew it.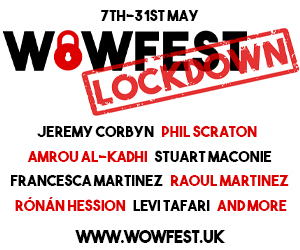 We instantly hit it off, helped by the fact that I discovered Graham had been the manager of The Cherry Boys, a Liverpool group who produced one of my favourite ever singles, Kardomah Cafe, a beautiful, lilting slice of dreamy psychedelia which always plays in my head as I stroll down Mathew Street.
Despite the book's fittingly DIY release (Graham's son did the proofing, while a mate of his designed the cover), it hit a chord and its charming mixture of indie nostalgia, righteous anger and salacious record industry gossip proved a palpable hit with the readers.
Even so, it still came as a shock to me when I got a phone call from Graham last week telling me that his book had been turned into a documentary film and would soon be screened in Liverpool.
Graham had been approached by film maker Pip Piper who felt it was important that the story was filmed and documented properly. Piper's company Blue Hippo Media, raised money through crowd-funding website Indiegogo and ultimately, £7,000 was raised through donations from 170 people.
The results, which I managed to view last week on DVD, are fantastic, heartwarming, and if, like me, you're one of those people whose heart leaps when they walk into a room full of vinyl, pretty uplifting.
The film tells the story of why over 500 independent record stores have closed during the last few years, while also offering a testament to the importance of these outlets.
The likes of Paul Weller, Johnny Marr (sporting the best hair cut I have ever seen), Norman Cook, Billy Bragg, Nerina Pallot, Richard Hawley and Clint Boon all provide passionate and amusing words of support, but the real stars are the shop owners themselves.
The Housemartins' London 0 Hull 4 – Hull's finest still resonate
Chief among these is Diane of The Musical Box on West Derby Road, while Entertainment Retailers Association chairman Paul Quirk, former owner of West Lancs' indie record chain, Quirks also features.
Diane's story of how shocked her mother was when she first took delivery of Elvis' Heartbreak Hotel single, really brings home the history and tradition which runs through these businesses and the human connections which seem to spur them on to keep running their shops in the face of rising rents, downloads and supermarket sales.
Thankfully, despite the sad demise of 105-year-old Hudson's Record and Tape Centre in Chesterfield bringing a tear to the eye, the documentary is not all doom and gloom.
The film climaxes with the uplifting events surrounding Record Shop Day and the news that vinyl sales went up a massive 39% in 2010. It's a great ending to a brilliant film.
Getintothis on Record Store Day
Getintothis on Probe Records.
Getintothis on the death of the indie record shop.
Comments
comments