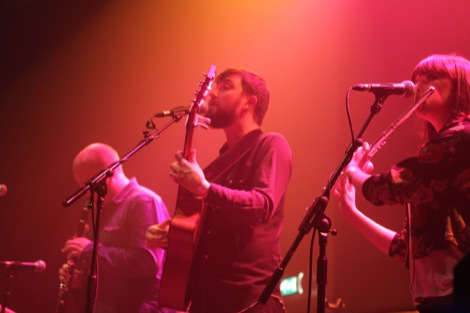 Admiral Fellow are the latest from a long lineage of Scots bringing heartfelt folk-rock to Liverpool, Getintothis' Nick Lodge finds some beauty within the beige.

A whole slew of Scottish bands have beaten a tartan path across the border, delivering quality folk-pop since, well, since before Marcus Mumford even considered starting a family anyway.
Admiral Fallow follow in the footsteps of Frightened Rabbit, Aidan Moffatt, Broken Records, and pretty much the entire Fence Collective, in serving up a musical broth to soothe and comfort life's outsiders.
On record, then, Admiral Fallow's show has all the right ingredients. Warm melodies that worm their way inside your head, delivered in soft Glaswegian tones (if that's possible), harmonies, a locker full of different instruments, and the right ratio of beards to band members. But somehow, for Getintothis, it wasn't the triumph it should've been. Our friend, really enjoyed it, though.
Maybe it was the night – cold and damp. Maybe it was the support, although fellow Glaswegians Olympic Swimmers arrived in the 'pool with a clutch of stirring, brooding, occasionally menacing, songs, delivered with soul and fleeting, welcome echoes of The Blue Nile.
Or maybe it was an initial lack of on-stage energy and banter, at times giving the evening a slight flatness that didn't do their songs of justice.
The set got off to a promising start with new album opener Tree Bursts gently unfurling, all soft edges and subtle hooks invoking the natural beauty of King Creosote.
They continued in this vein, unveiling a variety of instruments, including clarinets and flutes along the way. We're a sucker for additional wind instruments, or indeed any instruments that add texture and nuance to the traditional mix of two guitars, bass and drums.
Beetle in the Box maintained the momentum, but then we hit a fallow middle period (sorry) when it got a little laboured, songs merging into each other, different shades of beige.
'It doesn't have to be this way' they sang in Old Fools, though, and they were right. Perhaps they were saving themselves for the home stretch, because with their final salvo, Admiral Fallow belatedly relaxed, capturing a beauty and depth of feeling hitherto untapped.
And an encore of Oscar, and 'Old Balloons' from debut album Boots Met My Face, finally drove the winter blues from the Kazimier's nooks and crannies.
So, to recap: we were optimistic, we were intrigued, we were a little bit bored, but in the end we left smiling as the Halloween reds and oranges of latest album Tree Bursts in Snow chased the beige away. In the spirit of Christmas, then, maybe we'll just have to give them a second chance.

Comments
comments