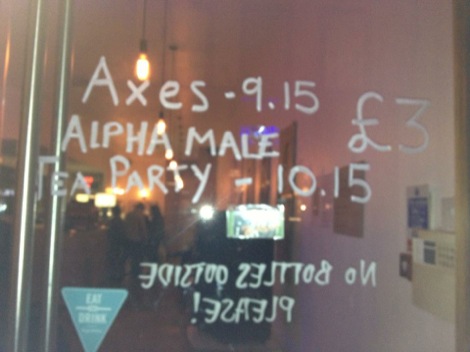 Axes and Alpha Male Tea Party whip up a golden blend of instrumental fusion inside Liverpool's favourite indie coffee shop, Getintothis' Joseph Viney ventures inside the looking glass and takes a welcoming gulp.

Lewis Carroll wrote of Alice and her looking glass, and the concept was well and truly put into practice at the warm and welcoming venue that played host to two green eye inducing groups; the international conglomerate that makes up Axes and the madcap and ultra-talented efforts of Alpha Male Tea Party.
With the venue's front constituting nothing but a massive window, passers by were magnetically drawn towards the sounds coming from within; eager faces pressed against the glass, cameras whirring and flashing, all desperate to be a part of events.
Liverpool has fostered a massive upturn in fortunes for the instrumental scene of late. Groups of the calibre of MinionTV, Wired To Follow, Kusanagi, Cleft, Muto Leo and much more besides have put the subtle intricacies and energy of this oft-neglected genre right back on the map.
Axes, who have come together from the four winds of London, Essex, Denmark and Iran combine a dizzying intensity with crafty and melodic pop hooks.
Their bassist combined both the looks and playing style of former Sonic Youth co-leader Kim Gordon, while her band-mates supplied a loud twin-guitar assault backed up by ferocious drumming. All involved had smiles on their faces throughout and after their whirlwind of a set you couldn't help but join them.

Speaking of something catching, Alpha Male Tea Party took to the stage in attire resembling biohazard suits.
Indeed, their music is as infectious as radiation and were you to be exposed to the thundering bass, broken clockwork drumming and pervading weirdness for too long, then your teeth and hair might just fall out as well.
Still riding high from their magnificent debut album and sporting a new bass recruit nominally titled Urethra Franklin, the Liverpool-based trio are becoming regular fixtures on the scene and in the alt-press, and rightly so.
Their furious blend of metal, math-rock and a sick sense of humour is what makes them so fresh and exciting.
Well established songs such as It's All About The Throat and Depressingly Shit Lunchtime Sandwich made an appearance alongside a slew of new tracks; evidence that this most energetic of groups aren't content to rest on their laurels and plaudits.
The alpha males are beating their chests with reckless abandon. Long may it reign.

Taken from the forthcoming EP Real Ale and Model Ale – The Lonely Man's Guide To Not Committing Suicide
Further reading on Getintothis
Alpha Male Tea Party in Ten Bands Ten Minutes – Fleetwood Mac at The Kazimier, Liverpool.
Alpha Male Tea Party, Dead Sea Apes, Lost In The Riots, Some Rabbits at Mello Mello.
Muto Leo, Alright the Captain, Hillary and The Democrats, Alpha Male Tea Party, Kusangi, 8mm Orchestra at Mello Mello.
Comments
comments