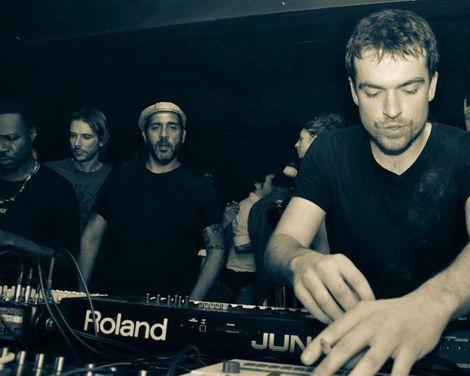 John Heckle is a Liverpool dance pioneer. He's also the first producer and DJ to make the GIT Award shortlist. Here, Heckle recounts to Getintothis' Stephanie Heneghan his days DJ-ing as a young teenager in Merseyside to jetting around the world and making boards tremor to the sound of thrilling space disco.

It's a familiar scenario ­- you're 13-years-old and under the guidance of an older brother you're teaching yourself to DJ on a pair of old belt drive decks.
In most cases, mastering the ability to beat match successfully is enough pay off, honing basic skills that will allow you to step up to the plate at student parties.
Maybe you'll go one step further, downloading a copy of LOGIK and attempt to produce your own tracks. But very few will take the route that John Heckle did, moving swiftly from the bedroom to the DJ booth at 15, clocking up a residency at local night Rehab and releasing music under his Hek alias at an age when acquiring fake IDs and was the more established method of gaining access to clubs.

With a DJ setup that utilised three decks and a drum machine, he started to clock up gigs not only in the UK but around Europe.
When discussing his sound, though, he's reluctant to pigeonhole himself to one genre.
'There's influences from Chicago house, Detroit techno, Italo disco, industrial music and stuff from the 80's,' John tell us. 'Anything that I like I try to use but I always try and put my own spin on it.'
Describing the Wizard himself, Jeff Mills, as his musical hero – 'I saw him 10 times before I turned 18, we used to just follow him round the country', his sets are less frantic than Mills, but with the same skill and energy that his idol is famous for.
Currently signed to the respected Mathematics label, he's released a string of tracks and remixes through them, as well as the critically acclaimed album, Second Son.
At age 24 he's rapidly ticking off achievements that you'll find on any DJ's bucket list having recently produced a well received mix for FACT magazine as well as recording a live set for the Boiler Room series.
And there's silverware too, having been awarded a Qwartz Electronic Music Award in Paris for his Life On Titan EP.
After being encouraged to enter the GIT Award after seeing the success of last years winner Esco Williams, he's evidently delighted to be make the eventual shortlist.
John added: 'It never struck me as something I'd actually get nominated for.
'I thought it was more bands and singers so I'm made up to have made the short list. He is however, looking forward to playing at the event.
'It's a massive honour to be involved – especially in Liverpool. I play so much around Europe that it's nice to get noticed at home for the music – and alongside such amazing Liverpool artists'.


Further John Heckle reading on Getintothis
John Heckle interview: The Liverpool electronic pioneer that's lost in space
Getintothis Exclusive Mixtape Volume #6 – John Heckle
John Heckle features in Getintothis' Top 100 Records of 2012
Further GIT Award 2013 reading
GIT AWARD 2013 shortlist revealed ahead of April 19 Leaf showcase
The GIT Award 2013 the nominees: the shortlisted artists in detail
GIT Award 2013 at Leaf on Bold Street Friday April 19 with £1000 to winners.
For a full list of the GIT Award 2013 judges and their profiles read here.
The GIT Award 2013 returns championing the best of Merseyside music.
Comments
comments