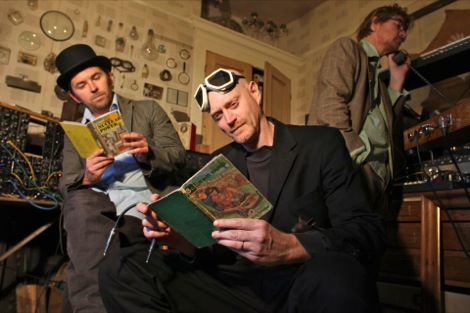 Death disco from trans-Europe basement hoppers, the male LDR and a right royal heart-tugger, Getintothis' Stephanie Heneghan gets something in her eye in this week's singles column.

Metamono – Warszawa/Shafty – Single of the Week
Alongside, Irmin Schmidt and Mute records founder Daniel Miller, Jono Podmore is the dude behind that superbly-crafted Can box set The Lost Tapes.
When not meticulously editing a billion out-takes and forgotten krautrock gems, former Liverpudlian Podmore can be found hopping between basements in Köln and London carving intensely whacked out, purely analogue, electronic slabs of malevolent noise.
Resting between locked grooves and teetering on the brink of implosion, these warped jams are both naggingly catchy and sinisterly playful recalling the swag a.P.A.t.T like to churn out at 5am. Death disco at it's finest. Dance on.

Getintothis talks to Jono Podmore and Can's Irmin Schmidt.
Lewis Watson: Hold On
My heart sank a bit when I saw this as one of this week's singles because the original version by SBTRKT is such a favourite of mine and I thought 'oh here we go, it's the bland acoustic folky version, just what we need more of'.
But it's actually really cool, keeps a lot of the original version (that lovely clunky wood percussion for a start) and while the vocals aren't as good as Sampha's he gives a good crack. I like it. Oooh, we're off to a positive start this week.

Josef Salvat: This Life
"Wow, he sounds like a male Lana Del Rey" I thought, feeling really pleased with my expert musical ear, checking my phone for the inevitable phone call from the NME to join them as a highly paid critic.
Then I went and looked at the comments on YouTube and apparently everyone else noticed this too.
It's such an easy comparison to draw, that same affected melodic drawl, the lush musical backdrop, the retro styling, he's even got a similar pout. I'm wondering if there's an audience for a male Del Rey though? I doubt Mulberry will be naming any bags after him.

Prince Innocence: Golden Hour
Electropop with dark languid keys and layered female vocal , at first listen you might go "oh okay, it's quite nice". After the 10th spin it starts to really click and then when you play it at 4am on a Saturday morning when life is hazy, it makes perfect sense.
If you were driving down a motorway at night with this turned up loud you could pretend you were as cool as Ryan Gosling in Drive and you wouldn't even have to shell out for that shit bomber jacket he wears.

Zemmy: Brittle Pieces
This girl has some voice. It's fricking gorgeous, managing to somehow sound both rich and fragile, it made all the hairs stand up on the back of my neck.
This song is pretty emosh if I'm honest. It sounds like the kind of heartbreak song I've attempted to write in the past (shut up) but whereas mine would end up turning into an angry rant to the melody of a Robbie Williams song (shut up, again), this is just beautiful. I liked it, it made me feel really sad but I liked it. Sorry, I've got something in my eye…

Cut Ribbons: Luna
I think that if when you first hear a track and your initial reaction is 'I bet this would sound really good over a montage of goals on MOTD' then it's probably a little bit middle of the road.
It's a bit of a dated indie sound for me, the only part of it that keeps it sounding almost fresh is that female/male joint vocal. But epic guitars that could soundtrack a Rooney hat trick is a bit of a turn off. Sorry.

The Computers: Love Triangles, Hate Squares
This is a song about missed opportunities according to lead singer of The Computers, Alex Kershaw. "What if Lennon never met McCartney?" a question I'm sure we've all asked ourselves at some point. Maybe we'd have Macca's Thumbs Up Airport instead? Perhaps they'd have named it after Cilla instead? WE'LL NEVER KNOW.
It's decent this, catchy vocal hooks, enthusiastic drums (everyone hates a lazy drummer), bit of piano, decent indie rock. Decent.

Frank Turner: Recovery
I was introduced to Frank Turner at probably the same time as most of the world when he appeared at the Olympics opening ceremony. Remember the Olympics? God they were great. I didn't think much of him then and my opinion hasn't really changed.
Jangly guitars and unstructured lyrics might float some peoples boat but they just make me weary. Like that Lucy bird who was on X Factor last year? Not my bag. I'm aware he has quite a dedicated fan base so will steel myself for death threats on twitter over this.

Tame Impala: Mind Mischief (The Field remix)
Oh now this is very good. This is 11 minutes of very good. This is psych rockers Tame Impala turned into something completely different. It's dreamy hypnotic loops with a sparing vocal that doesn't even kick in for the first five minutes.
It's virtually unrecognisable from the original which is bound to irk the hardcore faithful but I love seeing reworkings like this, there's space for both versions in my heart.

Young Dreams: First Days of Something
Another one from the Modular People stable, this track is like the first glimpse of spring, happy, upbeat. Stick it on to cheer yourself up.
The accompanying video however isn't quite so optimistic as it follows a man going through a break up. It's captivating to watch, I like it when directors try and do something a bit different.

Cold Cave: Oceans with no End
Completely love this. Cold Cave is the alter ego of Wesley Eisold who appears to be a very intense music "artist" judging by the press release that came with the track. I'm ignoring all that baloney and just listening to the music, man. There's industrial synths, moody electro guitars, mournful vocals, it's a lush darkwave record. Nice work, Wes.

Comments
comments