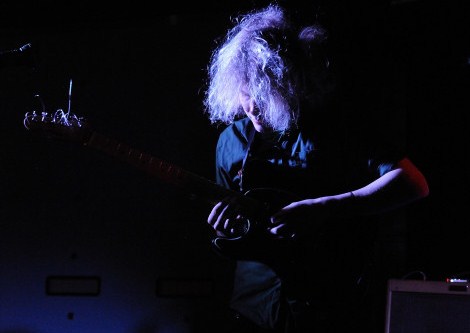 A village fete complete with vintage vinyl, post-hardcore riffs, dream-pop lullabies, the odd spot of folk and a giant Scalextric. Yep, a giant Scalextric. Getintothis' Laurie Cheeseman absorbs all he can muster and returns a happy Easter bunny.

The Village returned to Camp & Furnace in true style over the Easter weekend; replete with all your favourite fête festivities, brand spanking new vinyl 12s, vintage clothes stalls and even an interactive Scalextric tournament.
Yep, that's right, we said Scalextric. A massive whopping track of superfast cars wazzing round a corner of Camp and Furnace.
Sipping on the super-local Cain's Pilsner, there were plenty of distractions available at this Village, however, it was the music that kept everyone entranced.
Sadly, due to transport issues (Bank Holiday buses, we're looking at you) we missed the marvellous Hey Carrianne, but arrived in time for Cousin Jac's country-folk stylings; fitting neatly into Liverpool's unusual edge to the folk revival.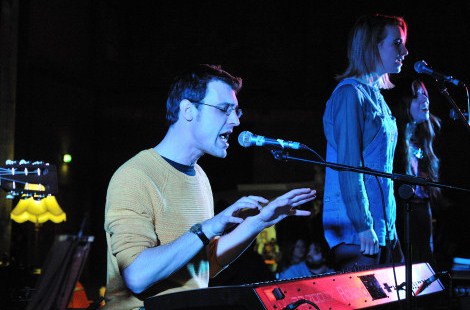 Cousin Jac live at the Village Resurrected at Camp and Furnace
Their beautifully atmospheric folksy sound was wonderful in the cavernous room, and some of their more – how do we phrase this – sea shanty numbers were leant a beautifully psychedelic edge by The Beautiful Briny Sea (from that most surreal of childhood films, Bedknobs and Broomsticks), being looped constantly in the background. That and all the lasses walking around dressed as bunnies. Wonderfully weird.
By The Sea's delayed entrance can be forgiven, as Thomas J Speights' 'one of a kind record collection' was massively entertaining, spinning cuts from Purity Ring through to Toro Y Moi.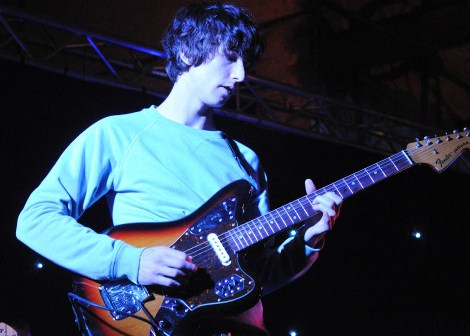 By The Sea live at the Village Resurrected at Camp and Furnace
By the time they made it on stage, By the Sea's C86 jangle-jangle was as superb as the other million times I've seen them around Liverpool.
Whatever space they are in they always use it to maximum effect and tonight was no exception. Their huge, psych-tinged reverb-drenched sound of (our personal highlight) Dream Waters filled the vast room, while By the Sea recalled the lst 90s dream pop of the Pale Saints.
One thing that jarred slightly, however, was the distinct lack of interaction with the audience, though this is a band that made Wild Nothing seem chatty at their Kazimier gig a few weeks back.
That aside, By The Sea represent a guitar band putting Liverpool psych-pop back on the map; in-keeping with Mersey heritage yet forging ahead into a new dawn.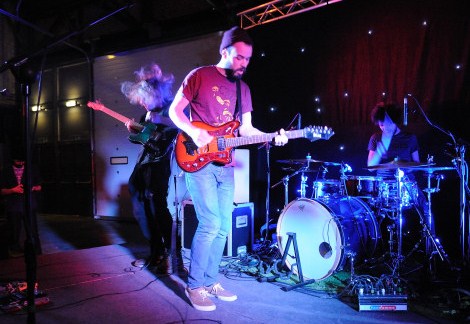 Vasco da Gama live at the Village Resurrected at Camp and Furnace
Noise glorious noise, how refreshing after all this glorious introversion for headliners Vasco da Gama to sound like nothing that had gone before.
An At the Drive-In cacophony with added psychedelic atmospherics and nautical melodies.
As a testament to their quality, even their between-song tuning was rippingly jazzy, verging on Talk Talk-style post-rock which led us right the way down to Payper Tiger's listening stall and a new purchase for the collection. We've had it on repeat all week.
If only Liverpool had more innovative post-hardcore. Scratch that – everywhere needs more innovative post-hardcore. Vasco are leading the charge.
Pictures by Getintothis' Gaz Jones.
Comments
comments