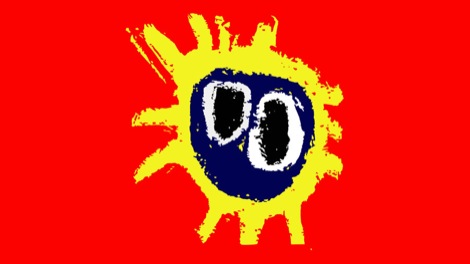 Primal Scream return to Liverpool armed with a new studio album, here Getintothis' Peter Guy selects his top tracks from one of rock and roll's maverick talents.

Bands to truly believe in are a dying breed.
The old school mentality of a rock and roll gang backed up with ferocious musicianship and lyrical bite steeped in spirit and philosophy is a rare old quality.
Yet Primal Scream are one such band holding the fort. A gang of maverick chancers, political renegades, chemical-enhanced rogues and debauched semi-hooligans who back up the bravado with intelligence and musical guile few can begin to entertain.
A core unit of Bobby Gillespie (vocals), Robert Young (lead guitar), Gary 'Mani' Mounfield (bass), Martin Duffy (keyboard) and Andrew Innes (rhythm guitar) and Darrin Mooney (drums) has guided the Scream Team pirate ship through all manner of choppy waters but regularly returning with riches.
They've three stone cold classic albums in Screamadelica, Vanishing Point and XTRMNTR with little semblance of continuity as they restlessly reinvent themselves; trading producers and collaborators to shape their finished masterpieces.
The one aspect that stays true is their spirit of rebellion and notion to fight the power, Gillespie was quoted earlier this week as saying the problem with Britain is that 'everybody is tranquilised'.
He added: 'This Coalition Government is crushing the poorest sections of society and the cuts keep coming. It is class war. Someone like Thatcher would have loved to have done this, but she couldn't because the trade union movement was huge. There was an organised opposition but this government doesn't have an opposition.'
Primal Scream refused to be tranquilised. Be it through a state of ecstasy and sheer abandon and the need to thrill or be thrilled or smash shit up through revolution, mobilisation and punk verbosity – they're always at the ready to start a movement.
This is a band who the one minute unite through the medium of music imploring 'We are together, we are unified, come together as one,' and the next declare, 'exterminate the underclass, exterminate the telepaths, no civil disobedience, no civil disobedience…'
When Getintothis watched them at the Royal Court in the late 90s their arsenal of blitzkrieg beat-led bombers was made all the more real by the barbed wire which lined the lip of the stage. That didn't stop it going off in the crowd.
With a fresh line up, including My Bloody Valentine bassist, Debbie Googe, they return with new album More Light on May 6 – and follow up with a live outing at Liverpool ECHO Arena on June 1 as part of BBC Radio 5 live's Big Day Out.
Here's our Primal Scream top 10, reflecting on a band revelling in revolution.
Primal Scream in 2013 – back in Liverpool with new album More Light at the ready
1. Shoot Speed/Kill Light from XTRMNTR
Primal Scream in a nut shell: a visceral rock and roll knuckle-duster to the chops backed up with a juggernaut of players ramping everything to the max underpinned by Kevin Shields' production nous, which is second to none.
Shoot Speed/Kill Light manages to employ the basic band dynamic and manipulate those simple sonics into searing musical warfare – krautrock in form, punk in delivery but with that unmistakable Scream Team funk groove which allows it to be dropped on to any discerning dancefloor.
In the live arena it closed many a set; barbed guitars traded with Mani's thick rubbery bass as the white noise propelled you into a higher state of oblivion. Utterly thrilling.
2. Burning Wheel from Vanishing Point
Until 1997, the Primals were a very good band with one classic album and a fair few duds under their belt. Their fifth studio long-player, Vanishing Point, would cement their status as seminal recording artists.
Album opener Burning Wheel typifies that record's approach; an exotic mantra brimming with Eastern mysticism, looped dub samples, whacked out effects and Bobby G psycho-babble garble partly inspired by the 1971 film from which the album took it's name.
Andrew Innes' guitar trades spidery blows with Marco Nelson's lolloping bass while Gillespie snake-hisses about the inferno around his head.
'We love the air of paranoia and speed-freak righteousness,' Gillespie said upon the album's release – he was right, this was a track – and record – which was overflowing with rushes of fear, decadence and mania.
3. Loaded from Screamadelica
Just what is it you wanna do? I'm gonna get down. Deep down.
Has a song ever sounded as life-affirming as this?
From regular indie also-rans to genuine contenders, house DJs Andrew Weatherall and Terry Farley masterminded the Primals' third album and with it they created a shopping list of acid house grooves and indie disco staples.
Recreating the band's old track, I'm Losing More Than I'll Ever Have, they melded audio samples of Peter Fonda from the film The Wild Angels with Bobby's take on Robert Johnson's Terraplane Blues and overlaid an Italian bootleg remix of Edie Brickell's What I Am.
And for the cherry on top – an Andie MacDowell line from the film Sex, Lies, and Videotape – 'That's beautiful… That's really beautiful.'
Years later you've students up and down the country busting moves, waiting for the big guitar drop and chanting 'We wanna get loaded, we wanna have a good time – that's what we're gonna do.'

4. If They Move, Kill 'Em from Vanishing Point
In many respects, Primal Scream are gang of jammers; improv masters who delve into the subconscious and mastermind vortexes of sound – and it's their collaboration with those producing – the orchestrators – that hold it all together and make it work.
If They Move, Kill 'Em is a classic example of the Scream's jamming in action – a warped psych-dub template loaded with wah and ear-piercing keys sirens and fractured trumpet and saxophone from Duncan Mackay and Jim Hunt respectively.
It was so good they recorded three versions; a three minute cut for the finished record, a 12″ disco mix and a Kevin Shields frazzled opus on XTRMNTR entitled MBV Arkestra (If They Move Kill 'Em). Good value.
5. Kill All Hippies from XTRMNTR
If there's one thing Primal Scream know how to do it's open an album with a statement of intent, from Movin' On Up to Jailbird to Burning Wheel, to this lascivious statement of sleazy intent.
'You got the money – I got the soul, can't be bought, can't be owned,' leers Bobby as ray-gun whirring collides with metallic bass lines and industrial slabs of electronic feedback.
Five years later, they cause headlines with their intentions live on stage at Glastonbury, when stepping in for cancer-stricken Kylie Minogue, insisting they're about to bring 'bad vibrations', telling her fans 'f*ck off, we're a punk rock band and you're a bunch of f*cking hippies.'
Just when you thought rock and roll had lost its power to shock, the Scream team set a new line in the sand.
6. Come Together from Screamadelica
The yin to Kill All Hippies' yang, ten minutes of dizzying spiritual gospel rock and roll urged on by US civil rights activist Jesse Jackson's rallying cry.
7. Kowalski from Vanishing Point
Primal Scream are a drugs band. A band seemingly existing in their own altered state of psychosis and intoxication throughout their many incantations.
Be it the speeding excess of XTRMNTR, the levitating bliss of Screamadelica, the coke-fuelled benders of Give Out But Don't Give Up or the maelstrom of god knows what was going down during the making of Vanishing Point all roads lead to getting involved, all of the time.
Vanishing Point's mania saw Gillespie sing the first verse of Motorhead through a Darth Vader mask while the frenetic lines to Medication – 'Gimme, gimme, gimme medication, Gimme medication to kill this hole – kinda speak for themselves.
Kowalski, though, is the finest exposition into chemical inebriation – a blinding montage of snippets of film dialogue interspersed by freakbeats, howling white noise, clattering percussion and Gillespe's inane nods to butterflies hovering on pins. Just to hammer the point home they got ex-skag lord and Trainspotting chief, Irvine Welsh in to direct the video. Yeah, we get the idea. Heavy stuff.

8. Don't Fight It, Feel It from Screamadelica
An absolute monster club classic – whistles, Denise Johnson's thrilling vocal, breaks and that keyboard riff on 3.25 which is the sound of euphoria and a thousand arms being lifted to the sky.
9. (I'm Gonna) Cry Myself Blind from Give Out But Don't Give Up
Every now and again, the Primals believe they're the Stones, and every now and again they pen a track worthy of inclusion on Let It Bleed. This is one of them.
Edging out Damaged, this is Bobby and Andrew Innes playing at Mick and Keith and doing a hugely worthy impersonation.
10. Autobahn 66 from Evil Heat
Recent Scream albums have been at best patchy, but they're too strong an outfit not to speckle the path with a handful of sonic treasures.
More often than not their indebted to a corking record collection – and this one finds the much underrated Martin Duffy ploughing a pure krautrock furrow like an addled Irmin Schmidt perfectly aligned to honey-soaked harmonies.
Comments
comments