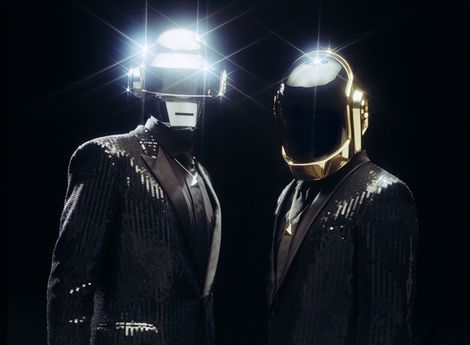 Daft Punk returned today with new album Random Access Memories and with it what promises to be the fastest selling album in UK history. Getintothis' Stephanie Heneghan reflects on a masterclass in marketing and how this robotic duo satiated our appetite for electronic dreams.

Today marks the official release of Random Access Memories, the much hyped Daft Punk album, providing the climax to this year's biggest music marketing story.
A number one album is a mere formality for the record, which has been available to stream via iTunes for the past week and is on course to become the fastest selling album in its first week of release, trumping Oasis' Be Here Now's sales figures of 600,000 copies.
Ever since the dawn of time – or at the very least the dawn of Twitter – rumours of a new Daft Punk album/tour/collaboration have surfaced on an almost monthly basis. Sometimes true, in the case of their involvement with the Tron soundtrack, on other occasions they're based on nothing but an over enthusiastic graphic designer mocking up dream line up festival posters, the predictable culprit for an annual Coachella hoax.
What remained prevalent was the level of excitement generated by this gossip. That there was an appetite for new Daft Punk material is undeniable, whether it was genuine hunger or bandwagon jumping is debatable. Regardless, a product which is creating a buzz before it's been created is a marketing dream.
What's easier to sell to people than something they actually want?
It does beg the question, why? Why do people care so much about this album? Daft Punk are much lauded for their 1997 debut Homework but their last proper recording as a duo was 2005's Human After All which wasn't received well.
A hastily recorded affair, completed in six weeks and sounding more like a tool box of samples and loops, it's not an easy listen and would leave very few eager to hear a follow up to it.
But then came the tour. They took to the festival circuit in their own spaceship – a futuristic pyramid with an impressive light show – two robot heads at the control panel and they owned the shit out of it. That summer belonged to Daft Punk, that uninspiring last album was forgiven as they weaved the tracks over tougher beats, in and out of their greatest hits, layering and stuttering fresh life into their own works.
The recording of the tour, Alive, was released in the following year allowing those who weren't there to join in the tale and those who were there to relive it. This was the Daft Punk everyone wanted.
This year they made headlines at a festival once again, a surprise appearance at Coachella that lasted under two minutes and comprised of a music video for Get Lucky, their first release from Random Access Memories featuring a beaming Nile Rodgers on guitar and Pharrell Williams on vocals.
A shaky mobile phone video of a billboard overshadowed the rest of the line-up, rumours flared up again that they'd put in an appearance alongside Phoenix – the crowd chanting Daft Punk's name throughout their set must have been left with a deflated feeling when R Kelly was their guest spot.
Apparently they were there, watching all this unfold, having removed the elaborate head wear to become anonymous. As the two members of arguably the most famous act in current music, their actual identities are not widely known.
Colloquially referred to as The Robots, there's surprisingly little thought given to the two blokes (Guy-Manuel de Homem-Christo and Thomas Bangalter) wearing them, their audience seem to happily accept them as their alter egos and a disguise which was initially introduced to combat a reluctance to appear in the public eye, a remedy for shyness which has merged into the perfect image for music of the future.
So the initial listen of Random Access Memories is a confusing one. As Andy Warhol once said, the idea of waiting for something makes it more exciting; however true that might be it's also wise to remember that heightened anticipation can also equal greater disappointment.
The first spin feels underwhelming, it is admittedly a good album but it wasn't the ground-breaking sound that the creeper campaign had convinced us they were going to deliver.
But taking the decision to stream it in its entirety through iTunes prior to release was a very good one.
Unable to skip from track to track the listener is forced to take the album as a whole work and it's an enveloping journey. Live instruments used alongside synths and snares, almost sample free and beautifully produced, it is actually exactly the music Daft Punk should be making.
It shows how far they've evolved since the Homework era, developing a more sophisticated character whilst unmistakably retaining their signature sound. There are elements of disco, funk, electro, indie rock; it's an exciting and interesting listen.
On Giorgio by Moroder they give us an updated version of Teachers, Instant Crush references Phoenix heavily, Lose Yourself to Dance brings us Pharrell Williams oozing sweat and sex and heaving dance floors, the extended mix of Get Lucky treats us to more of Nile's guitar.
The piano led Within feels enormously indulgent and The Game of Love would maybe have benefited from a vocal with more emotion than the sad robot we are offered up.
The closing track, Contact, is utterly exhilarating, opening with a recording from the last man on the moon, Gene Cernan, and then building to a crescendo over the next six and a half minutes, underpinned by enthusiastic drums and distorted electronica.
Sadly they've publicly stated their intention not to tour this album as they feel it's "not possible" to do so due to the nature of the music they've produced, Contact is the glaring omission to this, screaming out to be played loud and live.
So removing the hype, the Hedi Slimane suits, the flashy celebrity filled listening parties up the Shard, the futuristic robot heads, the expansive marketing campaign, take away all the glitz and fluff and you're left with an album made by Thomas and Guy-Manuel, two talented musicians who have made the record they wanted, with the people they've been influenced by, for a public who eagerly received it.
We've all grown up in the fifteen years since Homework was released, this album feels like a testament to that.

Comments
comments