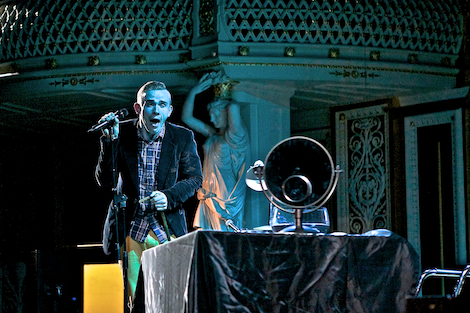 Mercy present a night of music, performance and communicating with the other side, Getintothis' Harry Sumnall reflects on an ambitious evening with differing results.

Electronic Voice Phenomena was Merseyside cultural agency Mercy's attempt to re-present Konstantin Raudive's 1970's pseudoscientific writings on audio-recording communication with dead spirits through thematically linked spoken word and musical performances.
Described as an exploration of how contemporary performance and writing might form connections across electronic interface, human and the spiritual other, one couldn't help be intrigued.
Firstly, Mercy should be congratulated for their imaginative programming, which was far removed from the tired '3 bands and a DJ' ethos usually encountered in Liverpool and the wider live music context.
However, whereas Getintothis was looking forward (perhaps erroneously?) to dark reflections on the ability of language, technology and music to produce shifts in perceptual awareness, while individual acts were enjoyable, overall, we very much remained in the here and now.
The evening was compered by London-based poet SJ Fowler (main image), who through a series of vignettes attempted to channel a retching spiritualist's progressive decline into suicidal despair.
While amusing, and Fowler has obvious talent and performance skills, it was impossible to banish images of Derek Acorah from my mind (albeit during his little documented laudanum phase), and although thematically relevant, we found it hard to understand how the piece contributed to the promised exploration.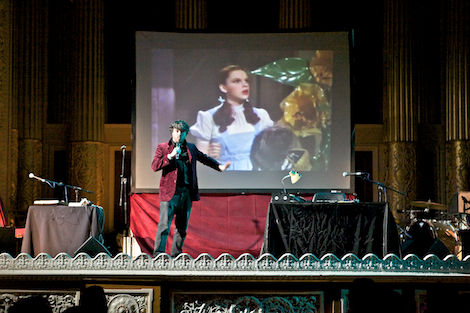 Ross Sutherland during Electronic Voice Phenomena
Similarly, Ross Sutherland, was an affable performer, but his riff on death, memory, and persistent failure – delivered before an interminable projection of a failed Crystal Maze challenge – seemed episodic, and barely touched on the connective processes that the event promised.
Honor Gavin and Hannah Silva were the most successful of the night's performers.
With a voice like a prim Midlands Lilly Greenham (although inflexed with a certain Germanic precision), Gavin's repetitive, looped phrasing of half heard and decontextualized telephone-exchange conversations was hypnotic, and after a series of harmonised vocal layers had been established, was even pareidolic.


Honor Gavin during Electronic Voice Phenomena
Think of the Velvet Underground's Murder Mystery but channelling the spirit of Daphne Oram rather than Delmore Schwartz, and you're halfway there.
Silva presented 'Total Man', based on the writings of Stan Gooch, who, through a series of paranormal encounters developed a 'theory' of evolution based on inter breeding of Homo Sapien and Neanderthals.
Gooch's writings may have inspired ridicule but Silva creatively and cleverly used them as the inspiration for an intense piece that successfully suggested that the words and style we use to describe unusual experiences and thoughts are often loaded with greater significance and salience than the experiences themselves.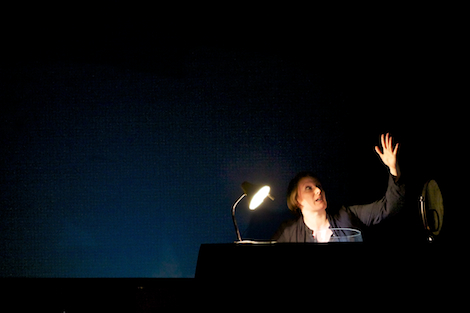 Hannah Silva during Electronic Voice Phenomena
Although Outfit are celebrated for their synth-pop outings, and they provided the only traditional musical interlude of the night, we don't think this was the right event for them.
Ostensibly an extended commentary on the 1990 Judas Priest back-masking trial, what was promised as an exploration of the 'hidden messages in music' came across as a rather straightforward quiet-loud-quiet jam.
The rather poor acoustics in the concert hall were partly responsible for this, meaning that any subtlety (or subliminality) in the music or vocals was lost in the murk.
Getintothis was left thinking that sound designers, such as Demdike Stare, no strangers to auditory induced unease, would have provided a more disturbing piece in keeping with the night's objectives.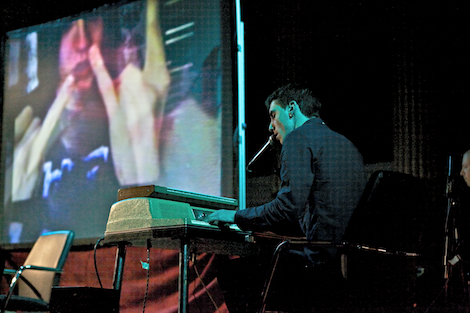 Oufit during Electronic Voice Phenomena
Photography by Getintothis' Matthew Thomas.
Comments
comments