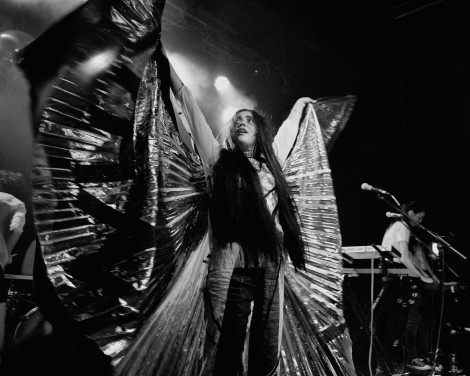 CSS make their return to Liverpool and banish any doubts of a losing their mojo, but it's a support act star turn which captures Getintothis' Alex Woo's full imagination.

It's been a strange couple of years for Brazilian rockers CSS (Cansei De Ser Sexy, which literally translates as 'I got tired of being sexy').
After bursting on to the music scene in the mid noughties, armed with an array of infectious electro-rock that found its way on to adverts and game soundtracks galore, the band lost their way.
Following the acrimonious departure of Adriano Cintra after the band released their third album, La Liberación, in 2011, they went back to the lab to formulate their next move.
But now they're back, equipped with a new line-up, and Getintothis was incredibly excited to see if they had rediscovered their mojo during this period of self-actualisation, so off we trotted to The East Village Arts Club for what turned out to be yet another brilliant show since the venue opened last month; they really are spoiling us, you know.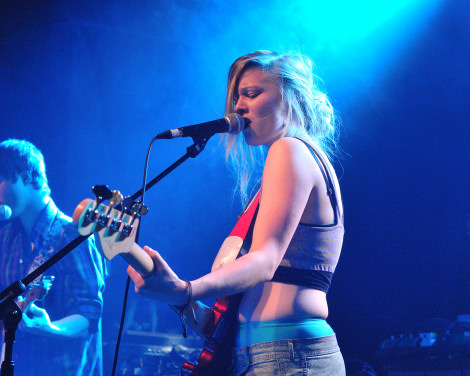 Wet Mouth returned after a break from the stage
Club EVOL are renowned for giving Liverpool talent the chance to play alongside exciting acts from around the globe, and this was no different with White Blackula kicking the night off, before the brilliant Wet Mouth had the crowd salivating with their combination of jangly riffs and ragged melodies.
Then came that rare and always hugely satisfying elements in music reviewing: being completely blown away by a band that you were unfamiliar with.
It's unlikely that Mixhell knew that the colour red is synonymous with Liverpool as the trio emerged, completely kitted out in crimson but looking more like the mariachi band from the Dorito adverts than the team that grace the turf at Anfield. Yet they wowed the crowd in a similar fashion to that of fellow South American Luis Suarez when at his dazzling best in front of The Kop.
Their half hour set was an enchanting, eclectic combination of heavy drum beats, funky bass lines and seductive synth and the audience took the opportunity to let their collective hair down and rave like it was Circus or Chibuku rather than a midweek gig.


Mixhell ripped up a storm in Liverpool
What was most impressive, perhaps, was that there were no breaks in between songs, yet the drummer and bassists were still going strong at the end; a truly impressive display of stamina given the pace of the songs and the ever-increasing temperature courtesy of an overactive audience.
Forget about being chief support, Mixhell were in grave danger of supplanting their compatriots as the stars of the show. CSS knew what they were getting in to, though, and the audience were suitably loosened up and ready for more as the resplendent Lovefoxxx appeared on stage, shrouded mysteriously in a black cape before unleashing her wings like a magnificent peacock – but one dressed like the lovechild of Pocahontas and Wednesday Adams with the makeup of Bowie in Aladdin Sane.
Kicking things off with Hits Me Like A Rock, a reggae influenced collaboration with Primal Scream's Bobby Gillespie from their last album, it was apparent from the off that any talk of an identity crisis or the band losing their way was grossly premature.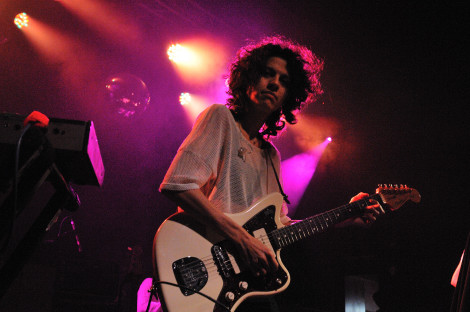 CSS Luiza Sá at East Village Arts Club
Lovefoxxx, ever the extrovert, was swooning around the stage in her cape like a samba Stevie Nicks as the band blitzed through their set, often switching between instruments and reeling off hit after hit from their first three albums.
The loudest cheers of the night, unsurprisingly, were saved for the band's most well known single Let's Make Love And See Death From Above, which the band chose to play midway through the set, showing plenty of confidence in their newer material to still captivate the audience.
Such assurance was later vindicated as the few songs they played from their upcoming album, Planta, were well received, including their latest single Hangover, and their final song of the night, I've Seen You Drunk, Girl.


CSS in full effect at East Village Arts Club
This hand-clapping, foot-stomping hip-hop effort felt like a rebellious, peer pressure inciting tribute to The Beastie Boys, while reflecting the band's versatility as they hopped from genre to genre throughout their hour long set.
Any fears we had about CSS losing their touch were allayed unequivocally, so go and have a rummage through your collection for their records, because Lovefoxxx and company are back as sexy as ever, as tiring as that may be.
Photography by Getintothis' Gaz Jones.
Comments
comments