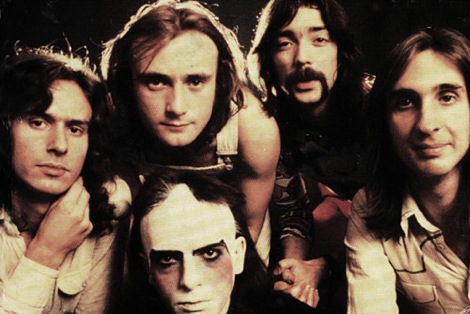 Genesis are one of the world's most experimental yet most-loved bands of all-time and on Sunday key former guitarist Steve Hackett plays the first of two sell-out Liverpool Philharmonic Hall dates with Genesis Revisited. Here Getintothis' Mike Torpey reflects on their expansive and extraordinary career with his top 10 Genesis tracks.

From folk to Canterbury prog, lyrical comedic storytelling to symphonic rock, no musical boundary was left untouched in the extraordinary tale of English band, Genesis.
From their formation in 1967 til their indefinite hiatus in 2006 they'd conquered every corner of the globe while criss-crossing the musical spectrum, selling approximately 150 million albums sold worldwide.
The nucleus of Tony Banks (keyboards), Mike Rutherford (bass, guitar), Phil Collins (vocals, drums), Peter Gabriel (vocals, flute) and Steve Hackett (guitar) recorded some of the finest expansive pop music of the age blending mind-frazzling compositional structures with elaborate instrumentation, theatrical stage designs, eye-popping pyrotechnics and extravagant costumes.
They are a solitary English phenomenon with a musical legacy few can match. Here's Getintothis' top 10 Genesis.
1. The Musical Box from Nursery Cryme
Focal point of the 1971 album Nursery Cryme and probably the most haunting as well as the finest song Genesis ever recorded.
Peter Gabriel's lyrics encapsulate the feeling of Victoriana that inhabits the entire album and is the story of two children in a country mansion, where Cynthia murders Henry by smashing his head with a croquet mallet. On finding the boy's musical box she opens it and Henry returns in spirit form, trying to seduce Cynthia while at the same time ageing rapidly.
The song builds to a rousing crescendo during which Gabriel wore an old man mask during live performances. Sensational stuff.

2. Supper's Ready from Foxtrot
A seven-part epic from 1972 album Foxtrot, the 23-minute Supper's Ready is described by guitar player Steve Hackett as being a song about finding peace.
It was during part five, called Willow Farm, that Gabriel famously wore a flower mask believed to have been inspired by kids' TV programme The Flowerpot Men.
Atmospheric throughout, the sections move through rock, prog, classical, comedy and even vaudeville, blending seamlessly. A track that warrants endless revisits and becomes all the more enjoyable with every listen.

3. Dancing With The Moonlit Knight from Selling England By The Pound.
Old England jousts with the relentless march of corporate enterprise and a prophetic number from 1973's Selling England By The Pound.
Says Steve Hackett: "We sold off London Bridge to be re-assembled in the USA, the corner shop has given way to the conglomerate and Sir Walter Raleigh lays down his cloak for Uncle Sam to drive over."
Poignant verses from start to finish including: "Paperlate, cried a voice in the crowd
Old man dies – the note he left was signed 'Old Father Thames' – it seems he's drowned
Selling England by the pound."
You can imagine The Flaming Lips having this on repeat while recording The Soft Bulletin.

4. The Carpet Crawlers from The Lamb Lies Down On Broadway
From the sixth Genesis album The Lamb Lies Down On Broadway, a double concept offering and the last to feature Peter Gabriel.
The Carpet Crawlers remained a favourite in live performances even after the frontman's exit from the band.
Couldn't attempt to decipher what the lyrics are about – suffice to say they conjure up weird and wonderful imagery. Catchy and addictive.

5. Can-Utility and the Coastliners from Foxtrot
A Genesis seafaring adventure from Foxtrot based on the story of King Canute ordering the incoming tide to stop at his command.
Penned by Hackett, who said: "I was looking for poetical lyrics and the idea of not being deceived by flattery, along with waves of the sea being described with huge waves of sound and bass pedal like a tolling bell."

6. Ripples from Trick Of The Tale
Genesis minus Gabriel came up with some cracking tracks for 1976 album Trick Of The Tail, none more so than the ballad Ripples, with Phil Collins on vocals.
A song about the ravages of time and the fleeting nature of female beauty, it features a guitar solo played deliberately high to give it a Victorian feel, the Dickensian figures on the album cover reflecting the atmosphere.

7. The Knife from Trespass
The song that propelled Genesis into a higher league and the stand-out track from their second album Trespass.
Heavy guitar, mathematical progressions and clear hints of The Nice as this epic builds, simmers through a flute-led middle section then rises again through manic guitars to a crescendo that at one 1971 gig saw Gabriel leap from the stage – and break his ankle.
Actually released as a single with the first half on side one, the second continuing on the flip. It didn't chart, much to the relief of hardcore Genesis fans.

8. I Know What I Like (In Your Wardrobe) Selling England By The Pound
The only song released as a single to become a chart hit (number 21 in April 1974) from the Gabriel/Hackett era and danced to by Pan's People on Top Of The Pops would you believe.
A cracker nonetheless and another treat from Selling England By The Pound, it's about a young gardener whose aspirations stretch no further – than pushing his lawnmower!
One of those songs you wish would last longer than the original four minutes. And of course there's that wonderful closing line: 'Me, I'm just a lawnmower. You can tell me by the way I walk.'

Watcher Of The Skies from Foxtrot
Haunting organ chords set the scene for what could be Dracula emerging from his coffin.
Instead Gabriel appears near motionless with bat wings either side of his head, face caked in reflective greasepaint and wearing a sparkly multi-coloured cape.
Opening track on both Foxtrot and 1973's Genesis Live, Watcher Of The Skies is space rock Genesis rather than Floyd style and its title is taken from a John Keats poem, and the line, 'Then felt I like some watcher of the skies'. Spine-chilling sounds.

White Mountain from Trespass
Definitely one the band's best and a forerunner of what was to come later with Nursery Cryme and Foxtrot.
Acoustic guitars, harpsichord and that trademark Tony Banks organ topped off with magnificent Gabriel vocals in a tale about a treacherous wolf which fights to the death – and loses.

Steve Hackett and Genesis Revisited play the sellout show at Liverpool Philharmonic Hall on Sunday May 12 2013. Plus an extra date on Tuesday October 29.
Further reading on Getintothis
Steve Hackett: Genesis Revisited bring their musical odyssey to Liverpool Philharmonic Hall.
Comments
comments