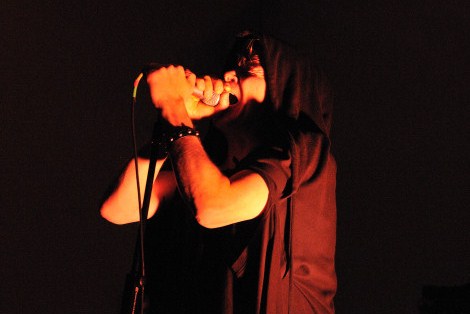 K-X-P deliver sounds from another dimension, Blade Factory is shredded to within an inch of it's life.

They came from a time and place that seemingly didn't exist.
Not from the future nor the past but a void transmitted through a vortex into the present day bringing with them a spectrum of cataclysmic noise by which they communicate.
This tapestry of motorhead drone is both divine and hellish; rainbow like with vitality yet blood-curdling like the spittle dripping from a hell hound's fang. They are relentless butchers carving up sound. They are K-X-P.


A triumvirate of black robed misshapen figures each railroading blistering white-noise into your very being.
Set back in his drumming tomb Tomi Leppanen creaks over his kit all angles of ferocity and rage – a pounding visceral grind, rarely pausing as cold plumes of breath emits from the back of the stage.
The craggy skeletal frame of Tuomo Puranen resembles that of a wax-work figure that's been digested by the earth and spat out tonight for a last hurrah; all lifeless blonde trails of hair, sinew of muscle and frenetic bass pangs designed to rattle your ribcage and empty your bowels.
And finally there's Timo Kaukolampi – the most fitting of front men to grace the Blade Factory arena; a Scandinavian pit bull dressed in sadomasochistic studded leather apron and brandishing a collection of synths and mics of which he fists the air to emphasise their sonic brutality.
And boy, are they brutal. A hyper-headbutt of sound. A steel fist of krautrock to the belly. A neon wave of slashing light tearing through your cornea. An industrial smattering of asphalt clatters. A euphoric propulsion of speeding electronic roars.
Where on record K-X-P transmit a relative glacial wash or understated ambience, tonight they hold nothing back – this is a full frontal attack of the senses; Mehu Moments resembles a blockbusting Transformer unravelling from slick supercar into weapon of mass destruction, 18 Hours (Of Love) is exactly that a sexual pink strobe of metallic clobbering while Staring At The Moon is horrorcore electro mania fit to tear up a death disco.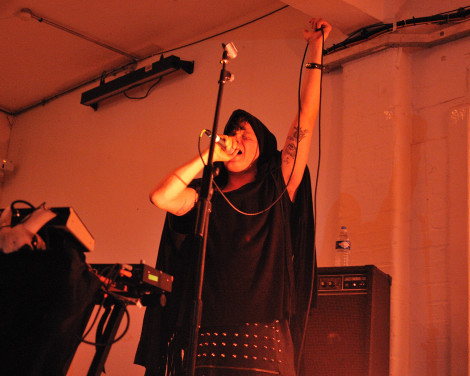 Proceedings reach their zenith after 45 minutes when Kaukolampi's wrath almost boils over as his electronic box of tricks and microphone short circuit and he takes to the lip of the stage to gyrate and pound them before hurtling the overloaded equipment to the floor as the band exit in a waft of black robe swooshing.
The small (pitifully small) crowd look aghast, partly by the unremitting stage rage, but also due to the sheer magnificence of it all, with several leaping to assist the sound engineer in the hope of an encore.
Minutes later, the hooded trio return – and with power resumed they tear through Melody with added triumphant vigour. They exit to looks of astonishment – back to whence they came, a place where nothing exists, only K-X-P.


Gigantes at Blade Factory
Earlier, after an impassioned Eyes set, Gigantes returned to Liverpool's live arena after a mini hiatus. It was great to see them back; all Italo organ swirls and in David Smyth one of the finest drummers this city has produced in years – a master technician who knows when to demolish and when to apply the breaks and let the song breathe and melodies run their course.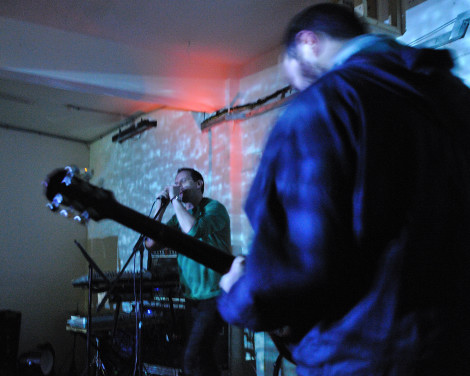 EYES at Blade Factory
Pictures by Getintothis' Gaz Jones.
Further reading on Getintothis
Getintothis Top 50 Albums of 2010: A Year In Review.
K-X-P debut named in Getintothis' albums of the week.
Comments
comments