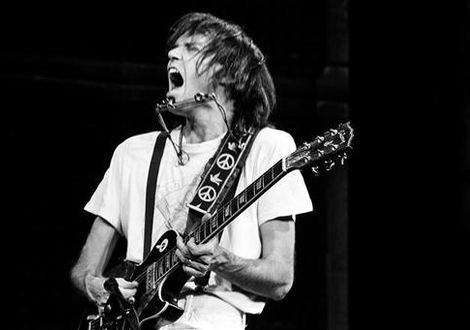 Neil Young returns to Liverpool for the first time in 40 years with his appearance at the Echo Arena for the International Music Festival opening show. Getintothis' Joseph Viney selects ten of the best from one of rock's last true renegades.

Many artists can be deemed generation defining. Only a select few can truly back that up.
Neil Young, long known as the 'Godfather of Grunge' on account of his penchant for uncompromising guitar work and lyrics, is one of those rare ones whose influence can be extended to span across any number of decades and generations; his obdurate longevity, talent and chameleon-like qualities marking him out from a slew of contemporaries and imitators alike.
A long and storied career working alone, with Crazy Horse, Buffalo Springfield, Crosby, Stills & Nash neglect to tell the whole story.
As the man himself once sang, "there's more to the picture than meets the eye." Spells behind the mixing desk and as an actor/director are more feathers in the cap for this grittiest of polymaths.
Even as he fast approaches the septuagenarian demographic, ol' Shakey still burns with a fire that people more than half his age can even bear to muster.
His appearance at the Echo Arena on July 13 is one of the hottest tickets in town. His audience, ranging from doe-eyed youngsters to burnt-out hippies, will clamour to applaud and appreciate one of the last true renegades.
But for those of you either new to the game or unaware of the great man's output, just where do you begin?
Young's discography is extensive, and for an outsider getting a grip or even a starting position can be somewhat overwhelming.
Thankfully, Getintothis is here to provide you with a breakdown of some of Young's most addictive, powerful and in some cases, unexpected examples of craftsmanship.
What follows is a mix of stone-cold classics, hidden secrets and songs that only somebody like Neil Young could hope to get away with.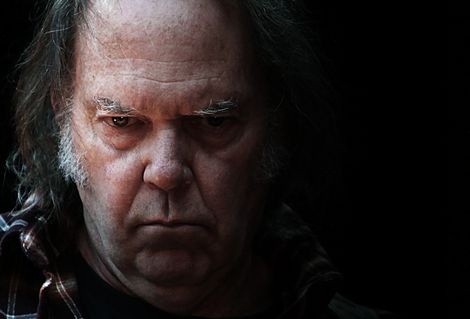 1. Hey Hey, My My (Into The Black) from Rust Never Sleeps (1979)
Stomping around as if the last word on life, Young's existential, doom-laden ode to the abyss traverses the birth and death of punk rock, life lessons ("it's better to burn out than to fade away"…sound familiar?) and comes replete with one of rock's most memorable and downright disgusting riffs.
This song is one of Young's masterpieces and, whether he planned it or not, certain to be the centrepiece of his epitaph.

2. Fuckin' Up from Ragged Glory (1990)
His 1990 LP ran the gamut of introspection (Country Home), tenderness (Love To Burn) and good old fashioned noise (Mother Earth).
But it was Fuckin' Up that stood out most; a brash and unapologetic call to arms to a generation just on the cusp of being lazily herded into the pen marked 'Generation X'.
Young's refrain of "Why do I keep fuckin' up?" speaks to us all at some point. We can take some comfort in the fact that Young feels the same as us mere mortals do.

3. Song X from Mirrorball (1995)
Having taken Pearl Jam, still bashful and wet behind the ears in their early days, under his wing, Young and his new temporary charges set about recording one of the more underrated albums from the early to mid-90s alt-rock boom in the United States.
Song X, the album's opening track, heaves and hos like a sea shanty sung by doomed pirates on choppy waters. Jack Irons' drumming, an A+ throughout the entire album anyhow, is simple, powerful and effective.
Although a sense of triumph rings out from the solos, the song's subject matter, abortion, reveals a dark and sorrowful heart.

4. Computer Age from Trans (1982)
That grinding sound you can hear isn't your CPU fan breaking, but rather the sound of a hundred Young purists gnashing their teeth in indignation. Hear us out!
Young spent most of the time before Trans ensconced in a tough therapy program for his son, born with cerebral palsy. The repetitive nature of the album's tracks, and the new-found spurious use of vocoders and synthesisers, was formed as a result of finding new ways to communicate with his son.
Marking a complete deviation from what had gone before, Computer Age and the rest of the record borrowed from the output of groups like Kraftwerk. In it, Young saw the future. History may be kinder to his brave experimentation, but it landed him in hot water.
Trans, along with his next album Everybody's Rockin', saw Young face a lawsuit from his then-label Geffen on the grounds that he had produced deliberately uncommercial and unrepresentative work. Judge for yourself.

5. Keep On Rockin' In The Free World from Freedom (1989)
Like most political songs, those on different sides look to appropriate them to service their own agendas.
Bruce Springsteen's Born In The USA was infamously used in Ronald Reagan's election campaign; the song lecturing on abuse and neglect of the US' Vietnam War veterans as opposed to jingoistic fist-pumping nationalism.
Rockin' In The Free World has suffered from similar bouts of bad translation since it was released. With verses that lay bare stark social problems and dividing lines, the chorus stands as an ironic call to arms, with Young as the USA's most sardonic cheerleader of all time.
Political messages nonwithstanding, the song is a riotous reminder of the power of music. The death of the American Dream never sounded so fucking good.

6. Driftin' Back from Psychedelic Pill (2012)
Not only did Young release two LPs last year, but the latter's opening track was a monolithic 27 minutes long.
Never one to do things by half, the song evokes the long slow ride across a sun-drenched desert; constant momentum and hazy memories.
His lyrics touch upon the moneyed sleaze of organised religion ("Here's how I got my mantra; gave them thirty five bucks. Gave it to the Maharishi, it went to the organisation"), corporate bulldozing ("I used to dig Picasso. Then the big tech giant came along and turned him into wallpaper") and one of his weirder promises ("Gonna get a hip-hop haircut").

7. Walk With Me from Le Noise (2010)
After a bout of health troubles and a couple of patchy records, Young stripped away all pretences and strode back into town with Le Noise; an album that at once saw him at once singular but ever-boisterous.
With a crunching chorus and tender lyrics, this song proves that not only would people walk with you, Neil, they'd bloody well die for you if you asked!

8. Ambulance Blues from On The Beach (1974)
Don't let the ambience of the song's instrumentation fool you. Young is on typically caustic form.
Exploring his consternation at various critics, then-President Richard Nixon and the state of his former collective Crosby, Stills, Nash & Young, Ambulance Blues glides along in beautiful fashion.
The lyrical warning "you're all just pissing in the wind" could be aimed at anybody, anywhere.

9. Ohio by Crosby, Stills, Nash & Young (1970)
Noted by many as the true beginning as the modern concept of the 'police state', the Kent State shootings marked a violent and unnecessary watershed in the history of civil protest and government suppression.
A nation already torn asunder by opposition to and support for the Vietnam War, American citizens were enraged by the deaths of four students at the hands of the National Guard.
Crosby, Stills, Nash & Young recorded this most pivotal of protest songs in double-quick time. Fourty years on, it still remains as powerful and rightfully vitriolic as ever.
Young, pithy yet true to the last, remarked that the incident was "probably the biggest lesson ever learned at an American place of learning."

10. Piece Of Crap from Sleeps With Angels (1994)
One of the more pleasing undercurrents of Young's personality is his eye for a sarcastic turn of phrase.
Away from the seriousness of his anti-war songs and philosophical declarations, Piece Of Crap is the sound of a man at the end of his tether, and old and wise enough to not give a damn about speaking his mind.
One shoddy consumer product too many led to this wild jam. With a glint in his eye and the slightest hint of a smile on his weathered face, Young barks about how "I'm trying to save the trees! I saw it on TV; they cut the forest down to build a piece of crap."
Next time you're in the queue at the Returns or Complaints desk, remember this tune and deal with the situation in the best way possible.

What do you think? Leave your own selections in the comments section below.
Further reading on Getintothis
Getintothis reviews Neil Young at Manchester Apollo Theatre.
Neil Young and Crazy Horse play Liverpool Echo Arena date as part of Liverpool International Music Festival.
Top 10 tracks featuring Led Zeppelin, David Bowie, Genesis, Radiohead and more.
Comments
comments