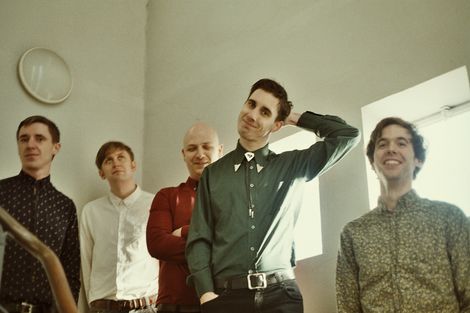 Outfit reveal I Want What's Best video depicting emotive story behind one of Liverpool's street performers.

Outfit have revealed the video to debut single I Want What's Best, the first track to be taken from debut album Performance.
The video, shot by the band and DEERHEADcx, focuses on the duel life of a former heroin addict and popular Liverpool street performer.
Outfit's Andrew Hunt, said: 'John is a guy we've all seen around Liverpool for years. I used to see him on the bus getting changed into his outfit and entertaining the kids, pulling faces and generally looking awesome and weird.
'When we approached him to be in the video and got talking it turned out he'd a pretty interesting life which had seen him living on the streets and eventually turning his life around through performing. It all chimed pretty well with the song's preoccupation with the many lives you can lead through the decisions you make.
'John is totally clean now and has a partner, he lives in a nice flat with a beautiful kid called Rhys whom he loves very much. It's been great to get to know him.'
Intelligently crafted, heart-warming, at times funny others sad yet ultimately life-reaffirming, the video provides a window into a band that's sometimes misrepresented as cold and clinical.
I Want What's Best depicts the soulful side to a Liverpool band ready to burst out the blocks.
Performance is released on August 12 via Double Denim Records.

Outfit are to play a free gig at Blade Factory on June 28.
Further reading on Getintothis
Getintothis interviews Outfit.
Outfit live at the Deaf Institute.
GIT Award nominees Outfit profile.
Comments
comments