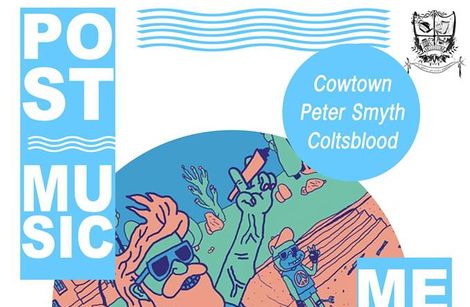 Sprightly Leeds DIY outfit Cowtown return to Liverpool, Getintothis' Laurie Cheeseman reflects on an unusual evening at Mello Mello and once again asks why must midweek gigs go on so late?

In the latest night of 'Radical New Sounds' curated by PostMusic at Mello Mello, everything begins a little on the slow side. Still, it gives the audience a great opportunity to try Mello's always-excellent curry of the day and catch up with mates over a pint of ale.
The initial excitement for sludge-doom merchants Coltsblood dissipates as there entrance is delayed and delayed and then delayed again. Despite being initially unimpressive as a package, they pick things up as they progress into murkier and blacker territory (both in terms of mood, and sound) until it all spews out into the aural embodiment of a Deep-South voodoo swamp.
It's a shame the collective's presence wilts, having none of, say, Iron Witch's psychotic charm. Having said that, the riffage is another matter, being consistently top-dollar throughout – only matched by the ridiculously muddy bass.
Mugstar's Peter Smyth makes a rare solo outing tonight, and unlike the textured kraut of his parent band, his set (if you can call it that; he seemingly plays whatever he feels like) largely comprises of whimsical folk.
And boy, does the room become full far more quickly than the apocalyptic chaos on stage beforehand; which probably has something to do with Smyth's gorgeous marriage of desolate melancholy and an immediate stage persona.
Everything is going swimmingly, until he opts to cover Bizarre Love Triangle. There are some songs that should never be attempted via the medium of the acoustic guitar, and this is definitely one of them. Still, a smart, and unexpected interlude, from one of Liverpool's most under-rated musicians.
Leodensian electronic scratchy power-pop group, Cowtown, enter the stage rather late (as seems to be the standard this eve') in support of sophomore release Dudes vs. Bad Dudes. And to be honest, they are exactly how you'd expect a synthy power-pop band to be live, y'know… thoroughly decent like, but nowt to write home about; think Pulled Apart By Horses minus the yelping replaced with winding keyboard strains.
Having said that, highlight I've Heard Enough shows what this band are really about; the clash of energetic youth and out-there ideas more than justifying a repeat watch next time they swing round Liverpool.
One point though: why must yet another Liverpool midweek gig finish way past last bus/train home? A salient and oft repeated point, which in times like these, you'd think promoters would understand.

Further reading on Getintothis
The 11 O'Clock Show (or why gigs need to cater for all punters).
Behind The Wall of Sleep present: Cowtown, Mother Earth, Spitting Cobras.
White Hills, Mugstar, Plank!: Blade Factory, Camp and Furnace: Liverpool.
Damo Suzuki, Mugstar, Canteloupe, Mind Mountain: The Kazimier, Liverpool.
Comments
comments