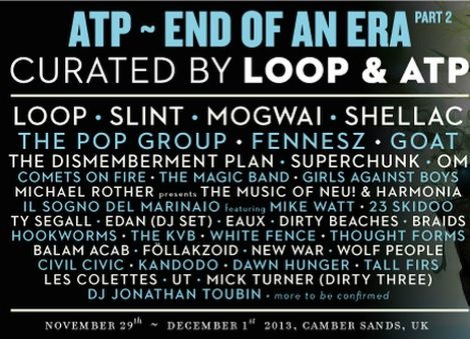 Tall Firs cover Velvet Underground's All Tomorrow's Parties in honour of last ever UK ATP Festival.

End Of An Era Part 2 – the last of All Tomorrow's Parties UK holiday camp festival takes place this weekend.
Getintothis will be there to savour our tenth ATP and salute this musical revolution which has changed the landscape of festivals.
On the day the ATP team have announced the stage times (see below), Tall Firs have unveiled an apt tribute – a cover of the Velvet Underground track which shares the same name.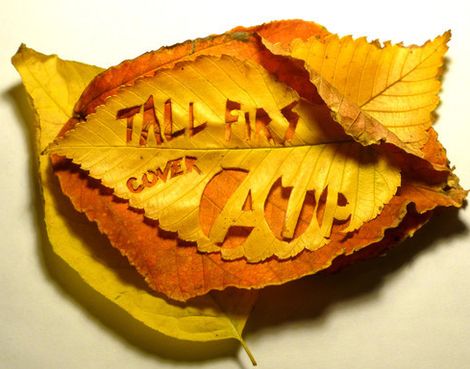 A message from Tall Firs:
"In honor of ATP's End Of An Era festivals, Tall Firs decided to do a simple recording of the Velvet Underground tune 'All Tomorrow's Parties'. We meant it as a tribute to our pals at ATP, and to all our fond memories of festivals past. Since we recorded it; Lou Reed sadly died. So now it's a tribute to ATP, and Lou, and you – our fellow music fans."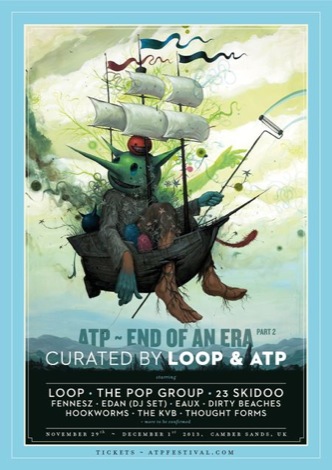 Here's the full rundown of ATP's last ever UK festival.
FRIDAY
Stage 1:
Thought Forms • 5.45pm – 6.30pm
Om • 7.00pm – 8.00pm
Fuck Buttons • 8.30pm – 9.30pm
Shellac • 10.00pm – 11.00pm
Slint • 11.45pm – 1.00am
Stage 2:
New War • 4.30pm – 5.30pm
Les Colettes • 6.00pm – 7.00pm
Eaux • 7.30pm – 8.30pm
Föllakzoid • 9.00pm – 10.00pm
Civil Civic • 10.30pm – 11.30pm
Edan (DJ set) • 12.00am – 2.00am
Cinema:
From ATP Vol 0. (Sketches) From A Nightmare • 10.00pm – 10.30pm
From ATP Vol 1. From Smoke • 10.30pm – 11.05pm
Partir To Live with Jozef Van Wissem • 11.30pm – 12.45am
Queen Vic:
DJs Leon Dixon Goulden & Will Sweeney • 7.00pm – 9.00pm
DJ Dr Kiko • 9.00pm – 11.00pm
DJs Jamie & Manish • 11.00pm – 2.00am
SATURDAY
* bands picked by Loop
Stage 1:
The Dismemberment Plan • 2.30pm – 3.30pm
A Winged Victory For The Sullen • 4.00pm – 5.00pm *
Hookworms • 5.30pm – 6.30pm *
Fennesz • 7.15pm – 8.15pm *
The Pop Group • 9.00pm – 10.15pm *
Loop • 10.45pm – 12.15am *
Stage 2:
Kandodo • 2.00pm – 3.00pm *
The KVB • 3.30pm – 4.15pm *
Dirty Beaches • 4.45pm – 5.45pm *
White Fence • 6.15pm – 7.15pm *
23 Skidoo • 7.45pm – 8.45pm *
Comets On Fire • 9.30pm – 10.45pm *
DJ Cherrystones • 12.00am – 2.00am *
Cinema:
Two Lane Blacktop • 10.00am – 11.45am
Film TBC • 12.00pm – 1.35pm
Film TBC • 2.00pm – 3.45pm
The Day Of The Locust • 10.00pm – 12.25am
Performance • 12.30am – 2.15am
Queen Vic:
Mix Swap • 1.30pm
Book Bingo & Rock And Roll Bingo • 2.00pm
Verso & Zer0 Book Club with Juliet Jacques discussing 'Chavs' • 4.00pm
Karaoke with Luke & Woody • 5.30pm – 8.00pm
DJ Stuart Braithwaite (Mogwai) • 8.00pm – 10.00pm
DJ Andy Hung (Fuck Buttons) • 10.00pm – 12.00am
DJ Declan Allen • 12.00am – 2.00am
SUNDAY
Stage 1:
Michael Rother Performing the music of Neu! & Harmonia • 3.30pm – 4.30pm
Wolf People • 5.00pm – 5.45pm
The Magic Band • 6.15pm – 7.15pm
Superchunk • 7.45pm – 8.45pm
Goat • 9.15pm – 10.15pm
Mogwai • 11.00pm – 12.30am
Stage 2:
Josef Van Wissem • 12.30pm – 1.15pm
Tall Firs • 1.45pm – 2.30pm
Dawn Hunger • 3.00pm – 3.45pm
Mick Turner • 4.15pm – 5.00pm
Il Sogno Del Marinaio featuring Mike Watt • 5.30pm – 6.15pm
Girls Against Boys • 6.45pm – 7.45pm
Braids • 8.15pm – 9.15pm
Ty Segall • 9.45pm – 11.00pm
DJ Jonathan Toubin • 11.00pm – 12.35am
DJ Barry Hogan • 12.35am – 2.00am
Cinema:
From ATP Vol 2. From Midden • 10.00am – 10.40am
From ATP Vol 3. From Ghosts • 10.45am – 11.25am
Film TBC • 11.30am – 1.40pm
From ATP Vol 5. From Pain And Pleasure • 10.00pm – 10.26pm
From ATP Vol 6. From God • 10.30pm – 10.55pm
The Long Goodbye • 11.00pm – 12.50am
Queen Vic:
Verso & Zer0 Book Club with Juliet Jacques discussing 'Clampdown' • 1.00pm
Pop Quiz • 2.00pm
ATP DJs • 4.00pm – 5.30pm
DJs Bob Weston (Shellac) & Carrie Weston • 5.30pm – 7.30pm
DJ Noreen McShane (Rough Trade) • 7.30pm – 9.00pm
Karaoke with Luke & Woody • 9.00pm – 12.00am
DJs Leon Dixon Goulden & Will Sweeney • 12.00am – 2.00am
Further reading on Getintothis
Getintothis' fantasty ATP line up
All Tomorrow's Parties The Nightmare Before Christmas: Minehead
Comments
comments