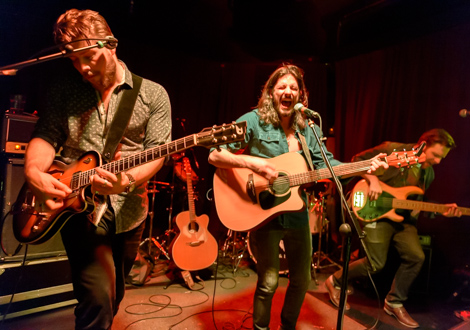 Brother & Bones had to contend with a chatty, intrusive audience but dealt with it the only way the know how – well-crafted and powerful songs, Getintothis' Chris Burgess tuned his ears in and found he was well-rewarded.

We'd hate to be one of those loud people.
You hear them everywhere nowadays. Not deaf or hearing impaired in anyway, just incapable of talking at a normal volume to their friend stood less than a metre away from them, who more often than not is also a loud person.
They must spend their days shouting and being shouted at, their volume dial stuck on eleven, with no dynamic range whatsoever.
Getintothis had the misfortune to be stood right next to a group of them as Brother & Bones took to the MelloMello stage.
As the band softly introduced themselves and began to play, all the audience could hear were two drunk girls chatting away – louder than landmines and nowhere near as charming.
Although initially distracted, the packed audience was soon fully tuned in to the London-based band's acoustic alt-rock.
Unlike those girls however, they know that dynamics are important – adding shades of light and dark to the music, injecting subtleties and pace into proceedings.
They're very clever at leaving gaps unfilled when needed, before launching into a céilidh-style storm of guitars.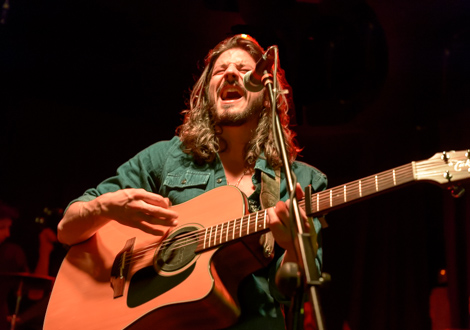 Brother & Bones' Rich Thomas at MelloMello, Liverpool
We spent the first half of the gig trying to pin down their sound, but it's actually hard to put your finger on Brother & Bones' exact style.
One moment they'll have driving drums and percussion, clattering rhythm guitars and excellent bass hooks, the next they'll slow it down with a softer, more acoustic-led tune, layering instruments on top of each other to build up to a crescendo.
One case in point is the truly excellent title track of their new EP, To Be Alive, growing to a mad pinnacle before falling away and building again, like gamma-ray bursts leaving behind an afterglow of lost love and regret.
For All We Know, a slower, moodier tune that perhaps showcases Cornish-born singer Rich Thomas' vocal range best, ambles along beautifully before climbing to a passionately rousing finish.
There are a few things that irk us about the band tonight, though.
There's something slightly too familiar about some of their later songs. Clunky and treading over ground that's already been well trampled down, they lack both bite and humour – which becomes slightly grating.
And you realise that's where their dynamics let them down. If everything is always heartfelt, passionate and earnest, then they just become unremarkable and unbearably dull. Come on, even Leonard Cohen snuck a few jokes in!
Also, their closing song I See Red lurches into a mix of country and western and folk-rock, ultimately ending up sounding like a Young Guns 2-era Bon Jovi b-side. A very strange choice of song to end on, but the assembled crowd seemed to enjoy it, some cheering for an encore.
What an encore it was. Thomas, joined onstage by guitarist James Willard, performed a startlingly good cover of She Talks To Angels by the Black Crowes.
We hadn't even noticed that the loud girls were still beside us in the crowd, as they'd fallen silent to listen, to which we give Brother & Bones our full gratitude.
It was a strange gig in many ways, veering from the sublime to the ordinary – often within successive songs. These guys can play extremely well, but there's just something a little too safe and hit-and-miss about them. It's the sort of music that could soundtrack a bar fight, but only if that bar was in Hollyoaks.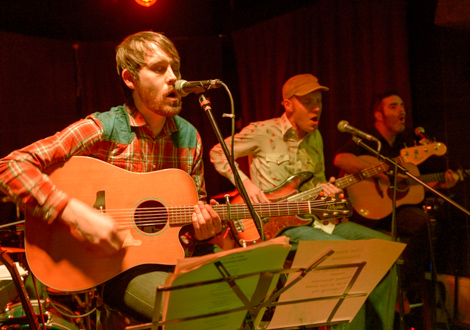 Black Mountain Lights live at Mello Mello
The Wirral-based folk of Black Mountain Lights provided marvellous support tonight. It would be easy to write them off as Mumford-lite, all close harmonies, acoustic guitars and banjo. However, they seem to be pretty accomplished musicians and show massive promise.
They also have a knack for writing simple, catchy and actually quite moving songs. They're recording an EP at the moment, so it will be very interesting to see what they sound like on record.

Pictures by Getintothis' Simon Lewis.
Further reading on Getintothis:
Comments
comments