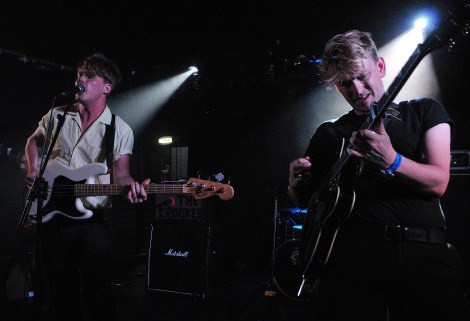 X&Y Festival returns to Liverpool for their 2013 edition, Getintothis' Gaz Jones hares up and down the O2 Academy for a music marathon.

X&Y Festival returned for 2013 promising a fusion of emerging UK talent with Liverpool grassroots artists across two days and two venues.
Following on from the japes in 2012, at the Bombed Out Church and the O2 Academy, X&Y gathered together the likes of Dog Is Dead, The Crookes, The Heartbreaks and peppered the line up with Merseysider's Broken Men and The Thespians.
The results: mixed, yet worthy of attention despite the slight crowds on what was one of the hottest weekends of 2013 thus far.
Cable Cars kicked off Saturday's entertainment at the O2 Academy with youthful abandon and a hardcore set of fans to boot before Griphook hit the Academy 2 stage with a set clearly indebted to Nirvana.
The Spares sprinkled covers with raw potential while a short dash downstairs reveals Iron Riot's penchant for guitar solos.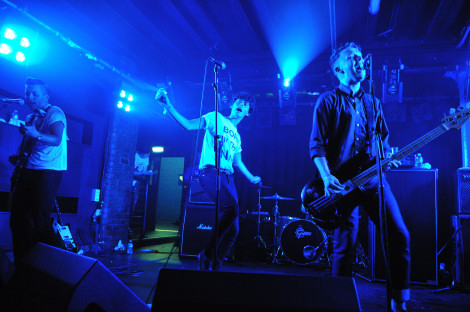 The Heartbreaks at X&Y Festival 2013
Room For Rent prove the first singalong of the day before Standby take to the stage with a frontman who exudes much confidence despite his tender years.
Early doors, Getintothis can't help but commend X&Y organisers for offering acts in their infancy a chance to play at such an established venue, yet the distinct lack of original material on offer was noticeable – and rather disappointing. Two covers of Molly's Chambers in the first half an hour speaking volumes.
Broken Men follow, and immediately the music takes an upward arc – a band that's impressed over the last 12 months, their performance is like a well oiled machine; slick, powerful, straight to the point and never letting you down. The only drawback: they deserved a bigger crowd, as we're one of few left in awe.
Wired make a good impression, in particular with the lead vocalist soaring. And with the lights bouncing all over them Rangoon Sons ripped into their set, noticeably growing in confidence as their performance went on.
The Willz lived up to their billing as a band making strides in Liverpool before Run Tiger Run lived up to their name with an upbeat, fast-paced, early 2000s sound.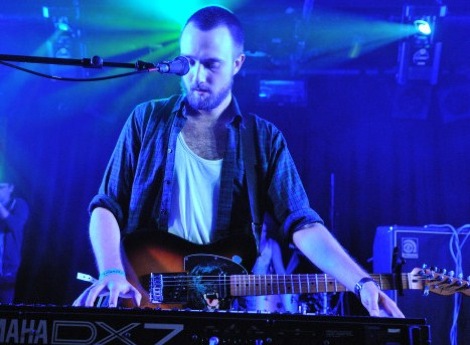 Discopolis at X&Y Festival 2013
Fresh from Sound City, Dexters' heavy guitar riffs provided the perfect tonic for an early evening thrill before genuine highlight Deaf Club injected a slower pace allowing powerful vocals to shine through; a refreshing and welcomed change.
The much-hyped JAWS didn't disappoint with their Midlands house-party-heads-down hit-machine. Certainly ones to watch. Oozing cool Childhood fizzed through another short yet superlative set with tracks Blue Velvet and Solemn Skies the picks.
Following on from their Tribes support slot at East Village last month, Life In Film down a series of bottles of ale, don their Walkmen t-shirts and entertain a gaggle of youngsters before Catfish & The Bottlemen prove such a hit to these fresh ears we've had Pacifier and Homesick on the iPod repeatedly since their set. The Heartbreaks' Matthew Whitehouse seemed to enjoy them to, looking relaxed while chomping on an apple from the back row.
Discopolis tone down the guitars, and the evening's all the better for the change of approach while The Heartbreaks deliver a feisty set including several hits from their debut including Save Our Soul and Delay, Delay.
The energy levels may have dropped off stage, but Brother & Bones were in no mood to slacken off producing a high octane set before The Crookes turned up the heat as sweat dripped off those in the O2. The opening night was rounded off by Dog Is Dead who played to the biggest crowd of X&Y and appropriately closed proceedings with a set bursting with tunes and additional audience bounce.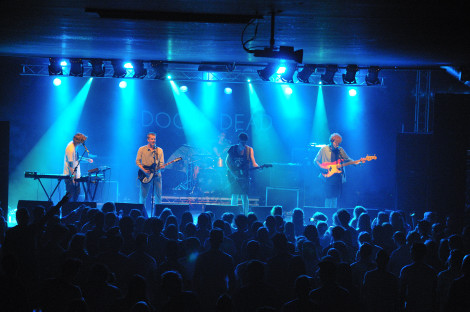 Dog Is Dead closing day one of X&Y Festival 2013
Pictures by Getintothis' Gaz Jones.
Further reading on Getintothis
X&Y Festival 2012 part one: The Hummingbirds, Likely Lads, The Moons, Hudson Taylor, Tiro Lark, Catfish and the Bottlemen, The Stan Smith Band, Clever Criminals, Ali Ingle: St Luke's Bombed Out Church, O2 Academy.
X&Y Festival 2012 part two: We Were Beautiful, Arches, The Thespians, Redwire: St Luke's Bombed Out Church, O2 Academy.
X&Y Festival 2012 picture gallery: REVA, Get Back Colquitt, Cheap Thrills, Idle Frets, The Haptics, Zinc, Fake Street: St Luke's Bombed Out Church, O2 Academy.
Comments
comments