Joan Of Arc slather over their gear but produce a positively limp reaction, Getintothis' Laurie Cheeseman on the iconic math-rockers anti-climactic performance.

Strolling on late, supping on beer as casual as you like, you wouldn't think that this is Glossom's first ever gig.
And for a first gig you'd never expect such tricky, tight playing letting the brass fill the sections left artfully hanging by the drums.
For a band with so many folks on stage it barely feels full, what with all the ducking and weaving the instruments are doing, quick and nimble as boxers in a fight yet never over-thought. How very Minutemen.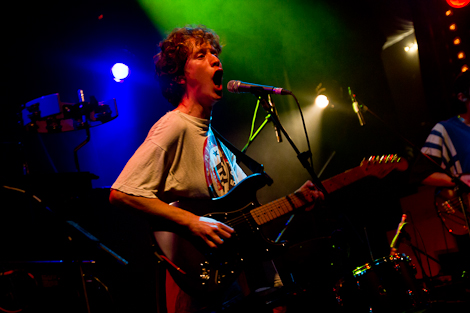 Muto Leo at the Kazimier, Liverpool
Restraint also seems to be the keyword for Muto Leo – their ringing, washing atmospherics erupting momentarily into eminently numerical grooves and blasts of noise, repeated endlessly.
With a blueprint so well trodden over the years Muto Leo could so easily fall into parodic post-rock. Hell, they're even totally instrumental, despite their vocalist having the voice of an angel.
But where they go right is with each cycle intensity is cranked up that little bit more, the drums more terrifyingly tauht, the guitars that little bit more interlocked, until it climaxes in a dico-ish hardcore explosion of nerd.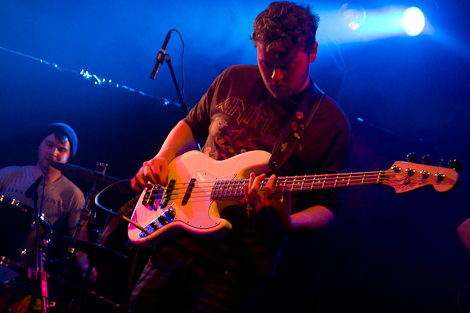 Spring King at the Kazimier, Liverpool
Things take a left turn when the youthful ruckus that are Spring King take to the stage.
Instead of intricate math-rock, the stage becomes a slacker's dream of a seething, sneering, set list-less mess, which is exactly how we like our punk.
However, it fails to hit the spot and ultimately it's a travesty that a band so clearly in love with the punk aesthetic sound so meh.
A classic case of too little experience and too many guitar effects drowning out any discernible sense of individuality.
And now, ladies and gentlemen, the moment you've all been waiting for: Joan of Arc. Well, maybe.
Despite high hopes for an evening of enjoyable emo; but not of the My Chemical Romance variety, oh no; these dudes are from back when it was punk's awkward besweatered younger brother.
Unfortunately, for a band of such impeccable pedigree they really don't play up to it.
Maybe they've just been too busy recording a somewhat daunting back catalogue over 15 short years to take stock of the incredible genealogy their band has.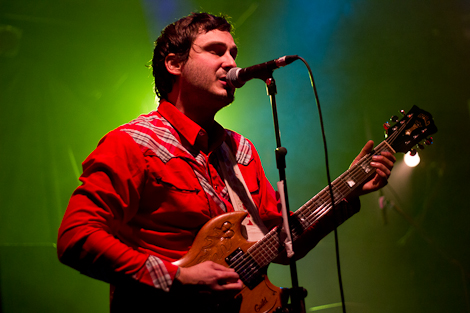 Whatever, things start out well enough, what with an intro that consisted solely of drums and singerman Tim Kinsella doing some spoken word stuff.
But it's all downhill from there; too much constant mis-stepping of the audience, never playing to expectation, too much (for want of a better way of putting it) making love with their instruments.
Now then, it's great if a band can play their instruments, some people would go far to say as it being a prerequisite to being in any band that isn't the Ramones (who were actually decent at it, but you know, gotta uphold the ramshackle reputation an' all).
But please show restraint – younglings Glossom manage it, so it is genuinely distressing when Joan of Arc decide they want to show off how darned great they are – changing volume or rhyme structure when you least expect it to happen can so often be thrilling, but after the Nth time it begins to jar. What a shame.
Pictures by Getintothis' Michelle Roberts.
Further reading on Getintothis:
Liverpool's gig calendar 2013: Guide to essential gigs not to miss the rest of this year
Post Rock Paper Scissors to cut up Mello Mello with December show inc. Muto Leo
Jethro Fox, Spring King, Beach Skulls, James Canty: The Kazimier, Liverpool
Comments
comments