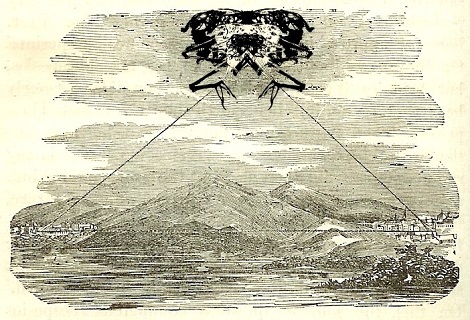 A double helping of Halloween audio visual performance plunges FACT attendees deep into the true meaning of horror and unease, Getintothis' Harry Sumnall sold his soul for a memorable night. Was it worth it?

Driving through Liverpool on October 31, I was struck by the long queues snaking down the street from a fancy dress shop on Hardman Street; poor souls braving the cold to fight over the last 'sexy witch' costume, destined to lose their deposit after the sixth Jägerbomb ruins the night in predictable fashion, static electricity sparks as cheap nylon costumes rub together in the dark early hours on Slater Place.
Halloween in the UK is a con, a disappointing template of cheap horror imagery, inevitably too much booze, and (usually) god awful 'spooky' music.
Although most of what we consider pagan tradition in this country was largely constructed in the 19th Century (and refined by Gerald Gardener's Civil Service brand of Wicca in the 1950s), at least it provides an excuse for wyrdness, and if a strong celebratory mandrake brew and blood ritual is not feasible at Halloween then one should at least be prepared to submit to other sensory modulations, such as I had encountered at FACT the night before.
Ryan Jordan is a London based audio artist, and his Possession Trance is simplicity itself in its expression of uneasy hypnosis.
Jordan's set up includes a tone generator, which is linked to three strobe lights, two smaller ones to the left and right, and a larger one in the centre. Jordan controls the rhythm and periodicity of the sound (a scraping low pitched white noise), and each emission triggers either the lateral lights or the larger, more intense central one.
The audience faces the strobes, which caused a slight problem in the comfortably seated FACT Box as from my position at the back, I had to contend with bobbing heads and a low slouching seating position.
The piece begins with a slow regular side strobe flashing, more of a curiosity than anything else, and to the expectant psychonaut, slightly disappointing. However, this serves to introduce the tonal frequencies, and to acclimatise the audience to the experience; testing for discomfort (if nothing else, Jordan is considerate of his participants).
The periodicity of flashing shortens, a slight irritation, far from the hallucinatory experience expected, but then the volume and frequency increase and the large central strobe is unleashed. At last, hooray for the Bucha Effect!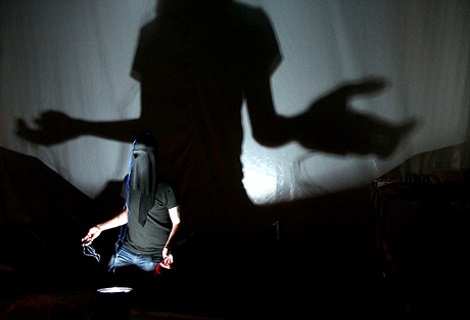 Ryan Jordan enacts his fearful Possession Trance at FACT, Liverpool
Disorientation induced, flashes of green and blue stream across the Box ceiling, asynchronous brain cell firing, slow motion backwards movement, Ken Kesey grotesquely fixed facial expression, eyes shielded under coats, a sustained arc – pity the two unfortunates at the front facing the machine straight on.
This was a great experience, visceral, about 15 or 20 minutes long, but I have no inclination to repeat it, the induced (slight) headache, confirms this for me.
In Ian Somerville's Flicker, his 1962 account of experiments with Brion Gysin's dream machine, he reports "rhythmic sound, particularly Arab music and jazz, modulates the vision in which patterns keep time with music…" , while Jordan's tone generator is the trigger for the flicker tonight, it would have been an interesting experiment to introduce a polyrhythmic source to see what modulations of vision this would have produced.
After the performance I wonder how Jordan rehearses this piece, does he have a willing accomplice who submits to near epileptic brain states in service of artistic refinement?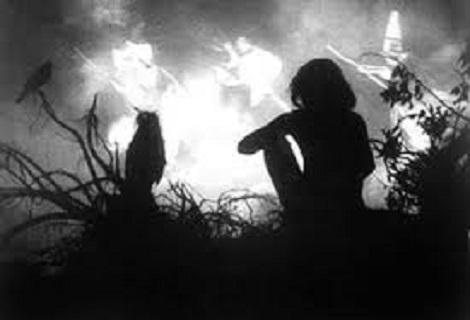 Still from Häxan
I'm not going to dwell on the cinematic merits of Häxan (1922), Benjamin Christian's classic study of superstition and mental illness (you can read more here), only noting that among the many versions in circulation, the William S. Burroughs narrated, free jazz soundtracked version from 1968 is probably my favourite – if you can get over Bill's lazy Southern drawl.
Suffice to say, along with Theodore Dreyer's Leaves from Satan's Book (1919), and Paul Wegener's Der Golem (1915), Häxan is a classic piece of early expressive horror and is recommended viewing.
Tartan Films, the much missed arthouse distributor issued a version of Häxan in 2007 with a specially commissioned soundtrack by Bristol's Bronnt Industries Kapital and it is this that we are treated to tonight.
Bronnt Industries Kapital are one man, Guy Bartell, who has had a number of releases over the last few years (including the critically acclaimed soundtrack for the BFI release of Turksib), and is a real talent.
His soundtrack tonight is carefully synchronised to the film, but is brought to life by live instrumentation including clarinet, cymbals, and a cheap home keyboard; all processed through an incredibly lush tape delay and plate reverb.
The performance is subtle, after all the audience is primarily absorbed in the projected image, but the sound track is a perfect compliment. No need here for cheap FX, or gratingly literal audio cacophonies of emotion so beloved of mainstream film composers.
Stylistically, the mood ranges from subtly creaking analogue fizzes that sits amongst the finest of hauntology, to percussive hypnopompic guitar chimes that are absolutely perfect in their sparseness and weariness, and a fitting frame for the aged and confused faces of accused witches on screen.
The music is also brave, and darts from scene to scene with confidence; the live performance element reminding us that we're not just passive participants guided through the film's arc. The richness and creativity of the work is clear and would also easily work a performance in its own right.
After the performance there is a polite smattering of applause, and I'm surprised the reception is not more enthusiastic.
I'm uncertain whether the audience is unappreciative, is unused to celebrating performance in the cinema, or perhaps they believe (erroneously) Bartell is simply clicking through tracks on his laptop as many computer musicians are guilty of doing.
Regardless, this evening has certainly been one of my favourite Liverpool music experiences for a while, and a timely reminder that even the most disappointing of celebratory traditions can be invigorated with new creative perspectives.
Further reading on Getintothis:
Liverpool's gig calendar 2013: Guide to essential gigs not to miss the rest of this year
Voodoo Ball: The Kazimier, Liverpool
Lovecraft unveil new single Häxan
Comments
comments