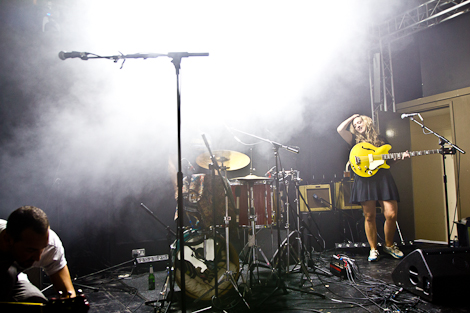 Stealing Sheep and All We Are join Esco Williams to be awarded Momentum Fund cash.

Stealing Sheep and All We Are have joined Esco Williams as the latest Merseyside artists to receive financial support via PRS for Music Foundation's second round of Momentum Fund grant awards.
Bo Ningen, Soulsavers, These New Puritans, Jaws, Psychologist and Dirg Gerner/Flako are also among the latest acts to each receive between £5,000 and £15,000 to help advance their careers.
Earlier this year, Esco Williams was among the first artists to benefit from the Momentum Fund.
The acts were selected from more than 200 entrants for the second round of funding applications. The decisions are made by a panel of independent advisors drawn from record labels, radio, PR, music press, promotion companies, booking agents and artist management.
Stealing Sheep said: 'We are really happy and grateful to be receiving help from Momentum, alongside other great independent artists.
'We believe that this kind of financial support strengthens and sustains the creative community, allowing for more collaborations and skills to diversify and develop.'
Psychologist added: 'This award will allow for a level of autonomy and creative control that I would in no way be able to afford on my own budget.'
Momentum is managed by PRS for Music Foundation, supported using public funding from National Lottery through Arts Council England, and is in association with Deezer.
Since its launch in May 2013, the Momentum Fund has attracted 700 applications, demonstrating the huge demand for financial support among artists striving to advance their career.
Comments
comments