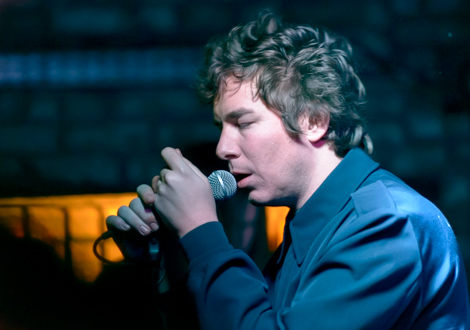 Crystal Stilts headed another well-stocked Harvest Sun bill, Getintothis' Mark Greenwood witnesses a band leading the psych-rock pack.

The Liverpool International Festival of Psychedelia seems a distant memory as Getintothis meanders around the back streets of the city centre on a freezing Sunday evening.
Despite a derby day hangover, the Shipping Forecast appears crowded with chirpy psych heads and we catch The Rise of General Mezmar in full swing.
The Wirral shoegazers are grafting away, pushing through a sublime set of dreamy psych pop and shuffling proto-punk that crackles in the dank darkness of the Shipping Forecast's dungeon.
There's nothing pretentious or grandiose about these lads as the weave edgy melodies around refreshingly poetic vocals, providing an appropriate opening to tonight's proceedings.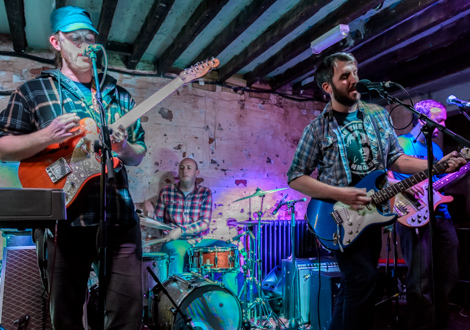 The Rise of General Mezmar at Shipping Forecast, Liverpool
The venue has a good vibe tonight, despite outrageous beer prices, yet The Probes seem hell-bent on testing the patience of a Harvest Sun faithful.
The rhythm section is very loose and teeters on collapse while the guitarists insist on long refrains of analogue tuning in between numbers.
Despite the onstage chaos and the inevitable silence that meets the singer's request to borrow a guitar, the band battle on admirably, providing slices of belligerent early post-punk wrapped up in jaunty tempos and echoing guitars.
Keep an eye on these lads -despite their naivety and inexperience there's something magically ineffable and Bunnymen-esque about them.
Tonight's bands have so far contributed to an almost paint by numbers, dare I say more melodic and indie shade of the psychedelic trope. Inevitably, pastiche figures heavily in a sonic and visual presentation of contemporary acid pop.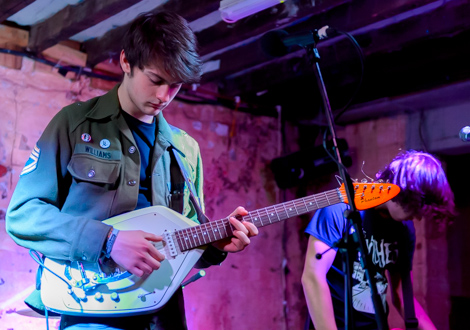 The Probes at Shipping Forecast, Liverpool
However, Proper Ornaments offer a quirky and endearing approach to a tried and tested, lo-fi garage formula.
Happy harmonies bounce off the solid backline of a tight and driving rhythm section and the audience are quick to nod in ascension to a succinct and mesmerising performance.
The Londoners have been busy recently with hectic touring and the release of a sublime earth worm of a lo-fi seven inch entitled Recalling which has Getintothis bouncing approvingly.
On tonight's evidence these lads produce a pretty perfect template of sugar candy retro-pop, reminiscent of the Beach Boys and Love.
Time flies when you're having fun. There's a few suitably attired sixties chicks floating in between punters and mystery cocktails while trying not to dismantle an assemblage of empty beer bottles that have accumulated in the space.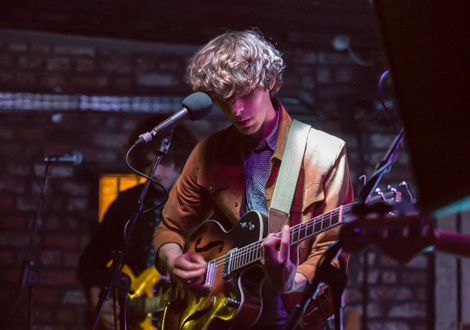 Proper Ornaments at Shipping Forecast, Liverpool
Crystal Stilts offer a sonic translation of spinning stars, desert landscapes and intrepid shiny black, leather boots.
Dodging between languid dream pop and up-tempo, fizz bomb garage, the band work hard to interweave a curious tapestry of dirty guitar and eerie Sunday school keyboards around the nihilistic presence of a haunting vocalist, prone to eye rolling and the occasional swig of Red Stripe.
Despite a slightly awkward and perplexing rendition of Duchess by The Stranglers, Crystal Stilts provide an especially well-crafted selection of numbers from their Nature Noir opus – a record that deserves to see them propelled to pedigree status within the contemporary psych scene.
So well done to Harvest Sun as they continue to invigorate the Liverpool scene with warm and delicious psych-pop concoctions while consistently attracting a healthy and appreciative audience on these cold winter nights. Time for a celebratory if slightly spiked hot toddy.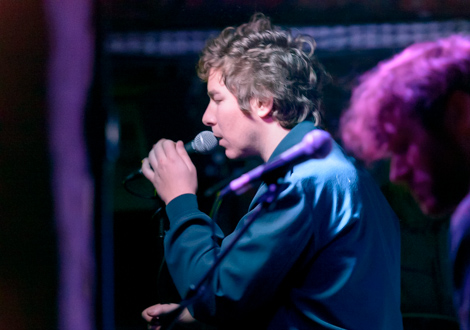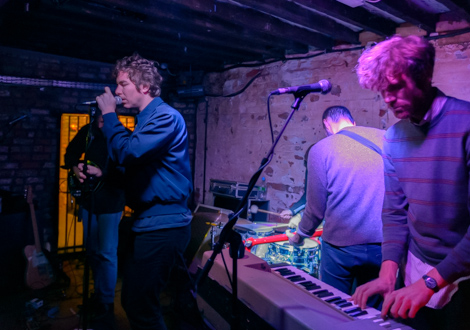 Crystal Stilts at Shipping Forecast, Liverpool
Pictures by Getintothis' Simon Lewis.
Further reading on Getintothis:
Comments
comments